Last Updated on October 25, 2019 by Kristi Linauer
After stressing for months over the design of my big workroom table for my studio (which will be used as a cutting table, sewing table, art table, craft table, etc.), I finally decided on a design and got busy building the first table yesterday. After looking at designs that included drawers, cubbies, shelves, and all kinds of fancy storage and organization, I noticed that I kept being drawn to the very simple workroom tables that had a large top with one big, open shelf underneath. So that's what I decided to go with.
But just about every single craft table/workroom table that I found with that design was built out of very rough lumber, like rough 4 x 4's for the legs and 2 x 4 studs for the frame, and I didn't want a rough, strictly utilitarian-looking table in my studio. So I came up with a design that used nicer lumber and will have a more polished look when it's finished.
I also decided to take the advice that many of you gave me and build two tables that can be hooked together when I need one long table (when I'm sewing draperies, for example), but can be used and moved separately at other times. Each table will be approximately 59″ square when finished, so when they're hooked together to form one long table, it'll be 59″ x 118″. I might actually get excited about making draperies with a table like that! 😀
So far, I got the base built for the first table. One down, one to go. And I have ordered a large piece (5′ x 12′) of Wilsonart sheet laminate to make the tops, so I can't finish the tables until that comes in. But so far, here's what the very simple base looks like…
I think I'm still going to add some trim along the bottom edge to pretty it up a bit, and I still need to prime and paint it. I have no idea what color to use, though! The top will be white laminate. I could paint the bases green to match the back entry, or black to match the other black accents in the room. Or I could choose another color from the wallpaper except for coral, since that's the color I plan to paint the cabinets when I get them built.
Anyway, I still have another table base to build before I need to have a color picked out, so I have a bit of time. But for now, let me show you how I built my big craft table.
How to build a large craft room table
Step 1 – Build the legs
This is where most people use 4 x 4 lumber, but since I didn't want my table to have a rough look to it, I decided to build my own thick legs using 1.5″ x 1.5″ pine. I get these at Home Depot, and they come in 6′ and 8′ lengths, and they're cut perfectly square and sanded smooth.
I cut 12 pieces to 26.5 inches, but you'll have to determine the height you need. I arrived at this length for my legs because I want my tables to be 34 inches high (I'm only 5′ tall, so 36 inches is a bit high for me). So I subtracted the thickness of the table top (1.5 inches) and the height of the casters (6 inches) to arrive at the 26.5-inch length for the legs.
I used three pieces per leg, and put them together using wood glue and 2.5-inch 16-gauge nails.
I attached them in this configuration…
So here are all four legs after assembly…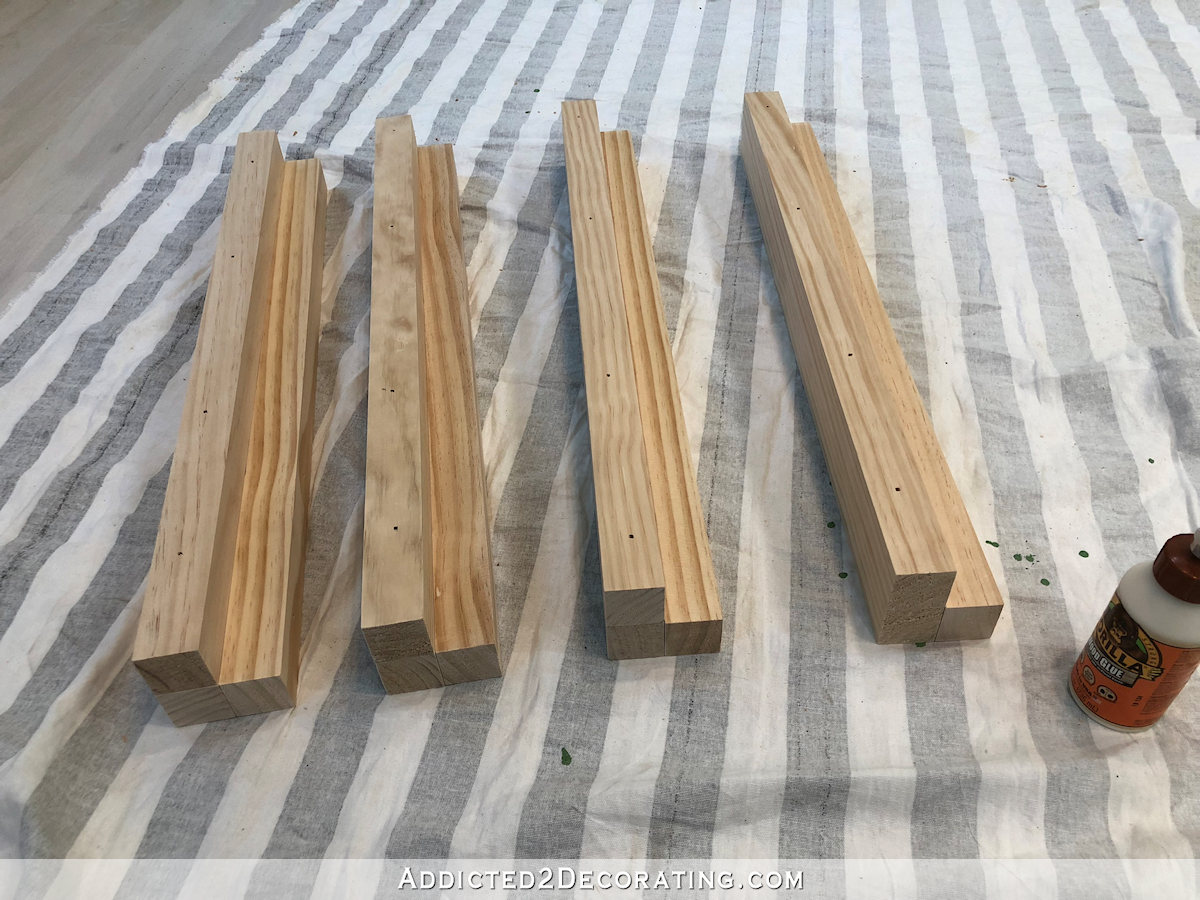 I set those aside to let the glue dry for a bit while I worked on the bottom shelf.
Step 2 – Build the bottom shelf
I started with a piece of 1/2-inch plywood cut to 48″ x 48″. I just had Home Depot cut a piece of plywood in half for me. Then I placed it face down on my work surface.
Then I used pieces of some 1″ x 4″ lumber that I had ripped in half on my table saw, so they were just under 1.75″ wide. And I cut two two opposing side pieces, and then glued and nailed them into place using 1.5-inch 16-gauge nails. I had to stand the plywood up on edge to nail the pieces on from the top side of the plywood. I didn't get an action shot, and this definitely would have been easier with either two people, or by working with the plywood on top of sawhorses, but I managed. Here's how it looked once the two pieces were glued and nailed on…
Then I cut and attached the other two sides, and glued and nailed them into place the same way — standing the plywood piece on edge so that I could nail from top side of the plywood. You'll notice that I didn't bother with mitered corners, but I did make sure to nail these support pieces together on the corners.
And to finish up this support frame, I cut two more pieces to place 15 inches from each side, and I glued and nailed those into place. First, I nailed through the outside of the outer frame and into the ends of these pieces…
And then I turned the shelf over, and placed a few nails going through the top of the plywood and into the edges of those pieces. Since I had placed them 15 inches from each edge, I knew exactly where to place the nails.
Step 3 – Attach the shelf to the legs
Using a scrap piece of 1″ x 3″ lumber and a pen, I marked the shelf placement along the bottom edge of each leg…
And then using that mark as a guide, I used wood glue and 2″ 16-gauge nails to nail the legs to the shelf.
I just nailed right through the outside of the leg and into the side edge of the shelf.
These nails were just a means to get the placement of the legs right, so once all of them were in place, it looked like this…
Then I stood the shelf and leg assembly on edge, and used 2-inch screws to actually assemble the pieces together, with the screws going through the inside frame of the shelf and into the legs. I did pre-drill the holes first because I didn't want to take a chance on splitting the wood on the legs.
I repeated that process for the other three legs so that they were all attached very securely.
Step 4 – Attach top frame, apron, and lower trim
With the legs now securely attached to the lower shelf, I turned my attention to building out the frame along the top of the table frame. I cut a piece of 1″ x 4″ lumber and used wood glue and 1.5-inch 16-gauge nails to attach them inside the notch on the legs.
I also used a piece of 1″x 3″ lumber and attached it to the side of the lower shelf to cover the edge of the plywood and the support frame of the shelf. I attached that piece using wood glue and 1.5-inch 16-gauge nails as well.
And then I cut another piece of 1″ x 4″ lumber and attached it right to the face of the frame piece. I did this to give it more strength and structure, but also so that the apron of the table would extend out the same distance as the lower shelf.
I repeated that same process on the other three sides, starting with the opposite side of the table…
And then finishing up with the other two sides…
Step 5 – Add additional support
I added additional structure and support in two ways. First, I added L-brackets on each corner.
And then I added the fourth and final piece to finish out the legs. Up until this point, they still had this notched out area on the inside since they were built only using three pieces of 1.5″ x 1.5″ lumber.
So at this point, I was ready to measure and attach the fourth and final piece of the legs.
That not only gave the legs a finished, solid look, but also provided additional support for the upper frame/apron area.
This is what the table base looked like at this point…
Step 6 – Attach the casters
I used large 5-inch casters for my table (which are actually 6 inches high), but that's just because they didn't have enough of the smaller 4-inch casters in stock, and I didn't want to wait on an order.
I stood the table up on edge to attach the casters to the bottom of the legs by first pre-drilled the holes to prevent splitting the wood. They didn't fit perfectly on the legs, so I had to attach them at an angle, and I only had room for two screws per caster. But they're very secure, and since this table will be used for sewing, crafts, art, etc., I'm quite confident that the casters will be just fine.
And with the casters attached, the basic build for my first workroom table was finished!
As I mentioned, I'll probably add a bit of trim to the tables to pretty them up a bit, and then I'll be doing my standard finishing — wood filling, sanding, caulking, priming and painting. And because I want the finish to be really durable, I'm sure I'll be topcoating everything with General Finishes High Performance Topcoat. The matte finish is my favorite.
But for now, I have another table base to build! 🙂 And as soon as that Wilsonart sheet laminate comes in, I'll share the table top-building process with you as well. It'll be my first time doing such a big sheet laminate job, so I'm kind of nervous about it, but excited to give it a try.
Update:
My work table is finished! Here's how it turned out…
You can see how I finished the table right here…
Addicted 2 Decorating is where I share my DIY and decorating journey as I remodel and decorate the 1948 fixer upper that my husband, Matt, and I bought in 2013. Matt has M.S. and is unable to do physical work, so I do the majority of the work on the house by myself. You can learn more about me here.
I hope you'll join me on my DIY and decorating journey! If you want to follow my projects and progress, you can subscribe below and have each new post delivered to your email inbox. That way you'll never miss a thing!