As of yesterday, we finally have paint on the cabinets in my mom's kitchen. It's always so exciting, after days and days of prep work, to finally be able to put that first coat of paint on the cabinets.
We did only get one coat on yesterday, which means that today, I'll be doing some light sanding and then painting the second (and hopefully final) coat, but I was so excited by the drastic change that the first coat brought about in my mom's kitchen that I went ahead and took pictures so that I could show you today.
First, let's remember where this kitchen started. Here's how the sink/window wall looked originally…
And here's the progress with the first coat of paint on the cabinets…
Of course, the wall color will change, too. Right now, that's still the original wall color, which looks very drab against the new cabinet color. We'll be painting the walls a considerably lighter and more neutral color, like Behr Aged Beige.
That will go a long way towards brightening up the room, and will be a beautiful backdrop for the green cabinet colors.
Also, all of the insides of the cabinets have been primed, grain filled, sanded, and painted. Since this house was built, the insides of these cabinets have just been the natural wood…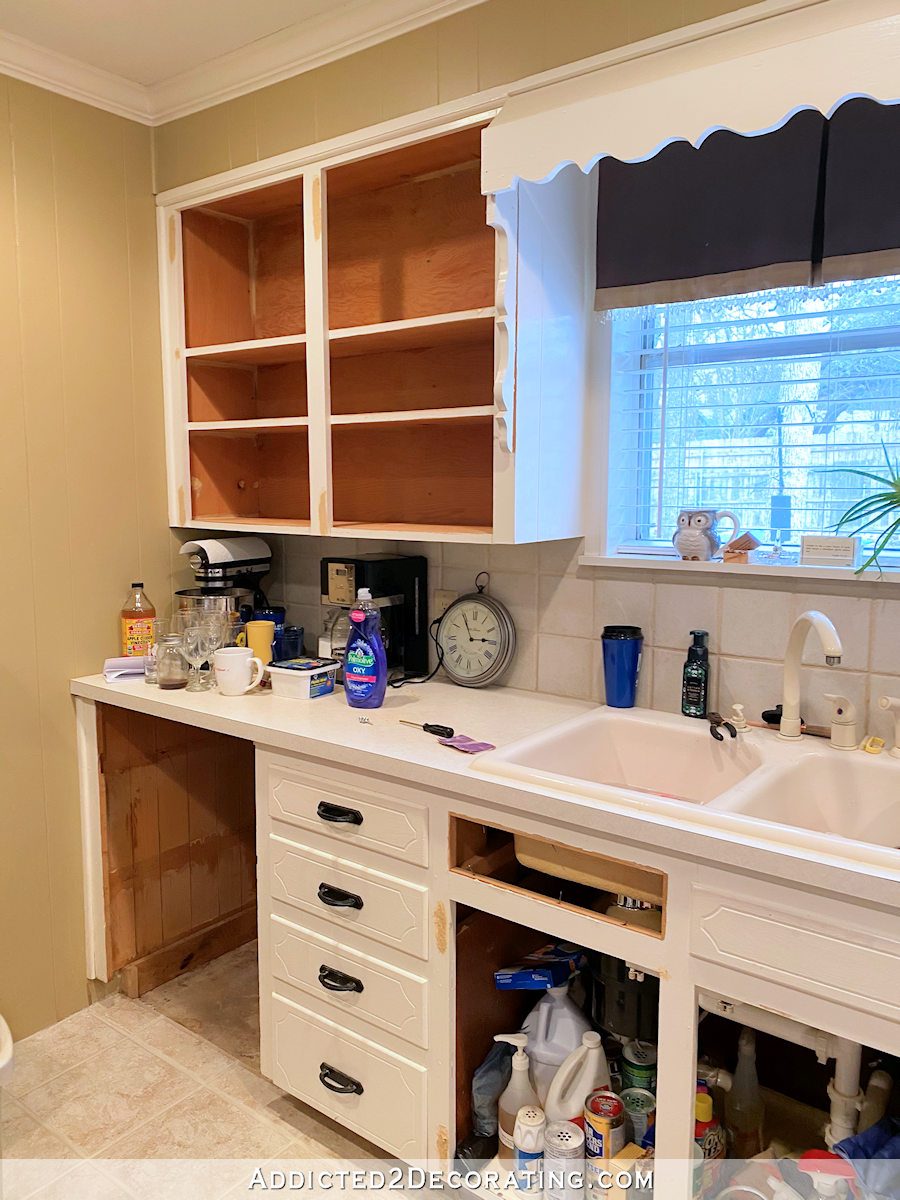 And now the insides of the cabinets are bright white. We still need to add a clear coat, but once we do, those shelves will be very durable. My clear coat of choice is General Finishes High Performance Topcoat. That stuff is amazing, and I use it on cabinets, shelves, and anything else that I paint with latex paint.
Anyway, the other side of the kitchen used to look like this…
And now it looks like this with the first coat of paint on it…
Please excuse the dust. 😀 We've been doing just a tad bit of sanding in there.
I'm just so thrilled with how this is turning out. Of course, you'll notice lots of imperfections in the paint right now (e.g., the lines of wood filler on the top part showing through), but that will be fixed with a bit of sanding and then the second coat of paint.
I'm amazed at the difference some paint makes. Not only does changing the color make a drastic difference, but also painting the cabinet color all the way to the ceiling goes a long way towards updating the look.
And another huge improvement is the back of the peninsula. Before, it looked like an afterthought with the awkward spacing of the doors. (That's because it was an afterthought, done by a man — my father — who had a couple of extra doors he wanted to use and really wasn't concerned about how it looked. Let's just say that on the form/function spectrum, he was on the very opposite end from me. 😀 )
Here's what it looked like when we took the doors off…
So we took all of that paneling off of the back…
And the I reframed it using 1 x 4's on the sides, a 1 x 5 at the bottom, a 1 x 3 in the middle, and a 1 x 8 at the top. Somewhere along the way, I figured something wrong, so I had a space at the top that had to be filled in (I should have used a 1 x 12 instead of a 1 x 8 at the top), but we had already purchased it and I had already cut it before I realized the mistake, so I had to fill in at the top. But that will be covered up with some pretty trim, so I'm not worried about it. Here's how it looks at this point…
I still need to add some decorative corbels and trim to cover up that top section, but the back side of this peninsula has already come a long way!
In my last post about this kitchen, so many of you suggested pull-out shelves and drawers. Those are already planned! 🙂 After seeing all that I've done in my kitchen with pull-out shelves and customized storage, my mom had already been thinking about what storage options she wants to incorporate into her "new" kitchen. I'll be totally replacing her eight working drawers and customizing storage in those. I'll also be adding the flip down storage to the two drawer fronts in front of the sink where she can store scrubbies, sponges, etc. And almost all of the lower cabinets will get pull-out shelves.
Yes, we've still got quite a bit to do in this kitchen. 🙂 But the progress so far is very exciting!
Addicted 2 Decorating is where I share my DIY and decorating journey as I remodel and decorate the 1948 fixer upper that my husband, Matt, and I bought in 2013. Matt has M.S. and is unable to do physical work, so I do the majority of the work on the house by myself. You can learn more about me here.
I hope you'll join me on my DIY and decorating journey! If you want to follow my projects and progress, you can subscribe below and have each new post delivered to your email inbox. That way you'll never miss a thing!