Last Updated on February 14, 2019 by Kristi Linauer
I almost got my pantry doors finished yesterday. Almost. But after taking them outside to finish priming, sanding, and spraying them yesterday, I ran out of time to reinstall them and attach the new handles. (If you follow me on Instagram, you can get some behind the scenes looks at my projects, including a peek at the beautiful new handles I bought for the doors.)
Anyway, I decided on white for my pantry doors, as I told y'all a few days ago. I know. That sounds boring, right? It would definitely be boring for me if I stuck with my original plan of doing a white pantry. But a few days ago, I changed my mind on the white pantry.
I've decided to go with a green pantry instead.
I don't know why I've been planning on white cabinets in my pantry in the first place. How many times have I said that white cabinets just aren't me? So what was I thinking? I'm a color kind of person, and I think green cabinets peeking through those white French doors will be just perfect. Blue and green (or in my case, teal and green) work very well together.
Remember our condo? (If you missed the condo, you can click here to take the tour.) I had teal cabinets in the kitchen, and just around the corner I had green cabinets in the hallway.
I loved those green cabinets. I have no idea if that particular green is the one I'll end up using, but it sure does look like it would work beautifully with my dining chair fabric…
I can't even remember the name of that paint color, so I'll have to do some searching. But I hope to end up with something bright and happy like this…
Or if that green is a bit too bright and yellowish, then something like this might work…
I'm very excited about adding some color behind those white French doors. I can just imagine what a happy little pantry that will be filled with one of my favorite colors.
---
---
Update:
My pantry is finished! Want to see the entire project from start to finish? You can find every single post about the pantry build right here…
Or you can skip to the end and see how it turned out. Here's a peek of the finished pantry…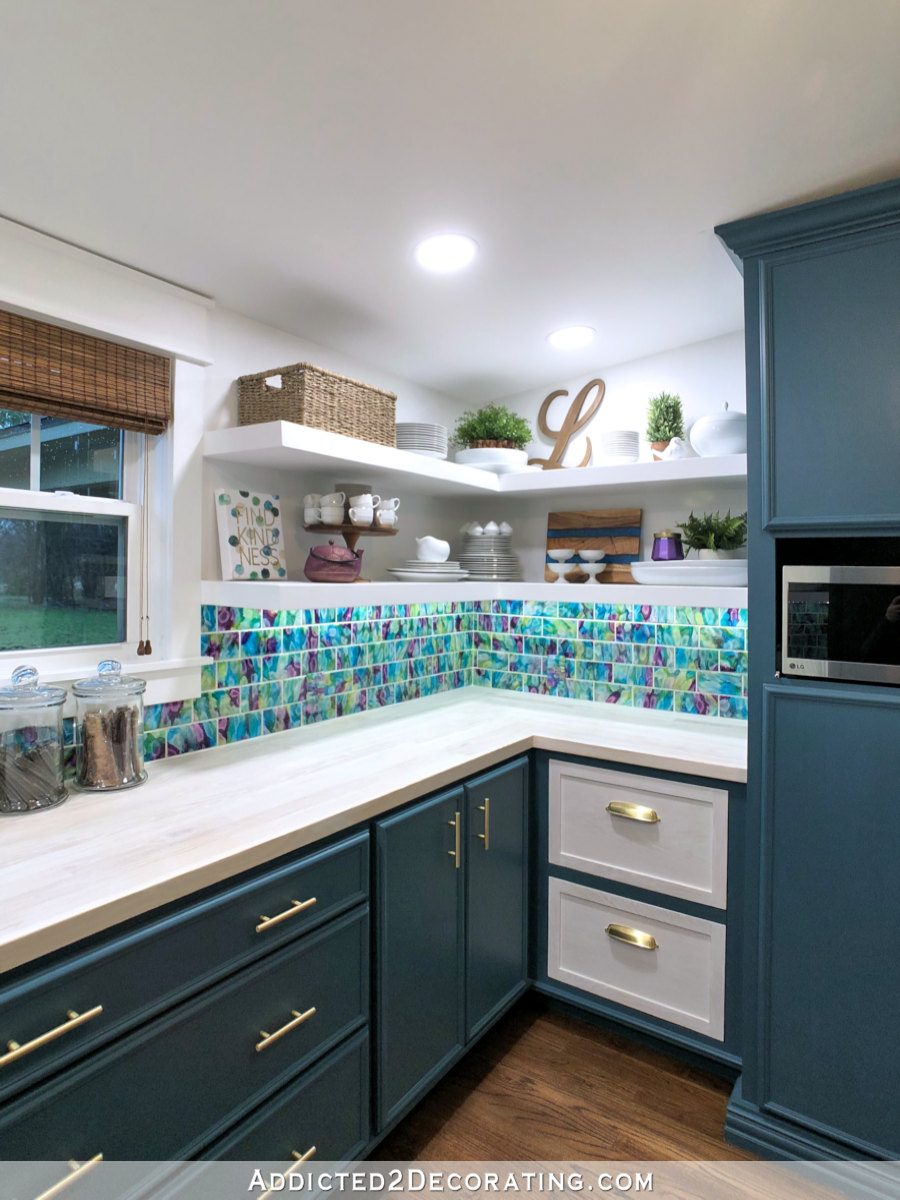 You can see more pictures on the before and after post right here…
Addicted 2 Decorating is where I share my DIY and decorating journey as I remodel and decorate the 1948 fixer upper that my husband, Matt, and I bought in 2013. Matt has M.S. and is unable to do physical work, so I do the majority of the work on the house by myself. You can learn more about me here.
I hope you'll join me on my DIY and decorating journey! If you want to follow my projects and progress, you can subscribe below and have each new post delivered to your email inbox. That way you'll never miss a thing!