Moving & Reframing My Bathroom Door (Plus, My Door Design Decision)
I have a moved, newly framed bathroom door!  And while it was quite a bit of effort for just a few inches of space, it was definitely well worth it.
Here's the door, and the door framing, that I started out with.   I've been a bit surprised by the way in which all of the doors in this house are framed.  It doesn't matter if it's a load-bearing wall or a non-load-bearing wall, all of the doorways seem to be framed exactly the same…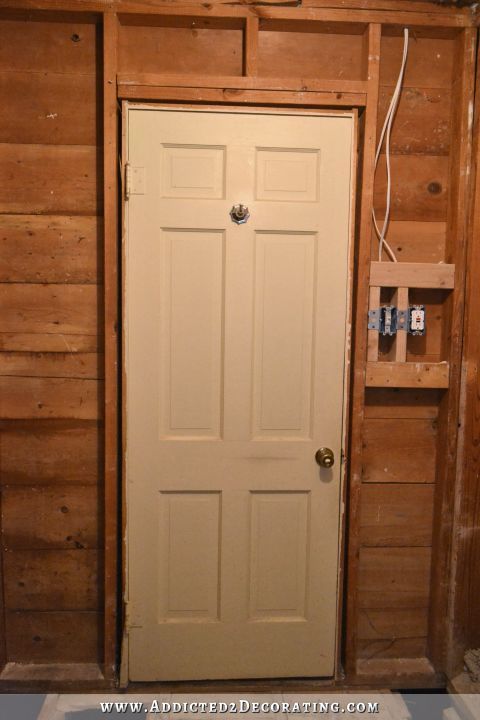 The problem with that framing is that this particular wall is a load-bearing wall, and yet there's nothing load-bearing about that header above the door. Perhaps they didn't think it was needed because the door isn't very wide.  Or maybe load-bearing headers for doorways just weren't standard building practice in the late 40's.  Who knows?  The way it was done has certainly stood the test of time, but I wanted to reframe it correctly for a load-bearing wall.
I started by removing the door and frame. Then I removed the header and cripple stud above the door. This allowed me to extend the base plate and add two new studs to frame the new doorway.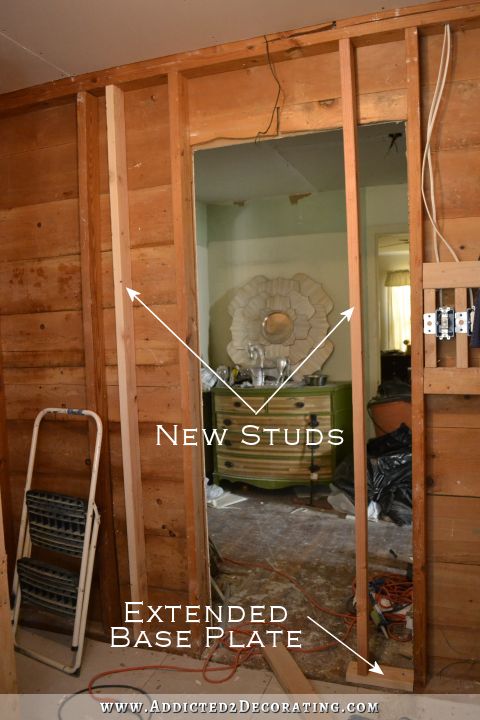 With those in place, I removed the one extra old stud, and cut away the extra shiplap with my reciprocating saw.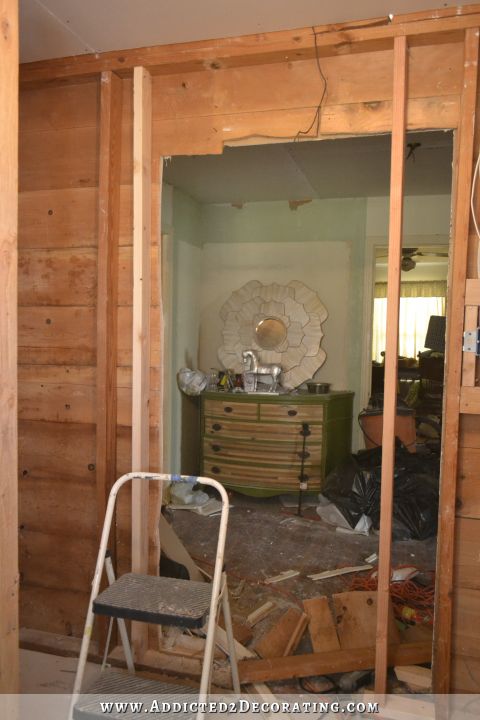 Again, the only reason I felt comfortable doing things this way is because that wall has had an open, unsupported doorway for over 65 years, and has remained standing.  If I were cutting a new doorway into a load-bearing wall, I'd use this method of supporting the ceiling joists on each side of the wall during construction.
To finish out the framing, I added the jack studs to the king studs (the king studs are the first two studs I added that extend the full height of the wall).  On top of the jack studs, I added the header.  This consisted of two 2 x 4 pieces of lumber with a 1/2-inch piece of plywood sandwiched in between, and all of them glued and screwed together.  Instead of installing them flat, like on the original framing (where you can see the edges of both of the 2 x 4 pieces), I installed upright standing on edge.  Headers are installed so that the wide sides of the boards are facing the room, rather than the wide sides of the boards facing the ceiling and the floor like on the original framing. And then on top of the header, I installed three cripple studs.  Now this doorway is properly supported.  I had a contractor tell me the size header needed for this opening, and then I verified that information using the table on this website.  According to that table, a 2 x 4 header in a single story home can support a doorway up to 3 feet 6 inches wide.
Side note:  That wire hanging down above the door is an old, dead thermostat wire that got caught in my drywall.  There's no danger there.  It just needed to be pulled back into the attic.
After the new doorway was framed, I spent a while rewiring the existing switch and outlet, and running a bit of new wiring.  Since the door was moved, the old light switch and outlet positions were too far over, so they needed to be moved closer to the new doorway.  I also added a switch for an exhaust fan (this bathroom has never had one), and I also added an outlet way over in the left corner.  I put the two switches and one GFCI outlet into a three-gang box to tidy up the appearance a bit.  I have no idea why I previously used two individual single-gang boxes for wiring the switch and outlet that were right next to each other.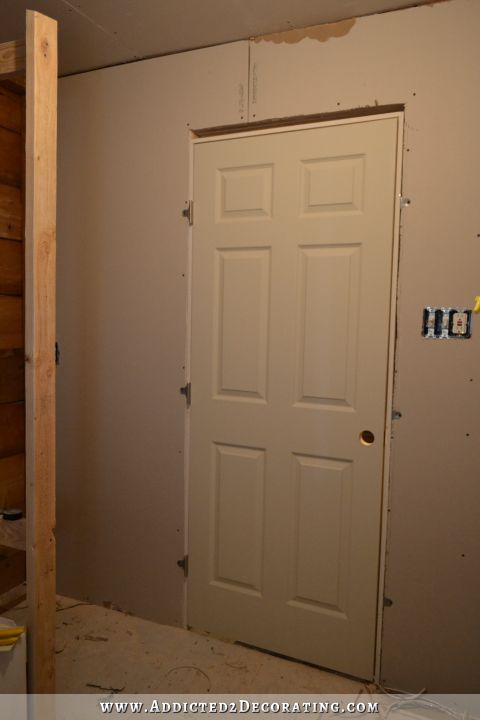 And finally, I installed my door.  Are you shocked to see a regular six-panel door there?  🙂  I decided to with the no glass option, and I'll customize these doors at a later date to look like option #2 in this post.  In the meantime, I just wanted something that will look nice and finished.
But let me tell you about installing the door.  Remember a while back when I wrote about my tips from a novice on how to install a door?  Well, scratch that.  Scratch all of it.  All you need to do is purchase a box of The Quick Door Hanger hardware, watch their video, and you'll have your new door installed in about 15 minutes.  I can't believe I ever spent the time and frustration on using the door shim method when these things were available right there in Home Depot.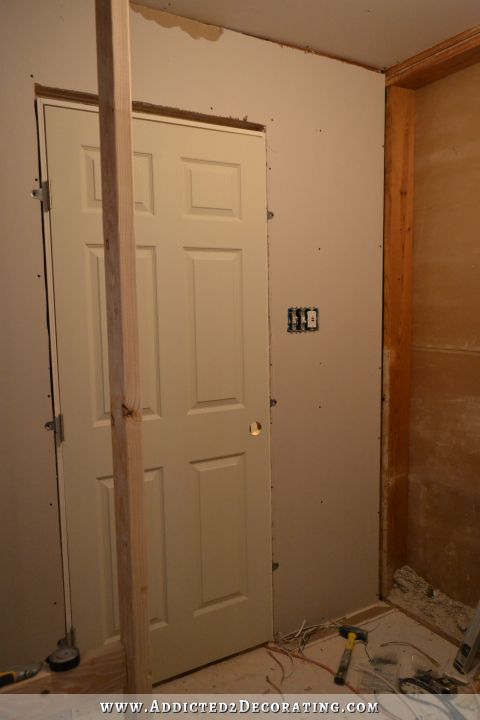 You just screw six of these brackets onto your door frame, put the door into the opening, and screw them to the wall.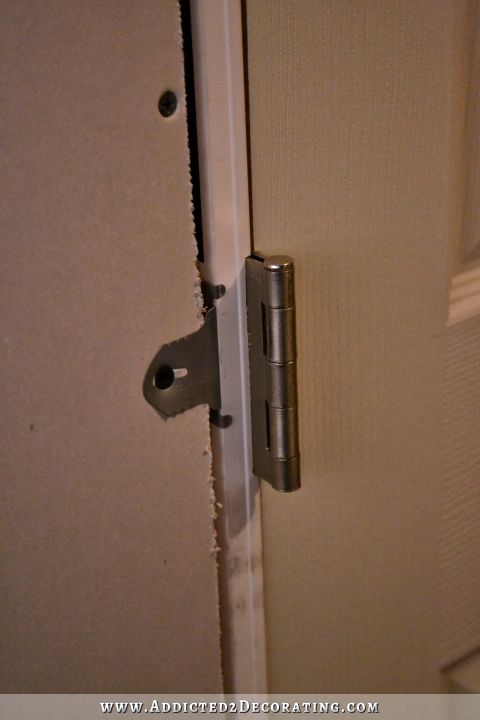 Okay, there's a bit more to it than that, but not much!  Seriously, watch the video at the link above, and see for yourself.  If you're still using the shim method to install doors, you'll be amazed.
So now that the door is moved, the space between the vanity wall and the door is 25 inches — plenty of room for a standard depth bathroom vanity.
Things are moving right along!  And they can't happen quick enough for me.  I'm generally not one to be bothered by construction mess since I'm a pretty messy person by nature anyway.  (I blame it on my creative mind. 🙂 )  But I can tell you that this particular mess is really starting to get to me, probably because it involves a continual stream of construction debris, drywall dust, sawdust, and tools strewn about in the hallway, an area that we use countless times each day, rather than a mess strewn about a seldom visited side room.  It's starting to affect my mood, and that's not pleasant for me or for Matt.  And of course, the mess in the hall is causing him frustration as well since it limits his freedom to get around.
So I'm trying to get it done as quickly as possible without getting so tired that I injure myself. Actually, it's too late for that. When I was installing the drywall on the ceiling, I was having to hammer a support board on the joist above the bathtub.  My ladder wouldn't reach far enough, and I'm only five feet tall, so I was having to hammer over my head.  Plus the angle was very awkward, requiring me to hammer at an awkward side-to-side angle using my left (non-dominant) hand.  My arm was getting so tired, and my already pathetic, left-handed hammering was getting worse and worse with each swing.  With one final swing, the hammer glanced off of the nail, and headed right towards my forehead.  I ended up with a pretty good sized knot on my forehead right above my eyebrow…from hitting myself in the head with a hammer!!  I wanted to laugh at my stupidity, and cry in pain, all at the same time.  It's a good thing I was using my left hand instead of my right hand, because I would have knocked myself out cold if I had been using my right hand.  😀
DIY is such an adventure!  🙂
Addicted 2 Decorating is where I share my DIY and decorating journey as I remodel and decorate the 1948 fixer upper that my husband, Matt, and I bought in 2013. Matt has M.S. and is unable to do physical work, so I do the majority of the work on the house by myself. You can learn more about me here.