My Big Porch Column Mistake, How I Fixed It, and What I'd Do Differently If I Were Starting From Scratch
Well, I had a bit of a setback with my porch column project. If you missed the first part of this project, you can click here to read it…
But after I wrapped those columns and wrote that post, I had to go back and make some pretty significant changes to the columns. Remember last week when I showed you a picture of my porch columns wrapped in plastic?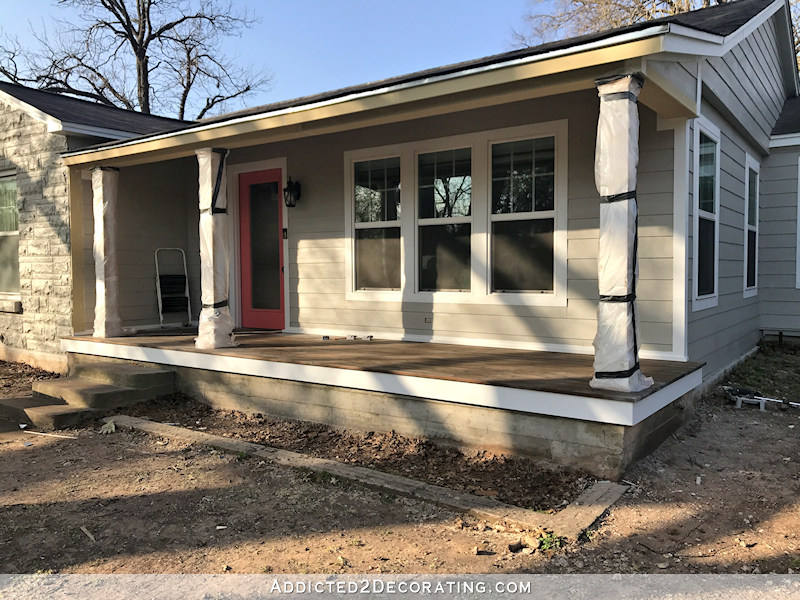 I did that because I had spent the day working on them — sanding, wood filling, sanding again, caulking — and by the time the sun went down, they were ready for primer and paint. But with so much raw wood exposed, and a chance of rain that night, I decided to wrap them before heading in for the evening.
So Friday, my goal was to at least get them primed with oil-based primer, thinking that if it rained, the oil-base primer would be enough to protect them from the rain, and I wouldn't have to keep wrapping them every time there was a threat of rain in the forecast.
Well, Saturday evening and Saturday night, it did rain. And on Sunday morning, I learned just how wrong I was about the power of oil-based primer against the rain. The bases of all three columns that I had worked so hard getting just right with the sanding, wood filling, sanding again, and caulking looked awful.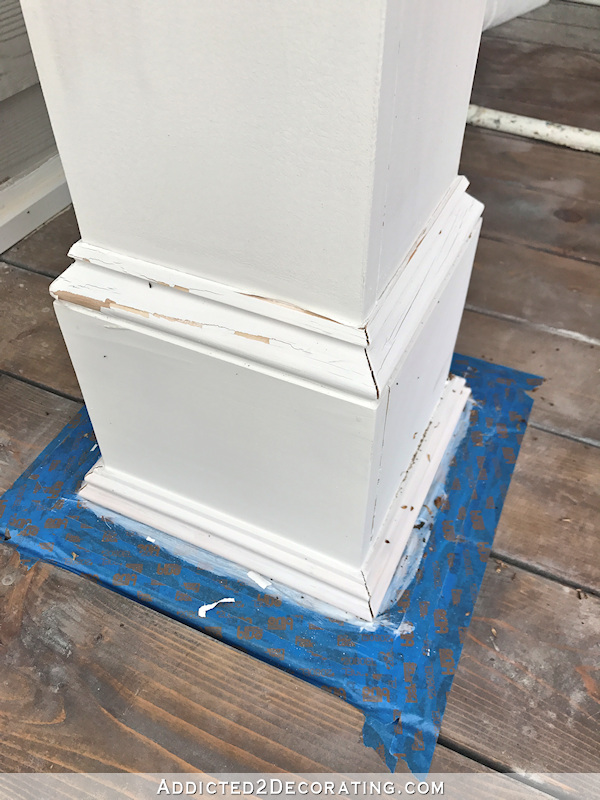 Every single mitered corner and butt joint had separated, the oil-based primer had cracked and was peeling, the wood underneath was damp all the way through, and the caulk in some areas was peeling off as well.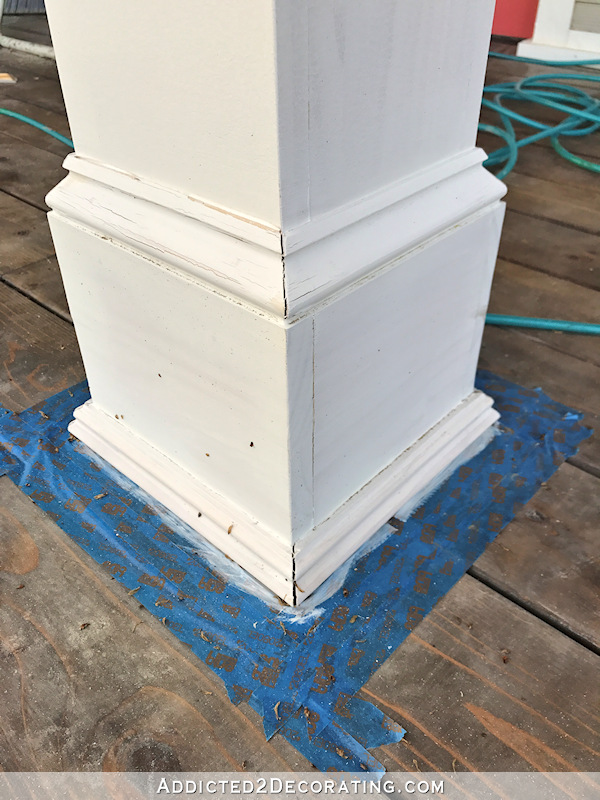 Needless to say, I was frustrated. And angry. And I may have thrown a little tantrum and hurled a few choice words at those columns and the rain. 😀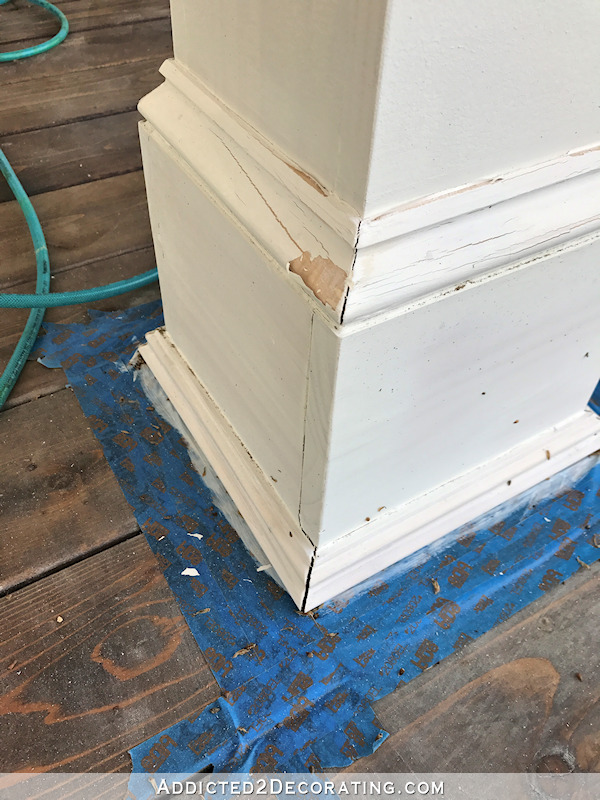 So after regaining my composure, and coming up with a plan, I got to work yesterday afternoon making the repairs. I started by removing all of the trim from the base of the column. And then using my Dremel Multi-Max (that's this oscillating tool that I couldn't live without), I trimmed the spacers and the outer wood so that it was about 3/4″ away from the porch.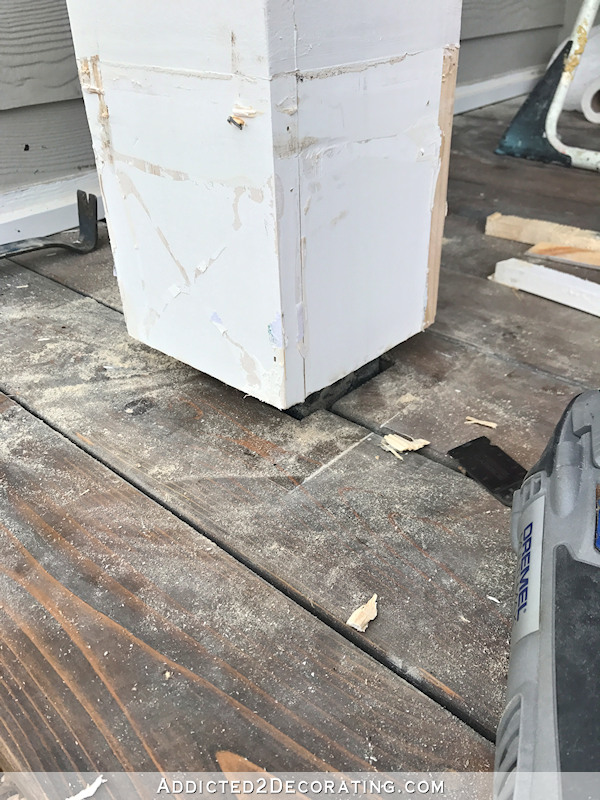 Then I gave it a quick sanding with my rotary sander and began re-trimming the base in pretty much the same way that I had trimmed it out before. But this time, instead of wood, I used PVC boards and PVC trim (all found at Lowe's) for the bases of the columns. I started by cutting pieces of a 1″ x 8″ PVC board, and this time I attached them so that they were about 1/2″ from the porch floor.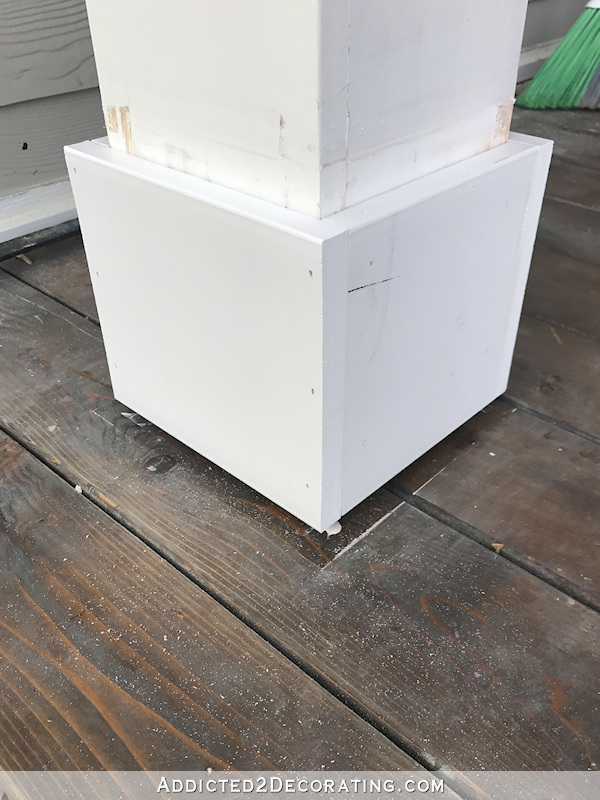 And then I cut and attached the base cap trim around the top, and the panel molding around the bottom. Again, these are both PVC trim rather than real wood. And this time when attaching the panel molding around the bottom, I left a tiny gap (somewhere between 1/16th and 1/8th inch) between the molding and the porch floor for air flow.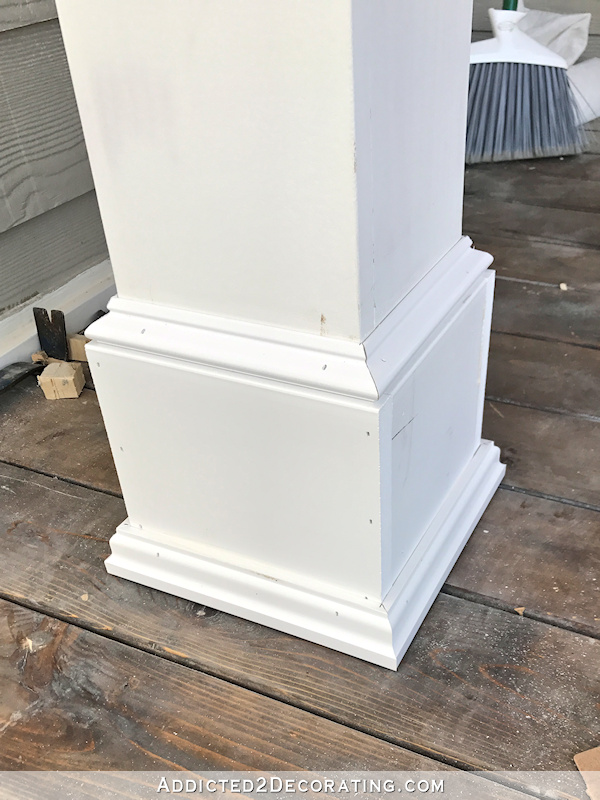 Looks pretty much the same, right? Right. But this will hold up much better for much longer. And since it's plastic, it won't be wicking up water the next time it rains.
I originally hated the idea of using PVC. There's just something about building with plastic instead of wood that doesn't really seem appealing to me. But when you compare them side-by-side, you really can't tell a difference. And in fact, I like the shape of that PVC panel molding around the base much better than I like the wood version.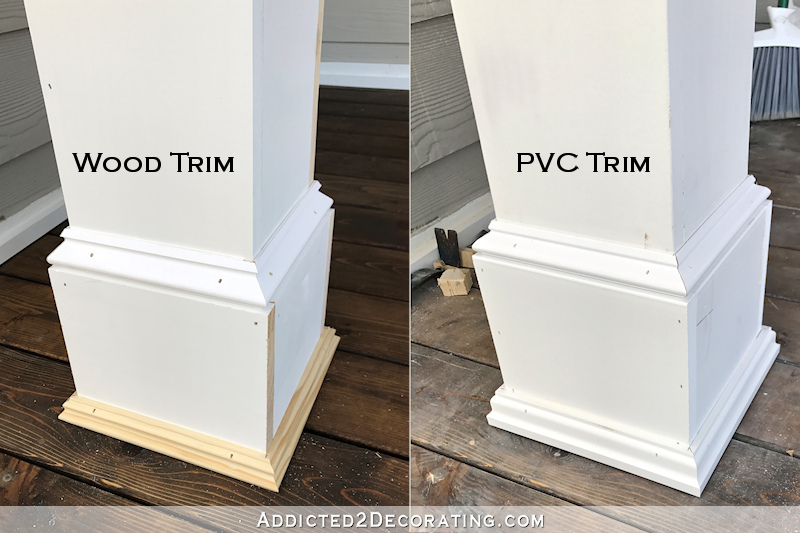 (FYI, my porch floor is really filthy and covered in dust from all of the sanding I've been doing, which is why it looks like it's a different color. It hasn't faded that much over the last week. 🙂 It just needs a good hosing off.)
There were quite a few lessons learned with this one. I'm so used to doing indoor building projects, so building things for outdoor use that will hold up against the weather is new for me. I had no idea that oil-based primer wouldn't stand up to rain. And I also had no idea that PVC boards and trim could look so pretty. And I also learned the importance of keeping real wood up off the ground (or the patio or the porch floor) because even if it's primed, it'll still wick up moisture. Now I know. 🙂
So if I had to do this project all over again from scratch, I'd wrap the entire column, from top to bottom, in PVC boards and trim. PVC is pretty easy to work with and doesn't require any special tools. You can cut the boards and trim with your regular table saw and miter saw, and you can attach them with construction adhesive and finishing nails just like wood, and you can even sand them quite easily just like wood. And once it's painted, I really don't think anyone would be able to tell the difference.
Oh well. We live and learn. I'll know better for next time…if there's a next time.
UPDATE:
The porch columns are finished! Click here to see the finishing details and how they turned out.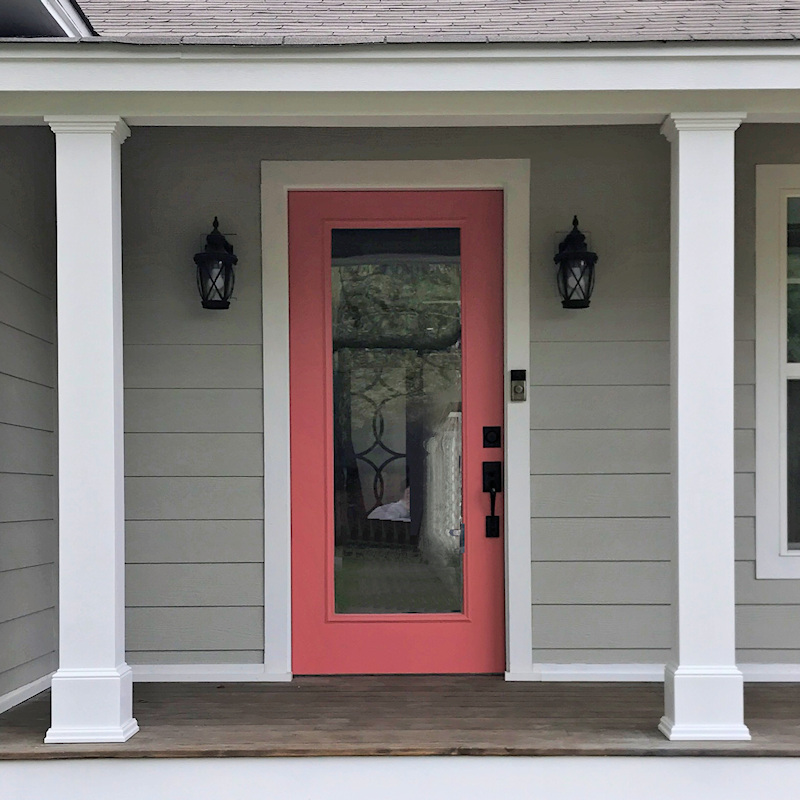 Addicted 2 Decorating is where I share my DIY and decorating journey as I remodel and decorate the 1948 fixer upper that my husband, Matt, and I bought in 2013. Matt has M.S. and is unable to do physical work, so I do the majority of the work on the house by myself. You can learn more about me here.