Last Updated on December 24, 2015 by Kristi Linauer
I never thought that selecting kitchen appliances would be so darn difficult. But of course, in true Kristi fashion, I think I made it much more difficult than it needed to be. That's just how I do things. 🙂
Almost since we closed on the house, I've been pretty certain that I was going to purchase this 27-inch-wide, counter-depth Summit refrigerator:
I spent hours reading reviews on refrigerators, comparing prices, features, etc., and had my heart set on this one. The actual customer reviews were pretty amazing — better than any refrigerator I've seen. I loved that it's counter depth (only 24 inches deep!), and what I loved most about it is the freezer door on bottom.
I've looked at countless refrigerators with all the different configurations. I really like the refrigerator on top and the freezer on bottom, but most refrigerators like that have a bottom freezer drawer. I think that would be the most impractical thing ever for Matt. I just can't see him being able to pull the drawer out and access anything in there, and he wants constant access to ice. So when I saw that this refrigerator had an actual swing-out door on the freezer, that sold me.
The downside? This brand didn't have matching appliances that I liked. Now I know that lots of people mix and match their appliances and use different brands, but I want all of mine the same. I don't know why. I just do. 🙂
So in the meantime, I somehow came across this new line of appliances from GE called Artistry.
The refrigerator has the same configuration that I like with the door on bottom. AND…I love the way it looks!! It kind of has that retro look to it.
The only thing that held me back was that it's not counter depth. If I had a huge kitchen, that wouldn't be an issue. But I have a small-ish kitchen.
Oh…have I mentioned that I'm no longer planning on expanding the kitchen?! 🙂 Yeah. That's a recent decision. I just decided that I don't want to put a lot of money into expanding and remodeling a huge kitchen (especially when it involves taking out a load-bearing wall that was originally an exterior wall) when the kitchen is the one room of the house that I try to spend as little time as possible in. 🙂 Seriously. I'd rather put that money into remodeling/rebuilding the back room (what's now the sunroom, but will be the utility room and family room).
So while I had planned on expanding the kitchen like this…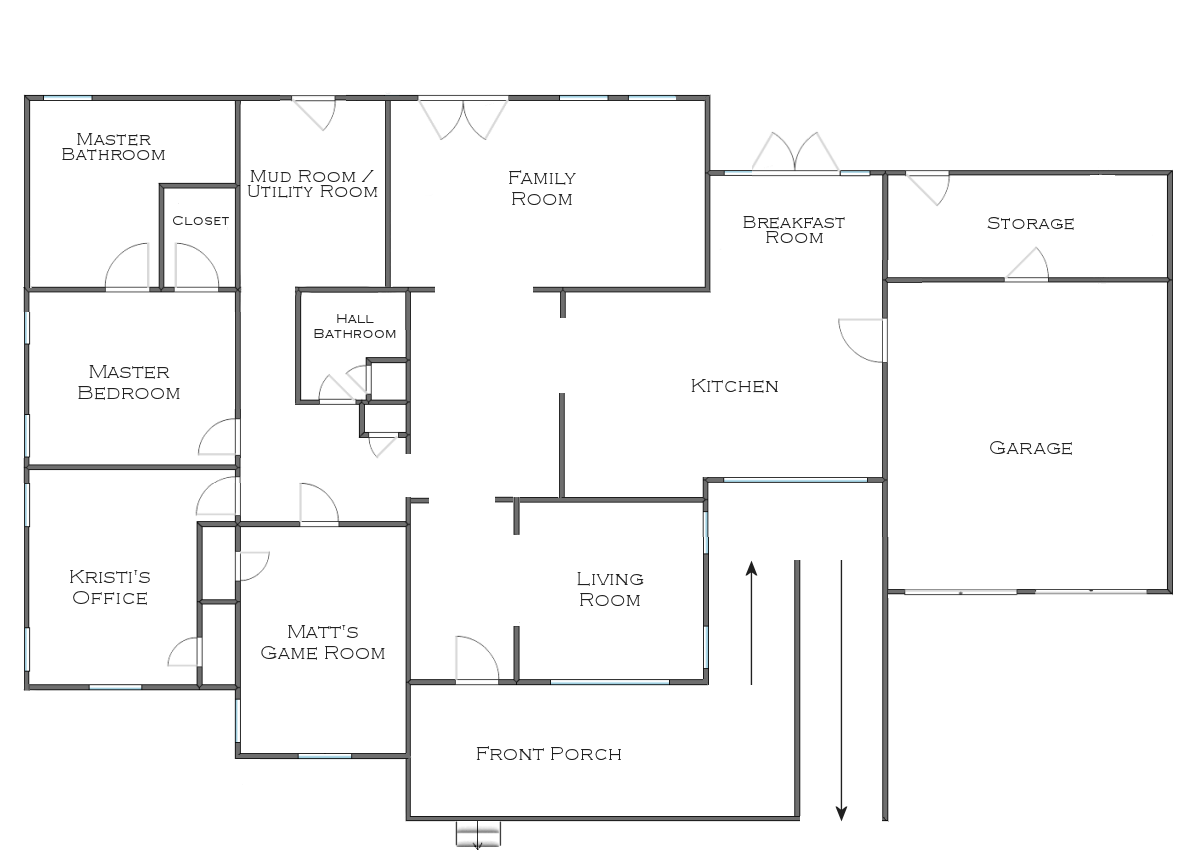 I'm now just planning on working with the original kitchen…
And as you can see, that kitchen is 9'9″ x 14'4″. It's long and narrow, which makes it a challenge. And since every little inch counts, I was really having a hard time giving up the idea of a counter-depth fridge.
I almost decided to just purchase used appliances for now to give me time to shop around more, make more definite decisions about my kitchen design, and save up for all brand new appliances. But the used refrigerators I was finding were either around $200 and really old looking, or they were pretty nice and $400+. It just seemed silly to spend several hundred dollars on a used refrigerator when the two refrigerators I was looking at were $1099 (for the GE Artistry) and $1500 (for the Summit). So after shopping at used appliance stores last week, I abandoned that idea.
So it was down to two. BUT…in the end, the GE Artistry series won out. I showed Matt the two refrigerators and asked his opinion. His response was, "Seriously? Oh come on, Kristi! There's no question here! This retro looking refrigerator is definitely what you want!" 🙂
He was right. So I just purchased it. In white.
I'll get the dishwasher and gas stove as well (we haven't used a microwave in 10 years, and haven't owned one in seven years), but I just needed a fridge for now. Like I said, I use the kitchen as little as possible. 🙂 As long as I have something to keep my ice frozen, and keep my almond milk cold for my cereal, I'm good. Sadly it's on backorder until the 15th of this month, so I have to do a bit more waiting.
I'm so relieved to finally have this decision out of the way. Is appliance shopping this big of a deal for you, or do you find these decision easy to make? I've been stressing about this decision for about two months now. Phew! It's done!
Addicted 2 Decorating is where I share my DIY and decorating journey as I remodel and decorate the 1948 fixer upper that my husband, Matt, and I bought in 2013. Matt has M.S. and is unable to do physical work, so I do the majority of the work on the house by myself. You can learn more about me here.
I hope you'll join me on my DIY and decorating journey! If you want to follow my projects and progress, you can subscribe below and have each new post delivered to your email inbox. That way you'll never miss a thing!