New Kitchen Floor Plan, Beautiful Navy Blues, and Luxurious Linens
Happy Friday, y'all! I have a bunch of randomness to share with you today. 🙂
First, I finally decided on the new floor plan for my kitchen.
Right now, it's kind of a confusing mess that looks something like this:
The cabinets on this wall with the sink are original to the house…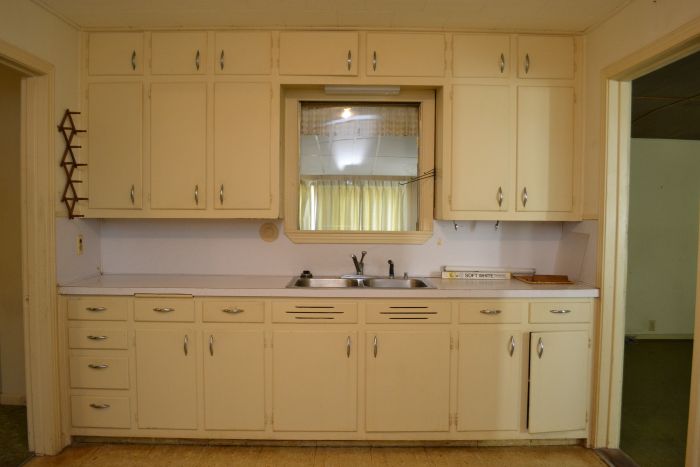 The cabinets on the opposite wall were added later…
So the issues with the original floor plan are:
1. The cabinets on the sink wall are only 22 inches deep — not deep enough for a dishwasher.
2. Once a regular-depth fridge and stove are added, it creates a very weird, cramped layout where some of the cabinets on the wall opposite the sink are hidden behind the fridge, which sits in the middle of the wall, and juts out quite far into the room.
3. The second doorway into the den is unnecessary and takes up valuable space in the kitchen.
As I've tried to come up with a new floor plan, for some reason, that wall of cabinets opposite the sink wall was really creating a mental block for me. I was nervous buying a regular-depth refrigerator, afraid the only option I had was to allow it to jut out into the room, taking up visual space (and actual space), and creating an awkward flow to the room.
When I was talking to my mom the other day, I said, "The reason your big refrigerator works in your small kitchen is because it's in the far corner of the kitchen." But for some reason, it didn't dawn on me that I could make that same thing work in my own kitchen…
Until two days ago.
I went to the house, and just stood in the kitchen, staring, thinking, until it dawned on me that I didn't have to keep that wall of cabinets opposite the sink. And I don't have to keep the sink where it is now. (I grew up in a house with a slab foundation, so I tend to forget that I have a pier and beam foundation which makes moving plumbing around so much easier!) And I don't have to keep that wall of cabinets opposite the current sink wall.
So I came up with this new floor plan…
Here are the particulars:
1. The wall of cabinets opposite the sink wall will be removed, and cabinets will be placed along the long walls instead.
2. The gas range will stay in its original place, with cabinets added, and the fridge will then sit in the corner. (And obviously, that second doorway into the den will be closed up.)
3. The sink will be moved opposite the range and fridge to create a work triangle.
4. The other wall of cabinets (where the sink is currently) will be reconfigured to create one complete wall of cabinets for appliances, pantry, and other needed storage.
5. And of course, I'll have room for a dishwasher.
I really can't tell you how relieved I am to finally have this plan in place. I'm not sure why it was so difficult for me to visualize this space. If it had been someone else's kitchen, I would have come up with this plan about five minutes after seeing it the first time. But for some reason, I struggle so much with my own spaces. (I always have! We lived in the condo for three years before I could settle on how I wanted to decorate it!)
In other news, I finally got some navy blue paint samples and put them up in the master bedroom. All three are from Behr, and from left to right, they're called Planetarium, December Eve, and Nocturnal Sea.
I'm leaning towards December Eve, but really by the time I had them on the wall, the sun was already going down and the room was a bit too dark to really get a good look at the colors.
Now I know you're saying, "Well, Kristi, why didn't you turn on the light?!"
Yes, that would have helped. And I would have if I could have. But you see, when my mom and I were sanding the floors a couple of weeks ago, we blew a fuse. And I have absolutely no idea how to change a fuse. (I've never dealt with a fuse box on a house before, but I can flip a breaker switch like a pro!) 🙂
So I've been without electricity in the three bedrooms ever since then. *Sigh* I suppose I need to learn how to take care of this and just do it. But to do so, I'm pretty sure I have to go into a dark and cramped corner (behind the huge furnace!) of the storage room at the back of the garage. And I have an almost ridiculous and unreasonable fear of brown recluse spiders that has thus far prohibited me from going into that dark and cramped corner. So for now, I have no electricity in the bedroom.
But back to the fun stuff. I also got three samples of linen that I want to use for my draperies on the big window that the headboard will sit in front of. The blue linen is something I might use for pillows, or an accent on the draperies. I'm not quite sure yet.
I really wanted a natural linen color. I'm leaning towards either the Oatmeal…
or the Flax color…
I really like that those both have the light and dark threads woven through to create that look that is characteristic of linen.
I thought it was interesting that the one that's actually called Natural looks the least natural to me. It's a very one-dimensional saturated color (no lights and darks like the other two), and it almost has a hint of green in it. Definitely not my idea of natural linen.
I'm still waiting on my sample of the P. Kaufmann Sea Breeze Patriot fabric to arrive. That will help me make my final decision on the navy blue wall color.
I might also pick up some samples of Sherwin William's Naval and Benjamin Moore's Hale Navy to test out, since those seem to be two of the most popular navy blues.
And I still need to decide what white I want to use, since the bedroom will have white wainscoting on the bottom portion of the walls. (The navy blue will just be on the top portion.) And I'll probably just stick with one white for trim throughout the entire house, so whatever I use in the bedroom for the wainscoting will be used throughout the house.
Have any suggestion for the perfectly creamy-but-still-bright white? In the condo, I used Polar Bear by Behr. I like it, but at times, I think I can see just the slightest touch of red in it. I've also used Swiss Coffee by Behr in the past, but it's not quite bright enough for my taste. What is your favorite white?
Addicted 2 Decorating is where I share my DIY and decorating journey as I remodel and decorate the 1948 fixer upper that my husband, Matt, and I bought in 2013. Matt has M.S. and is unable to do physical work, so I do the majority of the work on the house by myself. You can learn more about me here.