Hallway Artwork Framed & Hung (Watercolor Chapel & Colorful Geodes)
Yesterday I worked on getting the artwork for the hallway framed and hung, so now my hallway has a bit of color in it (besides the teal door).
You may remember from a few weeks back that I had originally intended the colorful bird illustration gallery wall to be used in the hallway. But as I put those pictures in their frames, I realized I liked them so much that I preferred them in the living room. (You can click here to see how that turned out.)
So I went back to the drawing board for hallway artwork inspiration, and finally decided to turn one of my favorite pictures from our wedding day into a watercolor. I couldn't do it myself, so I recruited my very talented mom to help me with the project. (You can click here to see the whole before and after, from photograph to "watercolor.")
It took a while for me to decide just how I wanted it framed, but I finally decided on a double white mat and a very simple matte gold metal frame. Here's how it looks framed and hung above the small console table that I built for the hallway. (I'll work on hiding the lamp cord later.)
I just love how it turned out.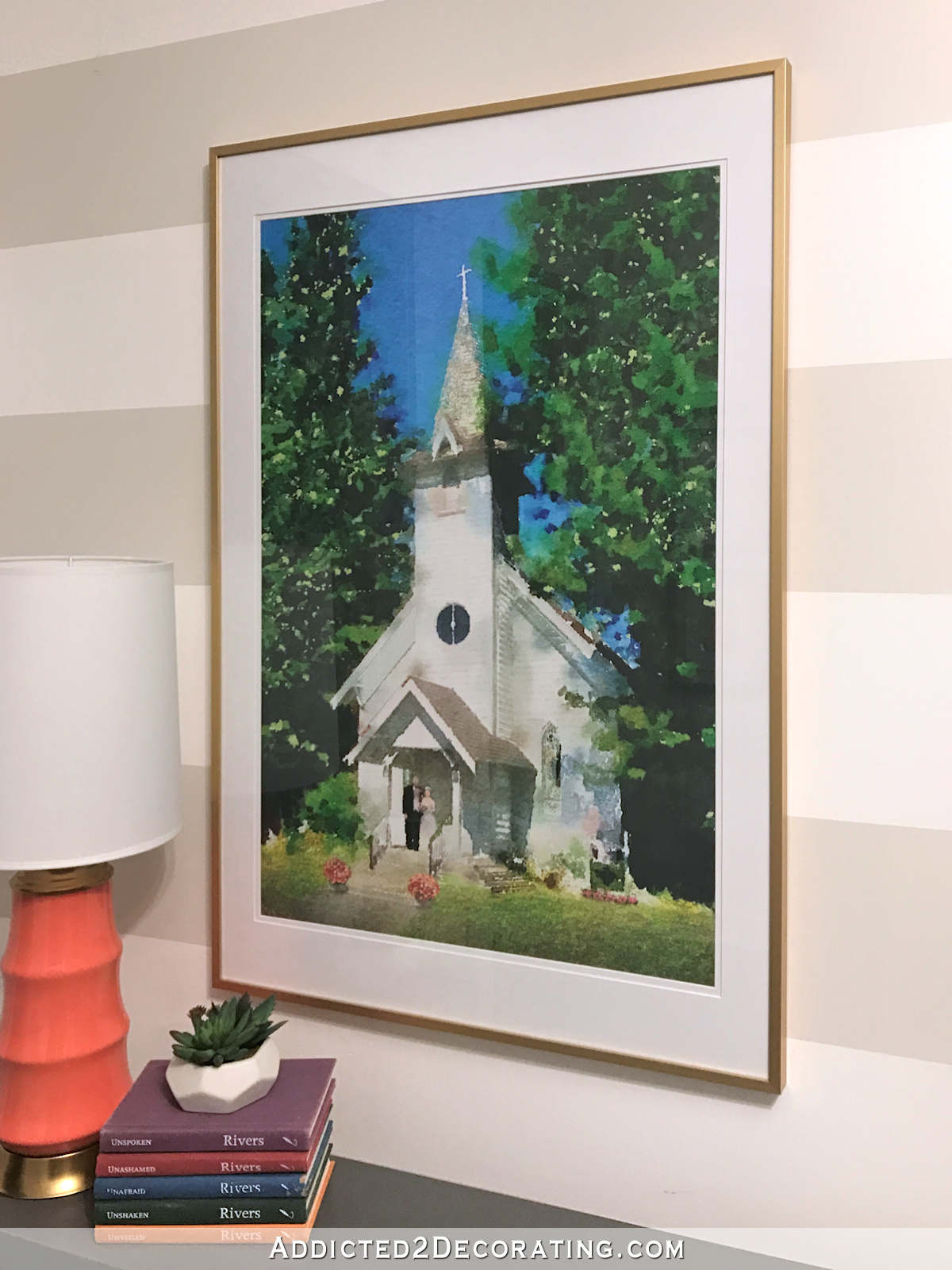 The thin matte gold frame is from Hobby Lobby. I had to custom order, and it took about two weeks to come in, but I was pleasantly surprised at the cost. It was right at $35. I had a heck of a time finding a double white 24″ x 36″ mat, but I finally found this one on Amazon (you can find it here). I ordered non-reflective glass, which is more expensive than regular glass) from a local glass shop, and it was $40. And finally, my mom ordered the print from her professional lab, and I asked for it to be mounted on foam board. That cost $70. So in total, this "watercolor" came in at $175. I guess that's actually not bad for a completely custom 24″ x 36″ piece of artwork.
The console table (which I built myself — you can click here to see that project) got a couple of coats of Benjamin Moore Kendall Charcoal. The lamp is one that I found a couple of years ago at Marshall's. It was turquoise, which seemed a bit dull in the hallway with the teal doors and artwork with lots of blue, so I gave it a little makeover with Rust-Oleum Painter's Touch spray paint in gloss Coral, which I found at Home Depot.
On the opposite wall, I hung the set of six watercolor geode prints that I bought from WatercolorPaperie on Etsy. (You can click here to find these prints.) I really wanted to put these in acrylic "frameless" floating frames, but after searching extensively and not finding any that I liked and that were budget-friendly, I finally decided to go with these frames that I found at Hobby Lobby. They still give the "floating" effect with the prints sandwiched between two layers of glass, but they obviously have frames.
I do like how you can see through the glass to the wall, and also how the actual artwork creates shadows on the wall. It's an interesting effect.
I bought the frames during one of Hobby Lobby's 50% off frame sales, so they came in at just over $10 each. The artwork itself, with shipping, was $93.50. So with the frames and the artwork, this wall came to just under $165.
Now if I can just get the new drawer built for the cabinet and do those paint touchups, and then find some black door pulls for the bathroom doors, this hallway will officially be finished!
Addicted 2 Decorating is where I share my DIY and decorating journey as I remodel and decorate the 1948 fixer upper that my husband, Matt, and I bought in 2013. Matt has M.S. and is unable to do physical work, so I do the majority of the work on the house by myself. You can learn more about me here.