Last Updated on February 14, 2019 by Kristi Linauer
I had planned for my first week of the One Room Challenge to be all about making and installing cabinets in the pantry, but after giving it some thought, I realized that the first project right out of the starting gate really needed to be the marbled resin and alcohol ink tiles that I planned to make for the backsplash. I want the resin to be as cured and as hard as possible before I install them so that I won't scratch them during installation and grouting.
It's a fun process, and as several of you requested, I made a video showing how I made them.
(If you can't view that video, you can click here to watch on YouTube.)
I tested this project on a much smaller scale a couple of weeks ago (you can check that out here), but in order to make such a large quantity of tiles, I had to turn my breakfast room back into a workroom and prepare the entire surface of my 4′ x 8′ work table for pouring resin.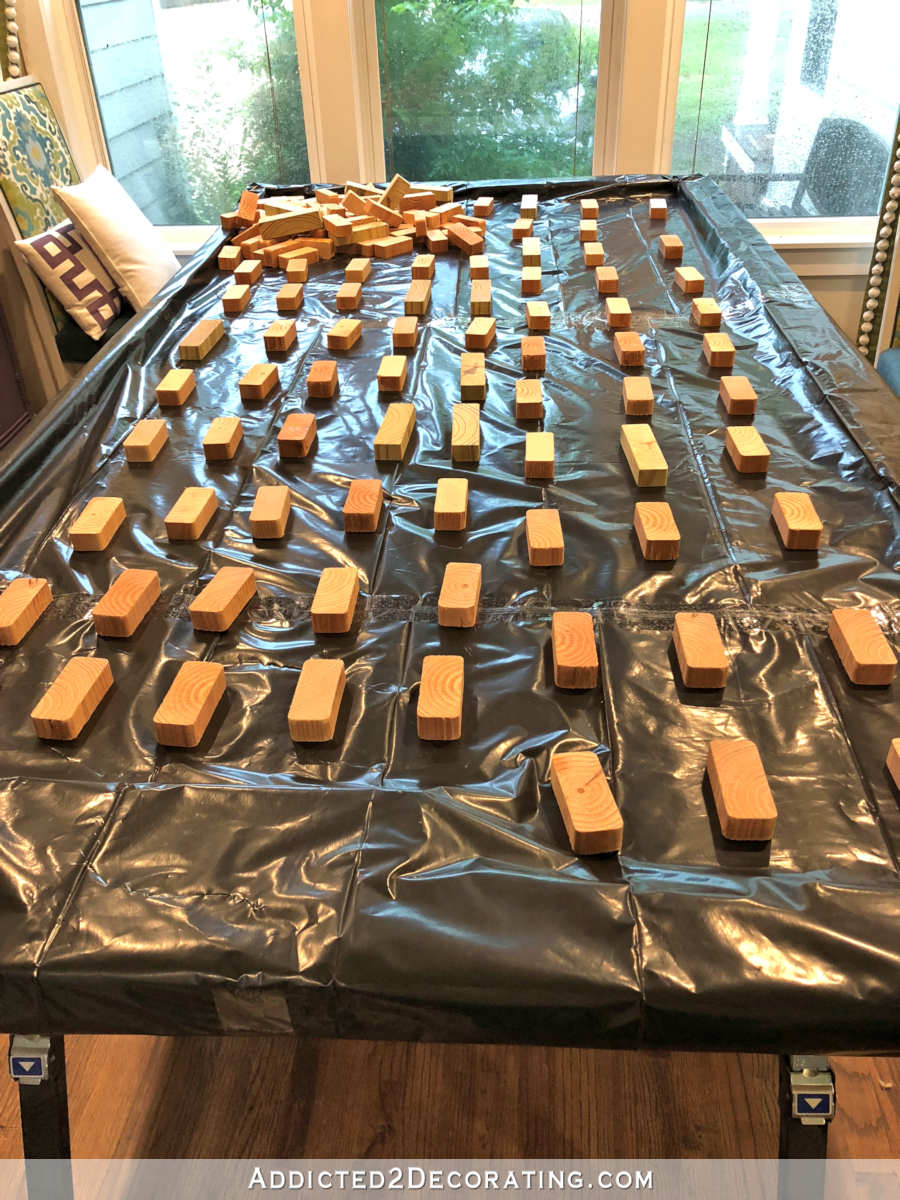 My work table is just a 4′ x 8′ piece of 3/4″ MDF sitting on three adjustable sawhorses. I placed 2″ x 4″ lumber around the perimeter of the table top to prevent any resin from running off of the edge of the table, and then covered the entire thing with contractor trash bags, taped together with packing tape at the seams.
Then I cut scrap pieces of 2 x 4 lumber into pieces that were about one-and-a-half inches thick, and spaced those out on the table top. Then I placed the tiles on top.
The 2 x 4 pieces turned out to be the perfect stands for the tiles. They were big enough to hold them up securely, but small enough so that the resin didn't touch them and adhere the wood to the tile as they dried. The wood also stood up to the high heat of the heat gun, unlike the little plastic Solo cups that melted under the heat of the heat gun on my previous attempt.
I used a total of twelve different alcohol ink colors, plus white and gold. On each tile, I used eight drops of the colors, plus about six drops of white and six drops of gold, for a total of about 22 drops per tile. I found that the process went smoother if I added all of the colors, then went back and added the white. But since gold alcohol ink is pretty finicky, I only added that to three tiles at a time just before using the heat gun on those tiles. And I tried to remember to shake the bottle of gold ink really well before moving on to the next three. My experience has been that the gold ink seems to separate pretty quickly and requires constant shaking and mixing between uses.
As you can see in the video, I worked out a system to work through all twelve colors using eight drops per tile. This system gave the tiles a coordinating look, while giving them just enough variation to be interesting. I found that when I stuck to only eight colors and used those eight colors on every single tile, the look got a little boring.
Here's how they turned out initially…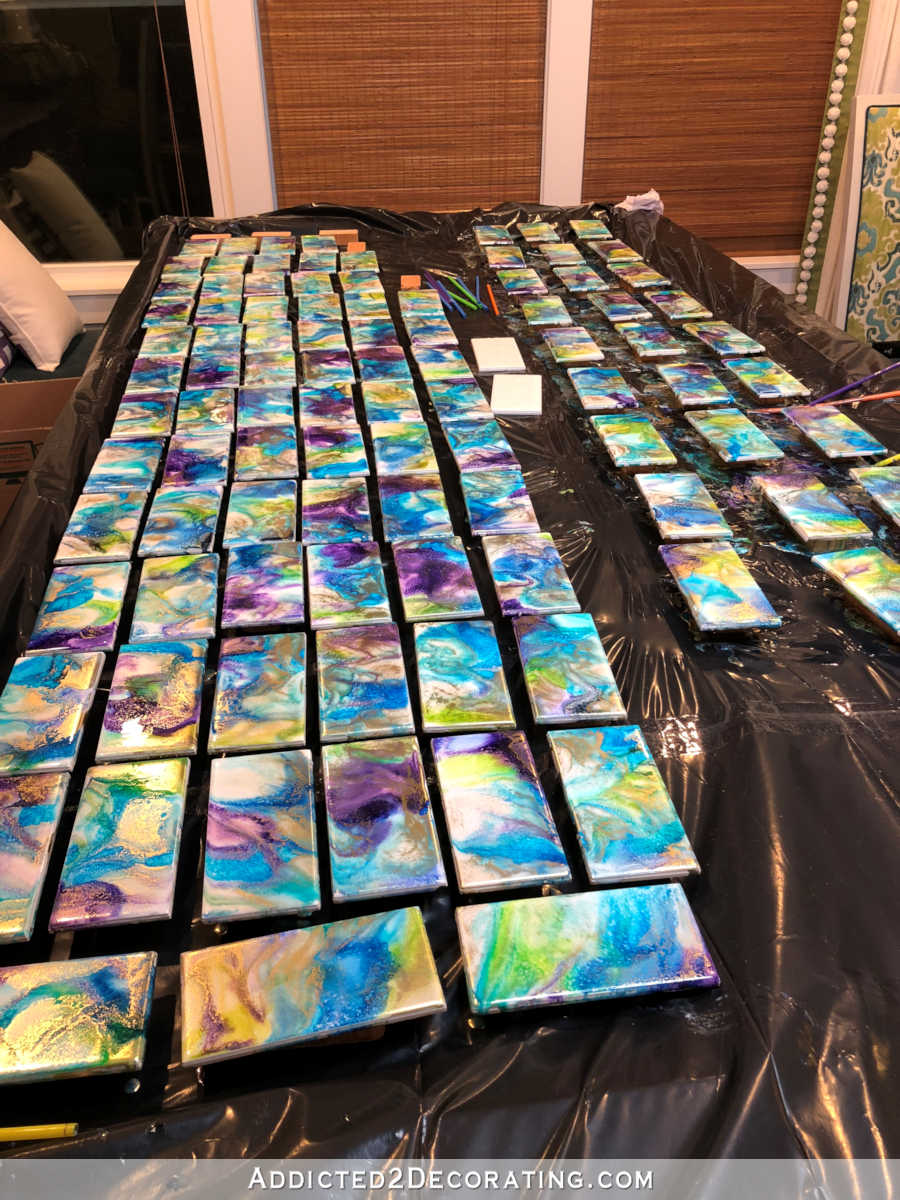 I loved the color, and each tile was like a little work of art…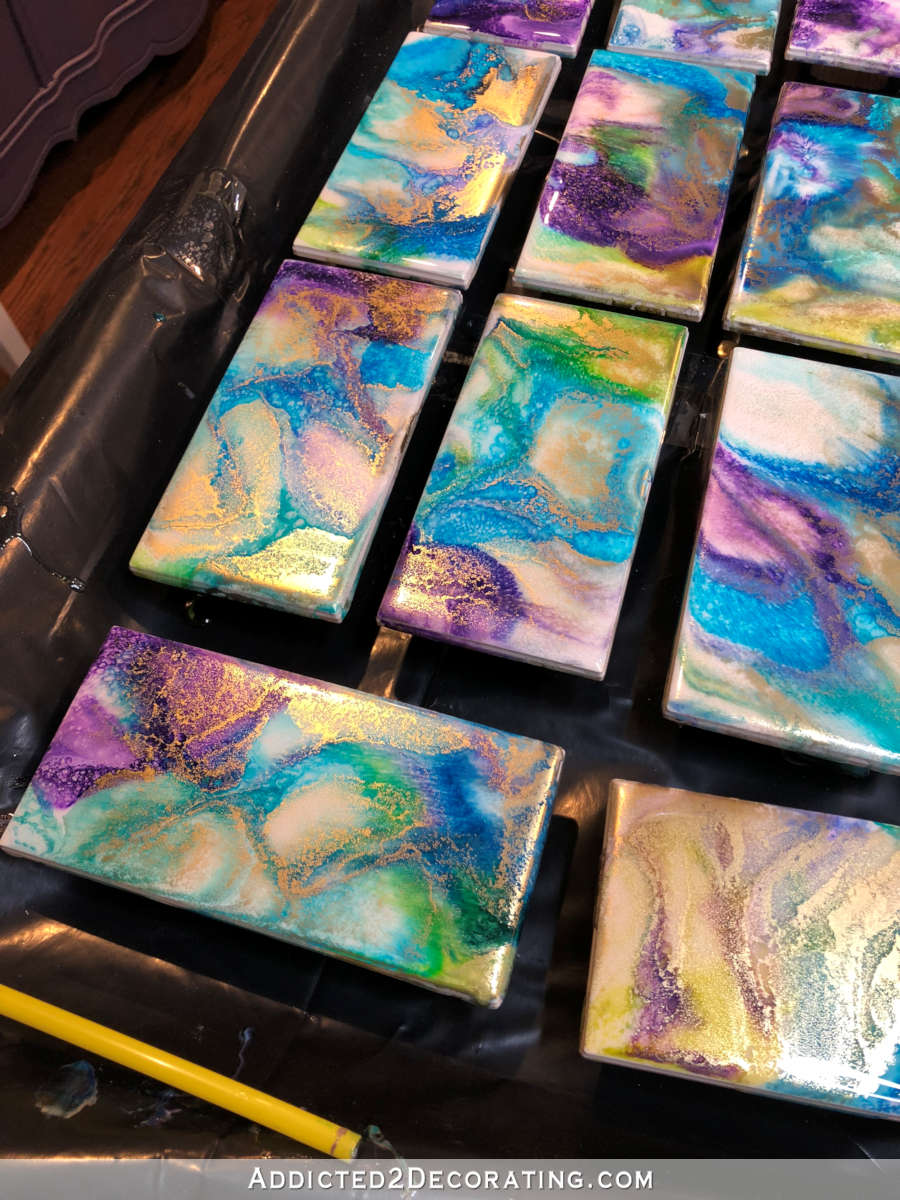 On their own, they're just gorgeous…
But all together, the color seemed a bit in-your-face. Here are a few tiles sitting on my purple credenza, and keep in mind that as of right now, I'm planning on painting my lower pantry cabinets a deep purple.
But I wanted to tone down the tiles just a bit, so I decided to add a second coat of resin. But on the second coat, I only used white and gold alcohol inks to mute the colors just a bit. You can see the original tiles on the left, and the tiles with the additional coat of resin on the right…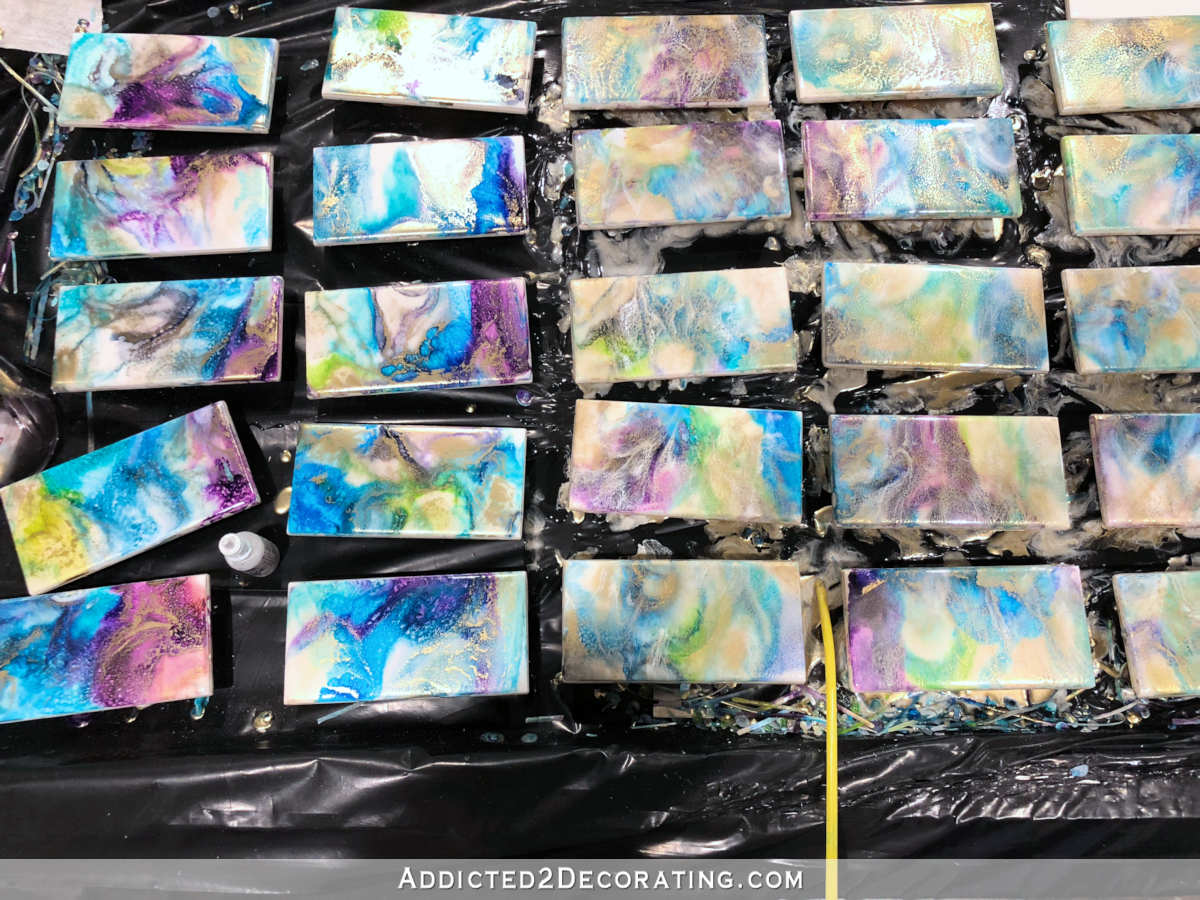 Much better, I think. 🙂 If I were doing a small project, like a tiled serving tray, I think the bold, bright, in-your-face colors would have been perfect. But since I'm doing an entire backsplash, I think the toned down colors and patterns will work better.
And they're definitely still colorful! There will be no lack of color on my backsplash. 🙂
Here are a few close up views of the tiles with the second coat of resin…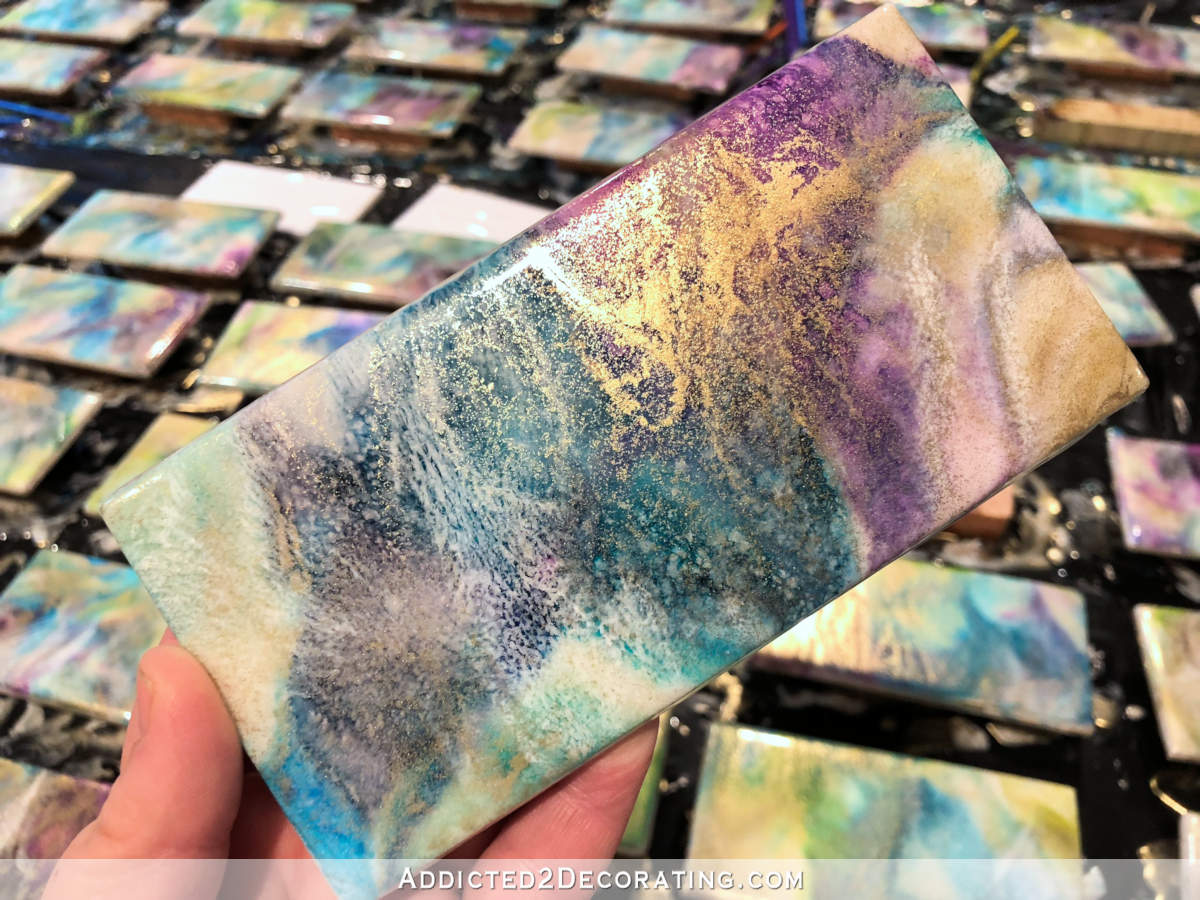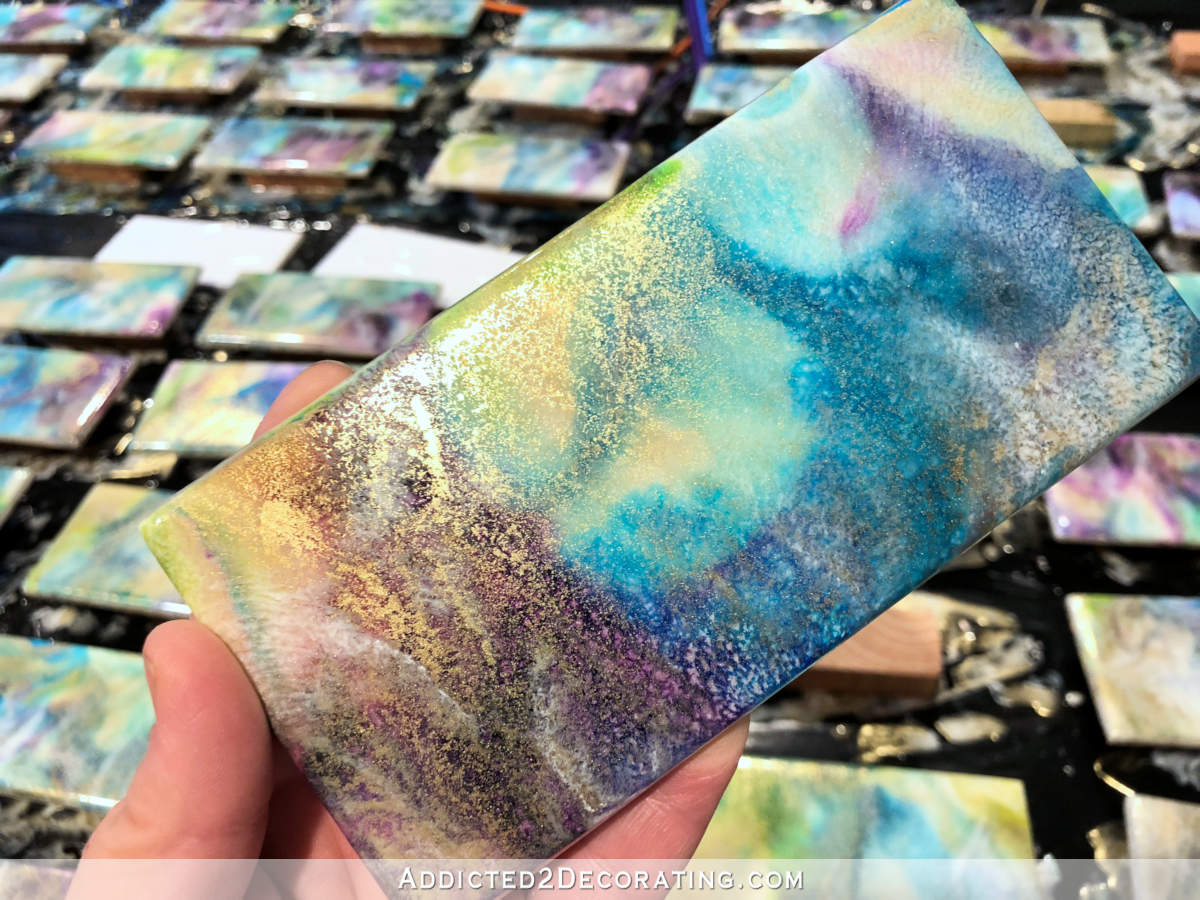 I'm so excited to get these installed! But I'm getting way ahead of myself. I still have to make the rest (I'm not quite halfway finished), and build some cabinets before I can be ready to install these tiles. But by then, they should be really cured and ready to be handled, installed, and grouted without scratching.
And just a note about the drips of resin on the back of the tiles. I had shared some ideas of how to handle those in the previous resined tile post, and I ended up going with the option of just letting the drips form, and then cutting them off with a razor blade. The other option I was considering was using Contact paper or packing tape, and taping off the backs of the tiles before pouring the resin. I decided against that because that process required additional work both before pouring the resin and after the resin dried. By doing it the way I did it, I avoided probably two hours of work before pouring the resin, and just needed to do additional work after the resin dried. My thinking was that even with the packing tape or Contact paper idea, those tiles would still require clean up with a razor blade, so I just decided to skip the tape/paper option altogether.
I found that as long as I got the drips between 8-12 hours after pouring, they cut off very easily with the razor blade. (I use ArtResin, so other brands may very.) But if I waited any longer, and especially if it got beyond the 20-hour post-pour mark, those drips were very challenging to remove. So it's important to get to them at just the right time to make the job easier. Once the resin is cured, I'd say the only option would be to sand the drips off with a rotary sander and very rough sandpaper (80-grit or lower).
Be sure to check out all of the other participants in the One Room Challenge!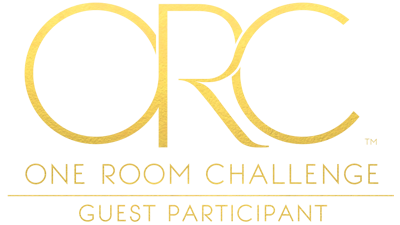 UPDATE: I still wasn't 100% pleased with the tiles, so I ended up doing a third coat of resin/alcohol inks on the tiles. On the third and final coat, I spread the clear resin, just like I did in the video, and then I placed the drops of alcohol inks onto the resin…and then I left it alone. I didn't use the heat gun to "marble" the colors together. I just let the alcohol inks mix on their own without any help from me. I liked my third attempt so much better, and those ended up being the final tiles that I used.
Here's how they looked without using the heat gun to marble the colors: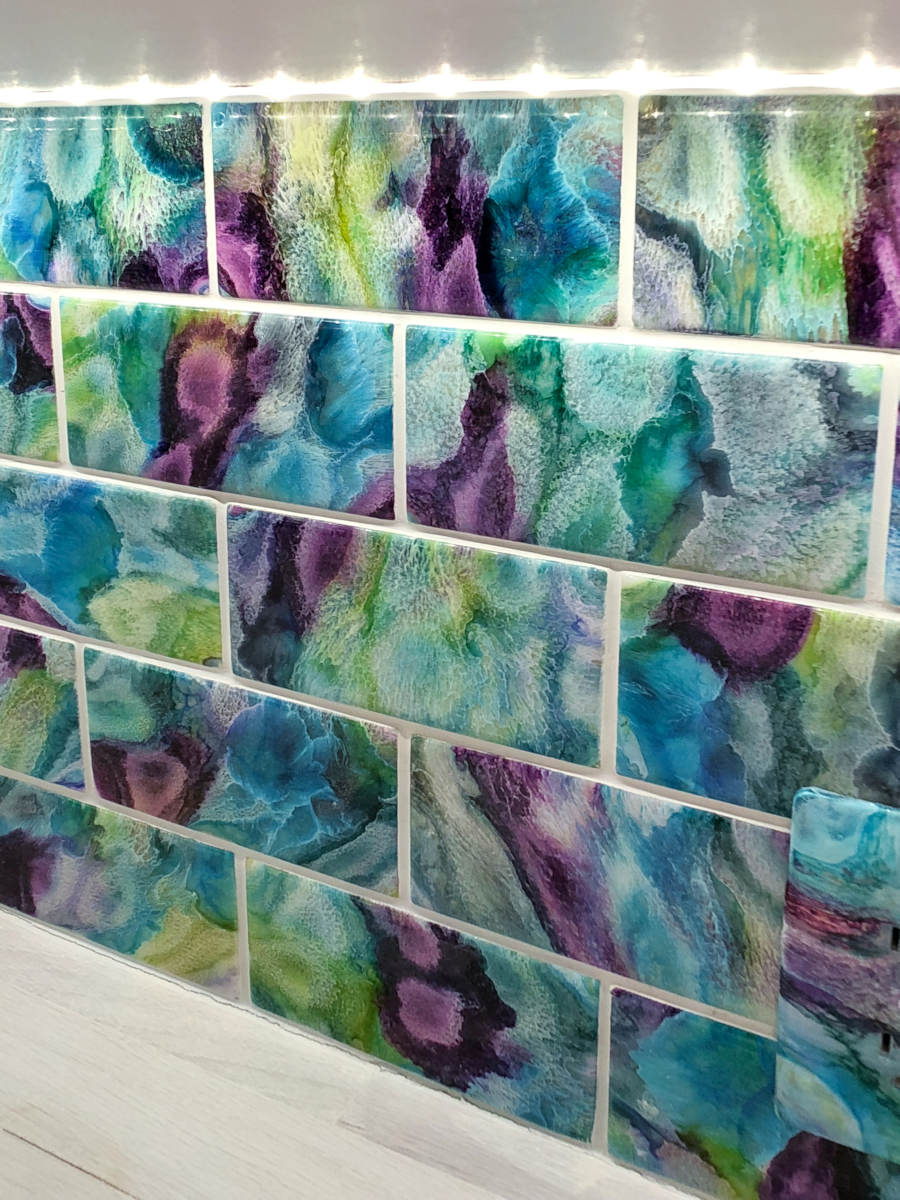 ---
---
UPDATE:
My pantry is finished! Want to see the entire project from start to finish? You can find every single post about the pantry build right here…
Or you can skip to the end and see how it turned out. Here's a peek of the finished pantry…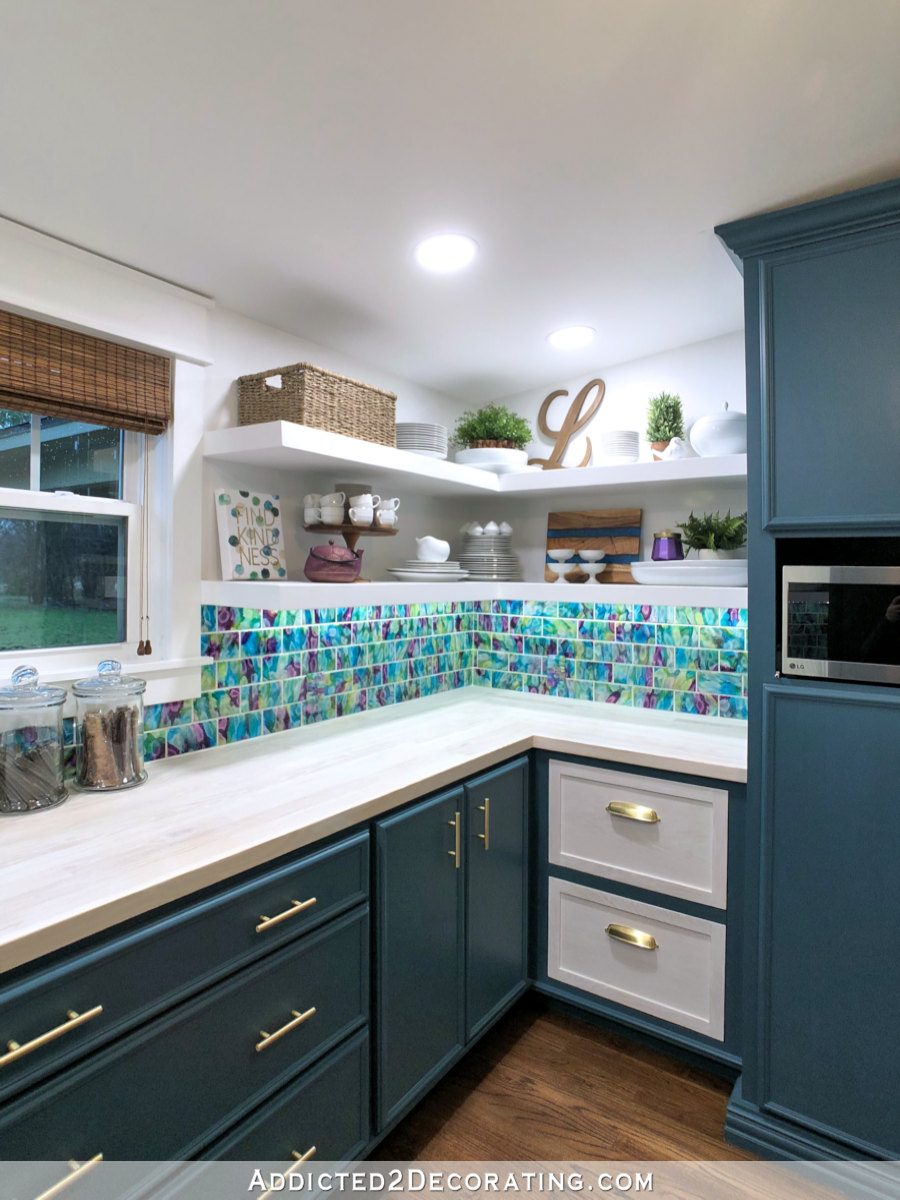 You can see more pictures on the before and after post right here…
Addicted 2 Decorating is where I share my DIY and decorating journey as I remodel and decorate the 1948 fixer upper that my husband, Matt, and I bought in 2013. Matt has M.S. and is unable to do physical work, so I do the majority of the work on the house by myself. You can learn more about me here.
I hope you'll join me on my DIY and decorating journey! If you want to follow my projects and progress, you can subscribe below and have each new post delivered to your email inbox. That way you'll never miss a thing!