Teal Furniture-Style Vanity Made From Stock Cabinets – Finished!
I finally finished my vanity, and I love it!  It's tall (36 inches, which is taller than the standard bathroom vanity, but evidently that height is becoming the new norm), dark (a beautiful deep teal, Behr's Mythical Forest), and oh so handsome!
I apologize for the blurry pictures.  For some reason, all of my pictures from this weekend have been blurry, no matter what I do.  Perhaps I've finally gotten too much caulk, wood filler, and paint on my camera for it to work properly.  🙂  I think it's time to buy a new one.  Ugh…that's a major expense I certainly wasn't expecting.
Anyway, I used stock cabinets for this vanity — one 30-inch cabinet and two 12-inch cabinets.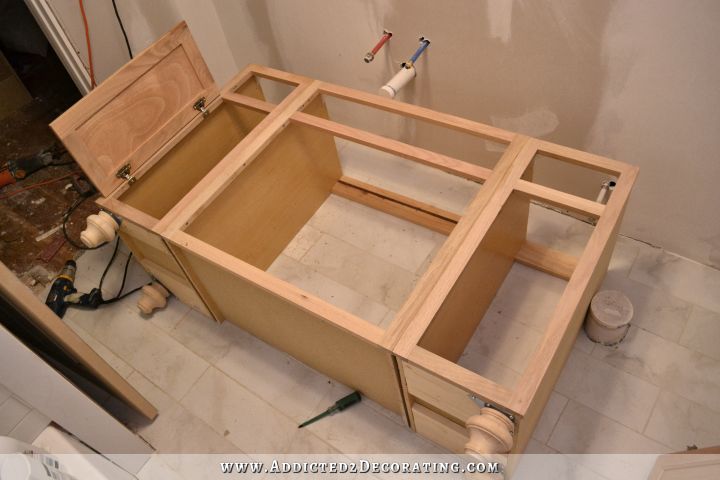 You can click here to see how I cut them down to 18.5 inches deep, attached them to each other, and installed the feet.
And then I added some finishing details like trim and an end panel design.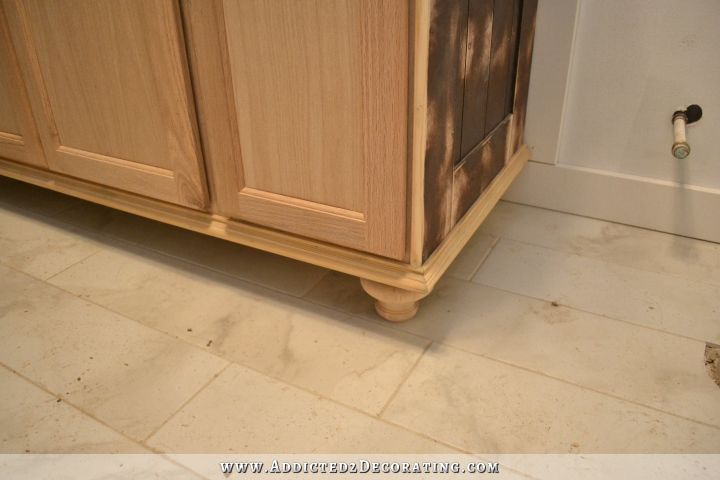 I made the countertop out of $22 worth of rough pine 2 x 3 studs.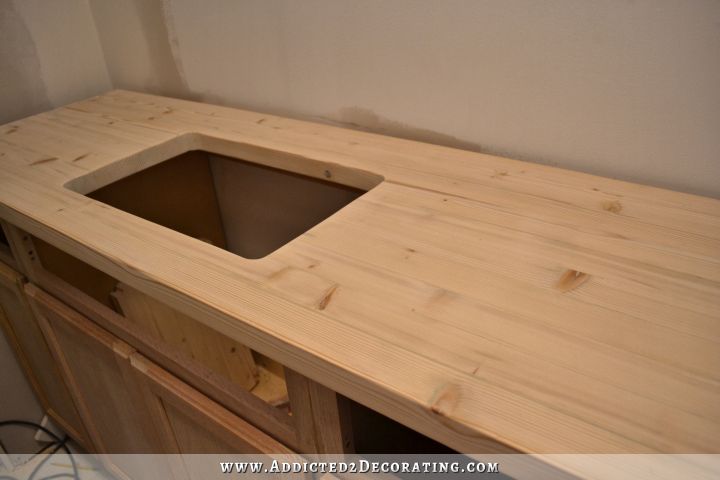 And now she's all primed and painted!  I really like the teal paired with the green walls, and I think once I get the shower curtain made and hung, it'll tie everything together.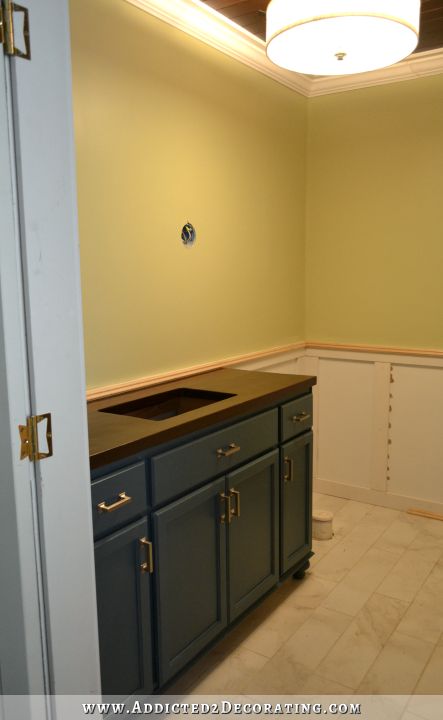 I'm always so disappointed with how the countertop looks in pictures.  In person, it's dark, but you can definitely tell that it's wood, and you can see the wood grain in it.  Also, the light spots are very obviously knots in the wood, and they actually look really pretty.  In pictures, it just looks like a solid dark countertop with light splotches.  🙁
I'll have to work on getting a better detail picture of the countertop.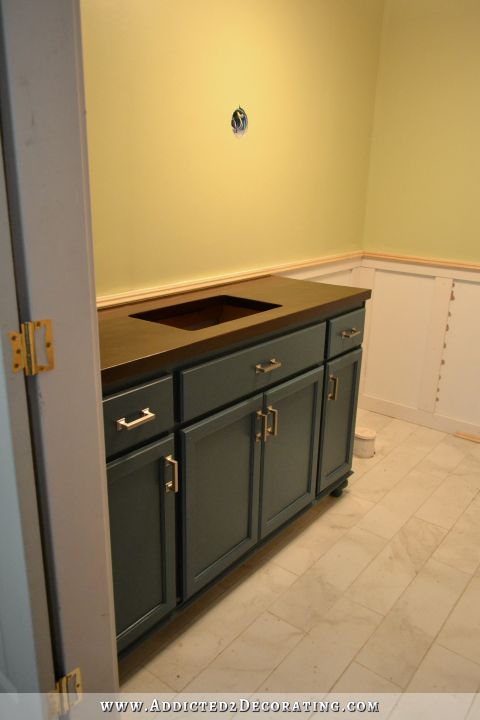 Ugh…those blurry pictures.  🙁  So sorry.
So how much did my vanity cost?  Here's how it breaks down:
1 3o-inch Stock Cabinet:  $100.80 (purchased during a 20% off sale)
2 12-inch Stock Cabinets: $118.40 (purchased during a 20% off sale)
Wood Filler: $8
Furniture Feet:  $40
Wood Trim:  $19.43
Primer: $8.88
1 Quart Paint: $13.47
Wood for countertop:  $22
Screws:  $7
Stain:  $8.46
Polyurethane: $10.77
Finishing nails, wood glue, paint brushes, etc:  On hand
TOTAL:  $357.21
Not too bad for a furniture-style vanity with a countertop, right?  All of the ones I've seen online that are a comparable size to mine run anywhere from $1000 to $1700, and I've even seen a couple that are more than that!  Even the cheapest furniture-style vanity with a countertop that Home Depot carries is $979.  So I'd say that making my own from stock cabinets really paid off!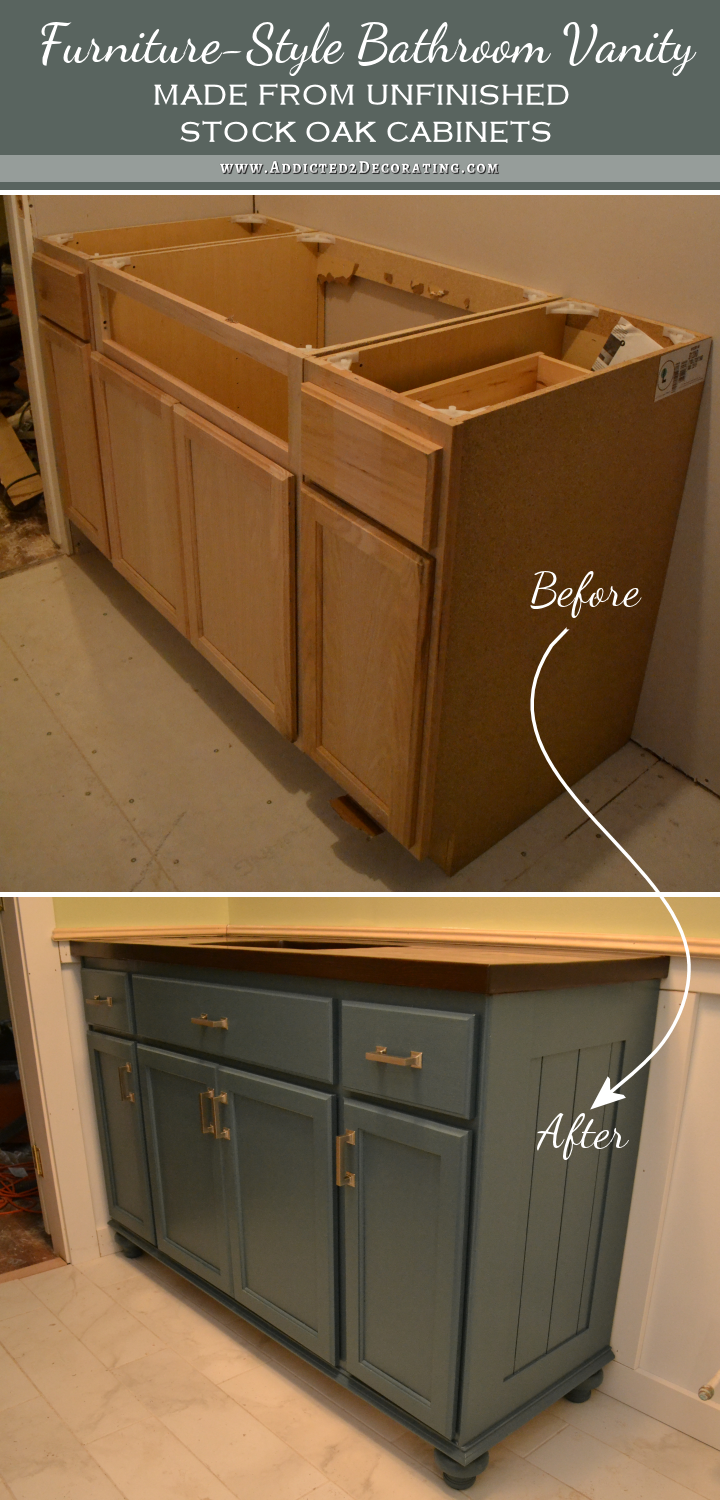 Addicted 2 Decorating is where I share my DIY and decorating journey as I remodel and decorate the 1948 fixer upper that my husband, Matt, and I bought in 2013. Matt has M.S. and is unable to do physical work, so I do the majority of the work on the house by myself. You can learn more about me here.