How To Seal Butcher Block Countertops (The Best And Easiest Way!)
I've finally learned how to seal butcher block countertops using the best and easiest method! And if you've been following my attempts at finishing and sealing these countertops, you know that this is my fourth attempt. I've tried Waterlox, oil-based stains, water-based stains, and now this final attempt. And I can tell you that of all of them, this one is the absolute best. It's just a bonus that it's also the easiest, and it's fairly simple to maintain. It doesn't require any DIY skills. Literally, if you can wipe down a countertop, you can seal your butcher block countertops. So let me show you what I used…
IKEA Oak Butcher Block Countertops – I've Found The Perfect Finish!
This has been quite an adventure trying to find the perfect finish for my butcher block countertops — one that will hold up to water, resist stains, and be durable enough that I don't feel like I have to add felt pads to the bottom of all of my pots, pans, glasses, coffee cups, etc.
And I really do believe I've finally learned how to seal butcher block countertops with the absolute best and easiest finish. The best thing about it? I can find it at the neighborhood grocery store one block away for less than two dollars a bottle in the laxative aisle. Yep, it's mineral oil. And the finish is absolutely beautiful. Look what it did to my oak butcher block countertops. The left is the unfinished (freshly sanded) oak, and the right is the same oak countertop with nothing but mineral oil.
I was really shocked at how it turned the wood a really beautiful medium brown with a hint of red. Yay! No yellow! I was very afraid that I would have a repeat of the orangish yellow disaster that I had with the Waterlox last time. But there's no yellow here, and it also didn't turn the grain in the wood the dark almost-black color that the stains did. The grain stayed subtle and pretty, just like I wanted it.
I decided to give the mineral oil a shot after reading this post on House Tweaking. Dana made it sound so easy. Just wipe down with oil every now and then? Simply sand out stains and re-oil? Could it really be that simple?
It is. In fact, just last night I was doing some paint touch up on my upper cabinets, and I dripped a bit of oil-based paint onto my countertop. If it had been one of the other finishes, I would have been in serious trouble. But not with the mineral oil! I just wiped off the excess paint, let the rest of the paint dry, and then got a piece of sandpaper and sanded the rest of the paint right off. I wiped it down with mineral oil, and it looked as good as new.
I keep wondering why the heck I didn't do this from the very beginning!!! The reason is because I was convinced that I wanted really dark countertops. Sure, that would be nice. Yes, I like dark wood. But the ease of maintenance with countertops that are just oiled far outweighs the beauty of dark stained countertops. With stained countertops, there's simply no way that I could ever sand out a stubborn spot, re-stain that spot, and have it blend in with the rest of the countertop. Believe me…I've tried. It doesn't work.
So this solution is perfect. And I absolutely love the fact that mineral oil is perfectly clear, so if I happen to get any of it on my grout or caulk, it won't discolor it at all.
I really haven't found any downside to using the mineral oil-only method. Since I've only just begun using the oil, and I put it on bare, newly-sanded wood, I've been slathering on the oil every night before I go to bed, and when I wake up in the morning, I just wipe off the excess with a dry cloth, and go on about my business. The first time I did that, there wasn't any excess oil in the morning. The wood soaked in every last drop.
I'll continue to do this until the wood stops soaking up the oil, and stops feeling dry. (I actually think I may have reached that point this morning, after oiling it for four nights straight.) From that point on, I'll simply oil it as it needs it. And while it may seem like a hassle to oil the countertops, it's really not. It takes me less than five minutes to grab a cloth, pour some oil on, and spread it around. After it soaks in overnight, and after I wipe off any excess the next morning, it's doesn't feel oily.
The only drawback…if I had to name one…is that my cat loves it. A little too much, in fact. I caught her up on the countertop, just minutes after I had oiled it, and she was licking the mineral oil!!! And of course, instead of making her get down immediately, I reached for my iPhone. 😀 Ha!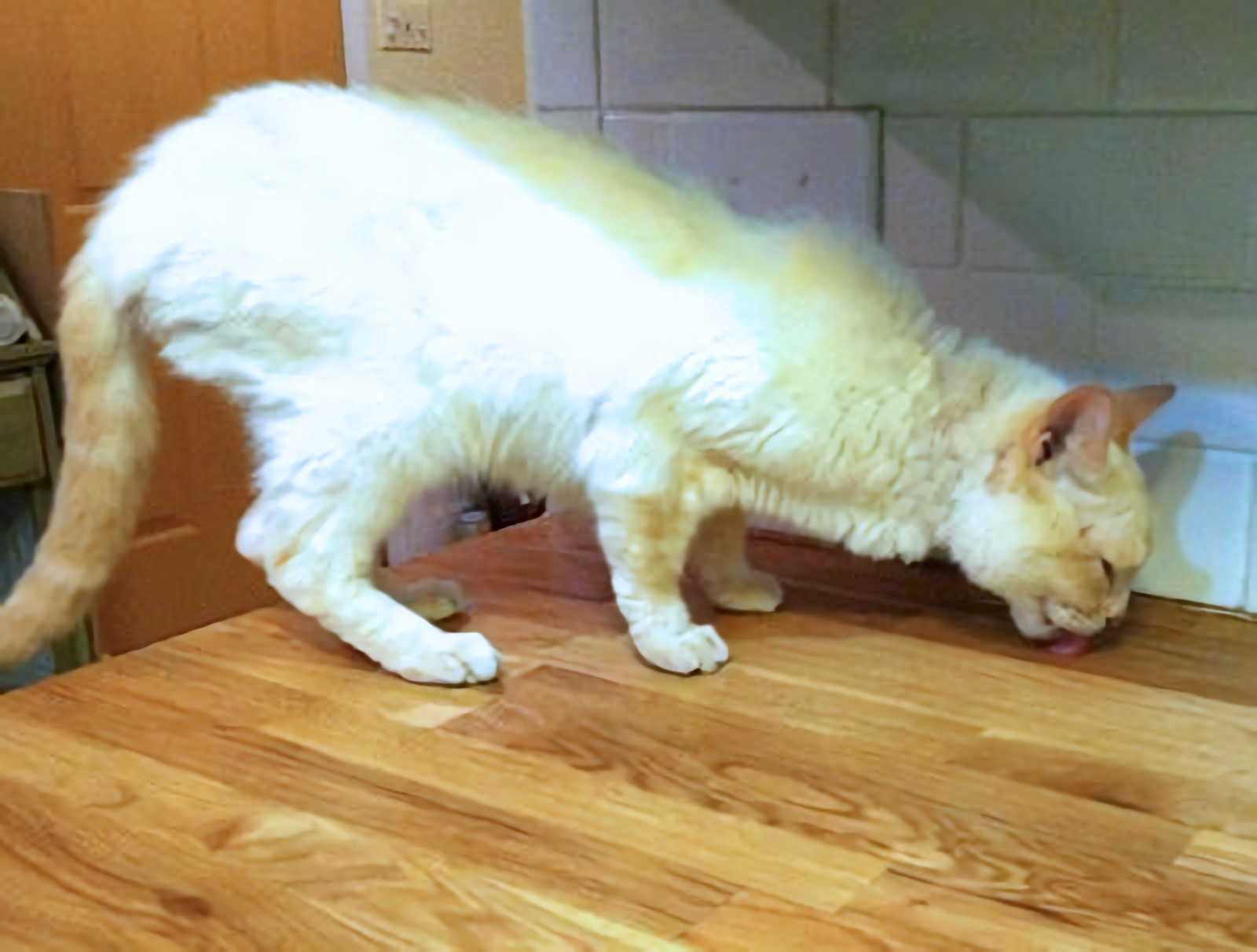 But I don't want to leave you with that horrible, discolored, poor quality iPhone picture. I'll leave you with this one…
I could seriously kick myself in the hind end for not doing this from the beginning. I had started to hate my IKEA butcher block countertops, and regretted ever selecting butcher block for my kitchen. Now that I've found this mineral oil method that leave such a beautiful finish, I'm starting to love them again.
Addicted 2 Decorating is where I share my DIY and decorating journey as I remodel and decorate the 1948 fixer upper that my husband, Matt, and I bought in 2013. Matt has M.S. and is unable to do physical work, so I do the majority of the work on the house by myself. You can learn more about me here.