Last Updated on January 16, 2017 by Kristi Linauer
We have a few thrift stores and antique stores here in Waco, but if it's a specific piece of furniture I'm looking for, there's one particular consignment store I'll frequent until I find what I'm looking for. It's a very large store, and they get new merchandise in on a regular basis (probably daily), and while you have to sift through the junk, you can find some real treasures in there if you're patient.
I've been taking weekly trips every weekend, keeping a look out for the perfect sofa. And this last weekend, my patience paid off! To be honest, I wasn't even sure what I was looking for, but I knew I'd know it when I saw it. I just wanted something that didn't look run-of-the-mill. Something that was a bit unique. Something that had character and personality.
My mom was with me, and she and I both knew this was "the one."
Isn't she beautiful?! 😀
Well, okay. Not yet. She's kind of in her "ugly ducking" stage right now. But I love that wood frame, and the potential is definitely there. Can you see it?
The funny thing is that sofa was so filthy that neither of us wanted to sit on it. I never did, but my mom did eventually try it out very briefly, and said it was fairly comfy. Interestingly, those cushions are down/feather cushion. That's it. I don't mean they're down/feather-wrapped foam. I mean there's only down/feather inside those cushions, with not a scrap of foam to be found. So I imagine this was a very nice sofa when it was new.
It's the exact size I was looking for (70 inches), which is amazing. I was having a very hard time finding any sofas that size, much less one that actually interested me. And it's very heavy and solid, so I think it's genuinely an old, very well built sofa. Oh, and it was $99. Score!
I was originally going to have it reupholstered, but the only upholsterer I've ever used (the one I used to go to for client projects) gave me an estimate of $950 just for the labor (including new foam for the seat). That's in addition to the fabric. My brain won't let me pay that for reupholstering a sofa, so it looks like I'm doing this myself.
So here are my plans for this sofa…
First, I'm ditching the three separate seat cushions and going with one long cushion.
Second, I'm going to reupholster it in an amazing fabric called Crypton, and the specific type and color I've chosen is called Clooney Parchment, which is a creamy white slightly textured chenille.
I gave up on finding a velvet that I really liked, and quite honestly, this fabric was more beautiful and just as soft as any of the velvets I looked at for the sofa, without the change in color that you get when you run your hand across the nap of the fabric on velvet. (You know what I mean, right? You run your hand across velvet one way, and it get darker. Then you run your hand the other way, and it gets lighter.)
Anyway, have you heard of Crypton fabric? It's amazing stuff! It's incredibly durable (100,000 double rubs), and it's impenetrable so that liquids just roll right off. Because it doesn't "breathe," you have to upholster with it just like you would with leather by creating ventilation areas in cushions and such. But check out how amazing this stuff is…
Because of the way they're treated to hold up against stains, a lot of Crypton fabrics are very hard and scratchy. But the Clooney fabric is incredibly soft, and I think it'll be perfect for a sofa. And it's beautiful. This isn't the color I bought (this one is called Sesame), but you can see the beautiful texture that the Clooney fabric has…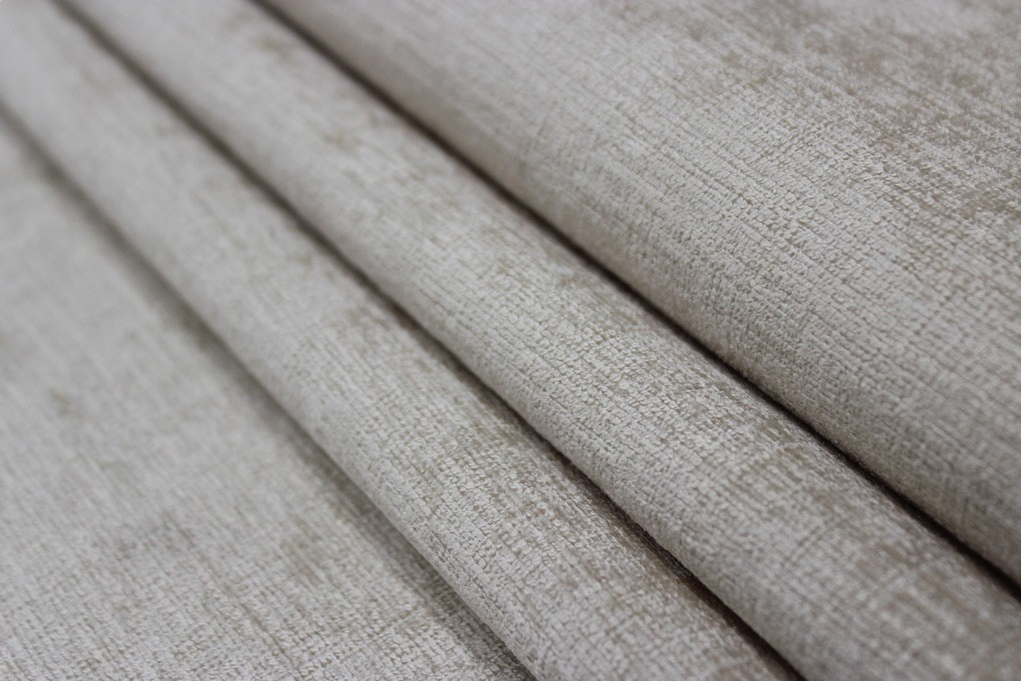 The lowest price I found for Crypton Clooney fabric was at Mary Jo's Cloth Store, where it was $20.98/yard (compared to JoAnn's regular price, which is $59.99/yard), and it comes in these beautiful colors…
And finally, I need to figure out what to do with the wood bits that are showing. I don't like the dark wood, so I plan to either paint it or strip it and keep the wood lighter and more natural than it is with that dark, heavy stain color. If I paint it, I could stick with something light and neutral that complements the fabric without standing out too much.
via Kathy Kuo Home
If I go with a more natural color wood (perhap with a wax finish), I would imagine it looking like this or lighter…
via The Grey Goose Home Interiors
So I'll probably try to strip it and leave it natural, and then if that doesn't work out, I'll paint it. Now there was a time not too long ago when I would have wanted something colorful and crazy, like painting the frame green or teal or something. I think those days may have passed, although I won't rule out the possibility completely. I think I'd like my sofa to be all neutral to allow for colorful pillows and other accents in the room.
And I still have three other chairs I'll be using in the room and none of those will be white or neutral. 🙂 There's still plenty of opportunity for color.
Addicted 2 Decorating is where I share my DIY and decorating journey as I remodel and decorate the 1948 fixer upper that my husband, Matt, and I bought in 2013. Matt has M.S. and is unable to do physical work, so I do the majority of the work on the house by myself. You can learn more about me here.
I hope you'll join me on my DIY and decorating journey! If you want to follow my projects and progress, you can subscribe below and have each new post delivered to your email inbox. That way you'll never miss a thing!