Last Updated on October 7, 2017 by Kristi Linauer
My breakfast room window wall has come a long way! Remember when the window wall looked like this?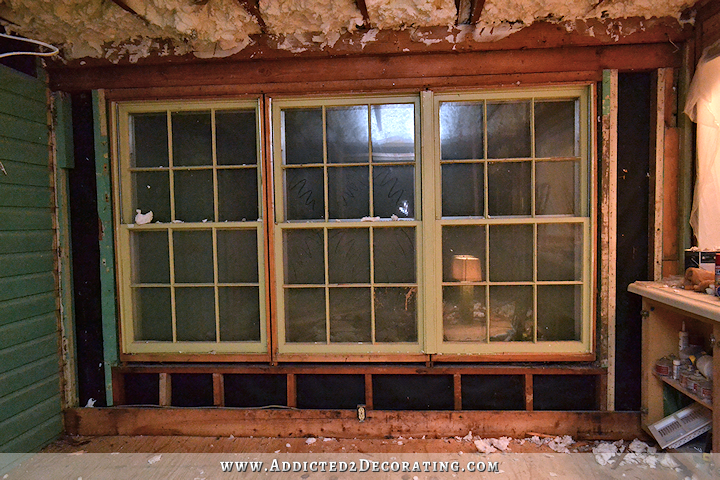 Well now the new windows are all trimmed out, the nail holes have been filled and sanded, and everything has been caulked. It's now ready for some spot priming and a couple of coats of paint.
And yes, that is my truck parked in my front yard. 😀 I was unloading lumber onto my front porch and then forgot to move the truck, so there it is, still parked in my front yard. That's one of the benefits of having an ugly, unlandscaped front yard. You can drive right on it, and it doesn't look any worse. 😀 I'm definitely going to have to get the whole interior of my house finished before we do any landscaping, because everyone I've had over to do work on my house takes the liberty to back their trucks right up to my front porch to unload stuff. I don't mind at all right now, but obviously if we had a landscaped yard, that would be a different story.
Anyway, I'm not going to go into detail on how to trim out windows, because I've already done that in this post…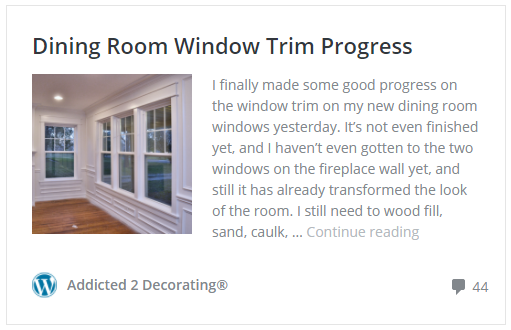 But if you're just needing a little refresher without a long, drawn out explanation, this might help…
I was a little disappointed that I wasn't able to use the same size top casing on this window that I've used on all of my other doors and windows because of that bump out (which is part of a structural header that couldn't be moved) at the top of the wall. On all of the other windows and doors, I've used a full 1 x 6 on the top, with 1 x 2's attached to the top and bottom, for a total height of 7 inches.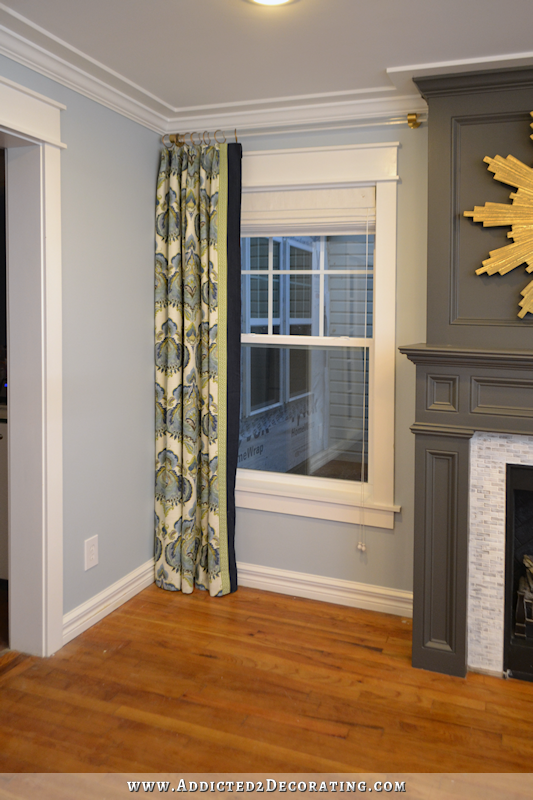 But on the breakfast room windows, I had to rip the 1 x 6 down to about 4 inches wide (maybe a bit shorter), so I lost at least 1.5 inches of height. (Note: A 1 x 6 is only 5.5 inches wide, and 1 x 2's are only 3/4 inch thick, in case you were thinking I'm really horrible at math. 😀 )
I was even more disappointed to discover just how unlevel my ceiling is, and how that bump out being right over a long piece of level window trim really accentuated how unlevel the ceiling is. From one end of that top window casing to the other, the difference in spacing between the bump out and the top of the casing differs by a half inch. That's a pretty significant difference ins such a short distance.
I'm really trying not to obsess about it, because frankly, there's absolutely nothing that can be done about it at this point. Nothing. At all.
But that's not going to stop me from obsessing about ways I can disguise and camouflage the unlevel bump out. One thing I'm considering is building a wood cornice above the window. I know they don't appeal to everyone, but I personally love the look of a wood cornice used with draperies.
Of course, mine wouldn't be quite so grand since my ceilings are only 8 feet tall. But the concept is the same.
But then I run into another issue. I'd LOVE to just build a cornice the entire length of the wall. The problem is that my draperies can't go the entire length of the wall because the countertop on the peninsula is in the way.
And that countertop is right up against the wall. That means that the draperies can only extend past the windows a maximum of 10 inches, leaving an additional 13 inches on either side of the wall that won't be covered by drapery panels.
So can I still build the cornice the full length of the wall even if that means the draperies will be set in 13 inches on either end of the cornice? Will that look funny?
I tried to find examples of wood cornices used with draperies where the draperies didn't extend all the way to the ends of the cornice, and I can't find any examples. That's probably because it would look strange, right?
So my other option is to build the cornice so that it extends 11 inches past the outside casing on the window so that the draperies can go all the way to the outside edges of the cornice, and that would leave about 11 or 12 inches of the bump out still showing on either side. I don't really think that that small amount of bump out would be noticeable, and with 10 feet of space between those sections of bump out, it would certainly disguise how unlevel the bump out is.
And then part of me thinks that I'm just way overthinking it, and should just hang a curtain rod right on that bump out and pretend it's not even there (and not unlevel) and just move on.
These are the details that haunt me. 🙂 I love my older house, but having to find creative ways to disguise unlevel floors, unlevel ceilings, corners that aren't square, and walls that aren't plumb, can be very taxing on my slightly OCD brain.
Addicted 2 Decorating is where I share my DIY and decorating journey as I remodel and decorate the 1948 fixer upper that my husband, Matt, and I bought in 2013. Matt has M.S. and is unable to do physical work, so I do the majority of the work on the house by myself. You can learn more about me here.
I hope you'll join me on my DIY and decorating journey! If you want to follow my projects and progress, you can subscribe below and have each new post delivered to your email inbox. That way you'll never miss a thing!