My Steal Of A Deal – Dining Table With Three Leaves And Eight Dining Chairs For $51
Remember that Ebay auction I was waiting on last Friday? Well, it ended on Saturday morning, and I won! I got eight dining chairs and a solid wood dining table with three leaves for the amazing price of $51. And I have one of you to thank for it (thank you so much to whomever left the link in the comments!), because I never would have even thought to look on Ebay for dining chairs. Craigslist, yes. Ebay, no.
I had to travel two hours to get it, but at that price, it was totally worth it. And my brother and I made a fun road trip of it, and got to have dinner with our sister in Dallas, so it was even more worth it!
So here's a look at my amazing bargain…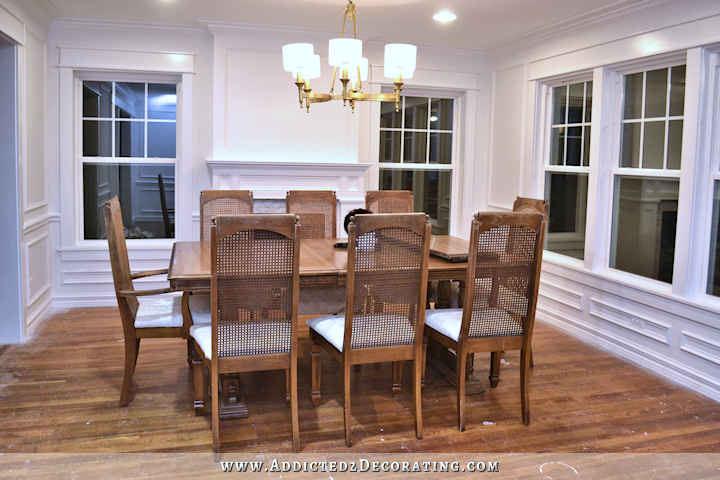 It's so nice to FINALLY see this room start looking like an actual dining room! I've been so concerned about how a table and chairs would look and fit in here, so there was a huge sigh of relief from me to see that it's actually going to work very well as a dining room.
I don't really like the table at all. I didn't really want or need a table, but it came as a set, and since I only paid $51 for everything, it really didn't matter. My first thought was that I could turn around and sell the table and three leaves on Craigslist, and probably make back all of my $51, if not more.
There's just something about the base that reminds me of a fancied up conference table rather than a dining table that belongs in a home.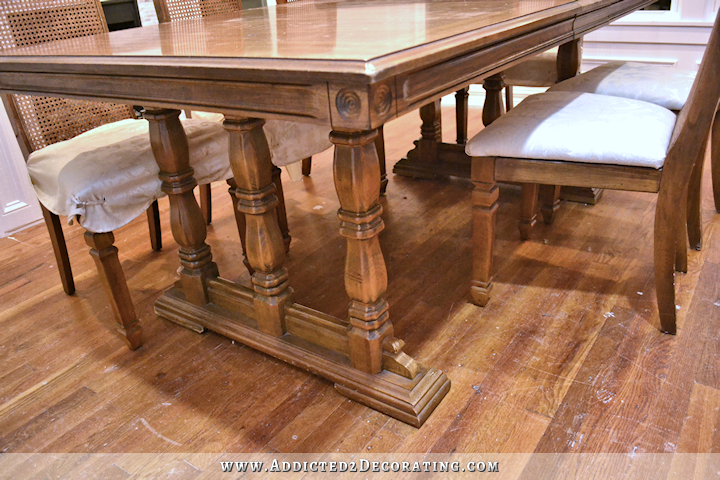 BUT…the table top just might be of use to me. I've been fretting over how I was going to make my own table top, and in order to do it properly, it requires me to purchase a planer and possibly a jointer as well. Those tools alone would be hundreds of dollars, not including the price of the actual wood. But this table has a beautiful table top with THREE leaves that are already made to fit, and already have the appropriate dowels and hardware for joining the pieces together. This is what it looks like with one leaf in, and you can see the other two leaves sitting on top of the table.
So I'm thinking that I'll just use this table top and the leaves to make my own table with my original plan and design (farmhouse table with turned legs). And in doing so, I'll save myself hundreds of dollars that I would have spent on new tools and lumber, and I'll also save myself many hours of extra work!
But the real story here are the chairs. I didn't really want or need a table. It's the chairs that I wanted. And I LOVE cane back chairs. The chairs came with these frumpy, ill-fitting slipcovers.
But those are easily removed.

You can see that the finish is in sad shape, but I'm not concerned about that since I plan to paint all of the chairs anyway.
And I'm telling you, these chairs couldn't have been more perfect for me. I love cane back chairs, but so many of them have really curvy tops. These tops are squared off (you know I love squares and straight lines!), but then they have those perfect little finials!
I couldn't be more excited about my purchase! I mean, I basically got each piece for less than $6. Isn't that amazing?!
Addicted 2 Decorating is where I share my DIY and decorating journey as I remodel and decorate the 1948 fixer upper that my husband, Matt, and I bought in 2013. Matt has M.S. and is unable to do physical work, so I do the majority of the work on the house by myself. You can learn more about me here.