Last Updated on December 24, 2015 by Kristi Linauer
After finishing my dining table this weekend, I still needed to do something with the six pressback chairs that came with the table.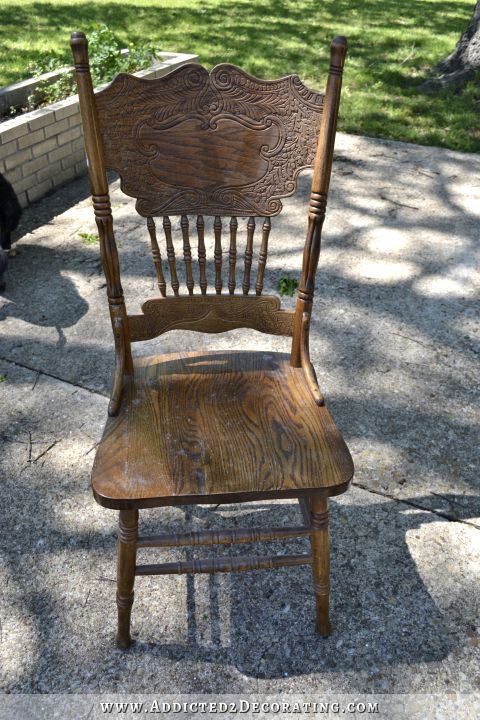 These won't be the main dining chairs I'll be using.  If you'll remember, I have four wingback chairs that I'll be turning into dining chairs to go with the "new" table.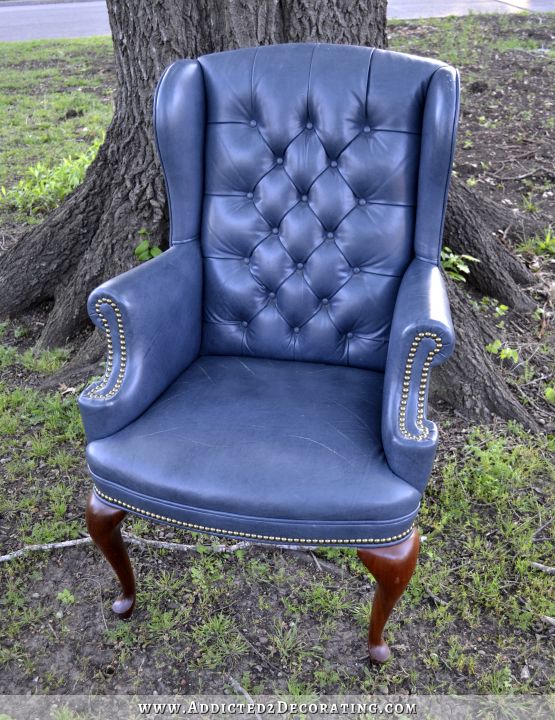 But I have the pressback chairs, and even though they'll only be brought out when we need additional seating, I don't want them to stay in their current condition.  I want them to look nice and coordinate with the table.
I had planned to just paint them white, but then someone on my Facebook page suggested that I ceruse the seats and then paint the rest white.  I loved that idea!  (Thanks, CB!)  🙂
The look would be similar to this pressback chair makeover from Houston Faux Finishes, except that the seat would be cerused instead of a solid dark stain color, and the white painted parts would just be solid white with no antiquing.
And since the weather was beautiful yesterday, and for the first time in a very long time, there was virtually no wind, I was excited about getting the seats done quickly so that I could use my new paint sprayer for the first time!
So right after lunch, I got busy working on the first three chairs.
First I needed to get all of the old damaged finish off of the seats.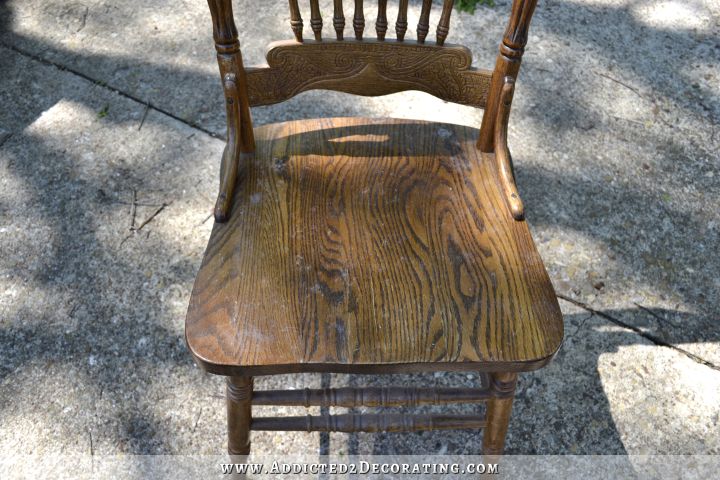 I used the same method that I used on the table top — chemical stripper first, followed by sanding, until I had bare wood.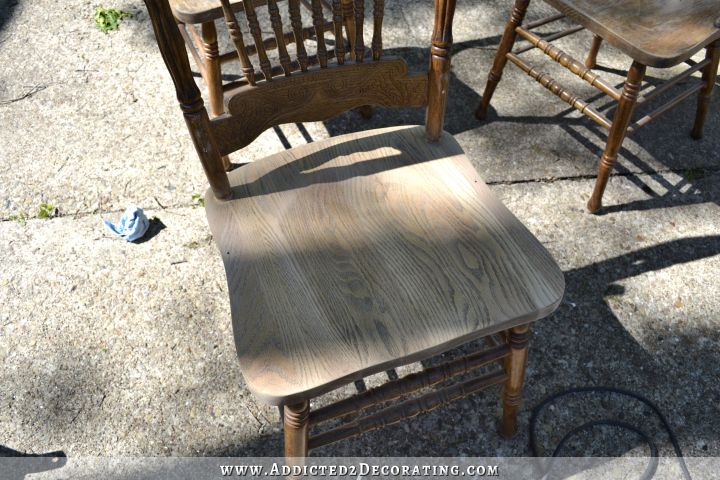 And then I brushed the chair with the brass wire brush, and re-stained it with Minwax Jacobean stain.
The color looked a little different to me than it did on the table top, but I didn't really think anything about it.  So I pressed on, and did the other three chairs — chemical stripper, sanding, brushing, and staining.  Then I shellacked all three chairs and applied the liming wax.
When the wax felt dry-ish, I got out a piece of steel wool and started working on the first chair.
That's when I realized there was, in fact, a problem.  Not only did the wax come off way too easily (it should require a bit of scrubbing, but this didn't require much at all), but the color of the wood in places didn't even look like I had stained it at all.
And that's when I realized my error.
I forgot to stir the stain before I applied it!!
If you've ever wondered if stirring the stain in an important step, I'm here to assure you that it is.  Very important.  You know all of those solids that settle to the bottom of the can and stick to the stir stick when you stir it?  Yeah…those solids are very important to the chemical makeup of wood stain, and when you apply stain without those solids mixed in, you'll have some pretty awful results.
And I definitely had awful results.
So after working on them all afternoon, and basically ending up right where I had started (with chairs that needed to be stripped, sanded, and refinished), I tossed my steel wool aside, stormed inside to Matt's game room, and said in my most dramatic, telenovela, it's-the-end-of-the-world voice, "You're NOT going to believe what happened!!"
I recounted the incident to him, expecting all kinds of sympathy and encouragement from him.  Instead, he just looked at me with this kind of confused look on his face like he couldn't understand why it was such a big deal, and then with a shrug of his shoulders asked, "Well, can't you just start over?"
No sympathy for the drama queen.  😀
Yes.  Yes, I can just start over.  And that's exactly what I did.  I didn't get very far on them (just stripped and re-stained, and this time with thoroughly stirred stain), so after a full day of work, I have nothing to show for it.  Days like that are so frustrating, but at least they're good learning opportunities.  The lesson of the day?  When working on a project, don't get in too big of a hurry, and never, ever forget to stir the stain!
Addicted 2 Decorating is where I share my DIY and decorating journey as I remodel and decorate the 1948 fixer upper that my husband, Matt, and I bought in 2013. Matt has M.S. and is unable to do physical work, so I do the majority of the work on the house by myself. You can learn more about me here.
I hope you'll join me on my DIY and decorating journey! If you want to follow my projects and progress, you can subscribe below and have each new post delivered to your email inbox. That way you'll never miss a thing!