Last Updated on April 9, 2016 by Kristi Linauer
I'm not quite sure how to categorize this project. It's not really a dining table makeover, because I built a new table base from scratch. But I didn't exactly build a whole table since I reused the top from the dining table that came with my eight Ebay dining chairs (that only cost me $51). I'll call it a DIY farmhouse dining table, but if you need instructions for building a table top, you'll have to find those elsewhere, because I kind of lucked out with this one.
So anyway, yesterday morning, I had a dining table that looked like this…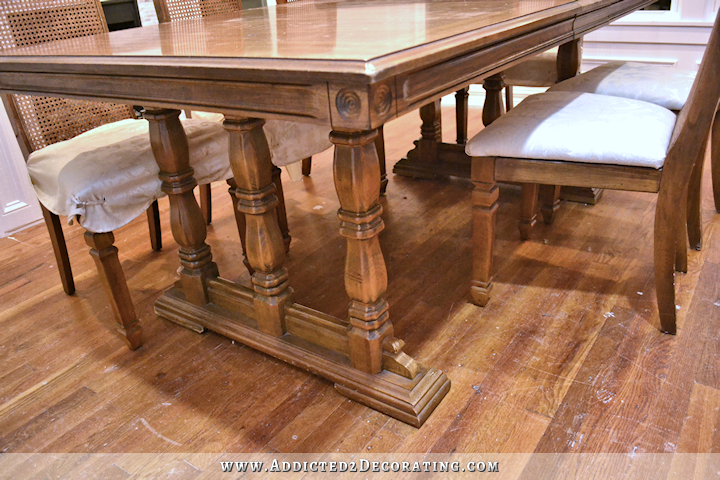 And by the end of the day, I had a dining table that looks like this…
Cat included. 🙂 She has been rubbing herself over every square inch of this furniture since I brought it in the door Sunday night. I don't know if the previous owners had a cat, but she's made it her mission to mark every piece of this set as her own. 😀
One strange thing about this table is that two of the leaves are apronless. Doesn't that look strange?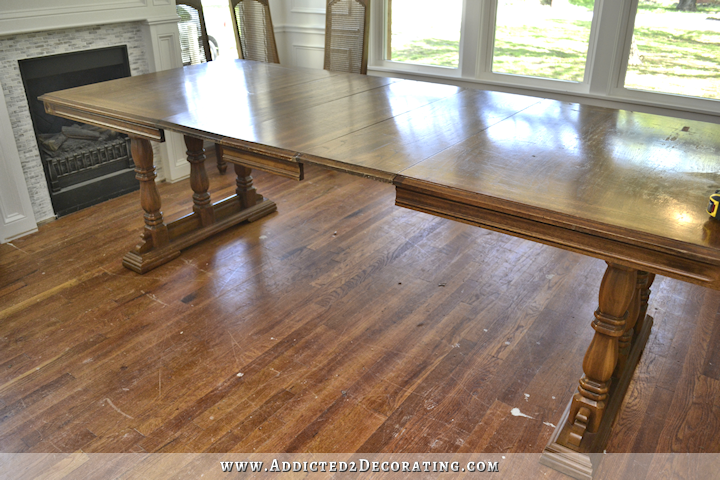 I haven't fixed that yet, but I plan on it. But yesterday, my main goal was to get the table and one leaf finished, since those are what will be in my dining room on a permanent basis.
So start, I flipped the table over on its top.
And then I removed the legs. They were just screwed to the table top, so removing them was very quick and easy.
And then I removed the apron. That was mostly just a matter of removing some screws, but there were a few wood pieces that were glued that I had to remove with a hammer.
Next, I marked some guide lines on the table top so that I would know exactly where the legs and the new apron needed to be placed. Then I used wood glue to glue the new legs into place along the guide lines that I had drawn. I let those sit and dry for about 30 or 45 minutes while I prepared the pieces for the new apron.
For the new apron, I just used plain lumber (as opposed to anything fancy with a routed design in it, like the apron I took off of the table). The long side pieces had to be cut in half since the table expands so that leaves can be added. But the end pieces were just whole pieces. I then used my Kreg Jig to drill pocket holes on the apron ends that met the table legs.
I used wood glue to attach the new apron along the guide lines that I drew. I personally don't like an apron lined up exactly flush the table legs, so I set the apron pieces back about 1/4-inch from the front of the blocks on the table legs.
I also added some wood wedges, cut from 2 x 4's, to the back of the apron pieces to hold them securely. I attached these with wood glue and 1-inch finishing nails nailed into the table top and the apron.
After I got all of the apron pieces and support wedges in place, I went back and screwed the apron pieces to the table legs using the pocket holes that I pre-drilled.
Here's how it looked at this point (with one table slide removed).
To add just a bit more leg support, I added some pieces cut from 2 x 4's to the inside of the blocks on the table legs. I glued these to the table top, the legs, and the apron, and also nailed them into place.
I debated whether or not to switch out the table slides. I thought perhaps I might just keep the original slides, and return the new ones I purchased for a refund. But in the end, I decided to upgrade to the new ones. You can see here how much longer and more substantial the new ones are…
And since they're new, they slide much easier, they open wider, and they're much stronger. The old ones just weren't as strong as I'm sure they once were. So I switched them both out, which is simply a matter of lining them up straight and centered lengthwise, and screwing them to the bottom of the table top. You do have to make sure that the glides are turned the same way so that they open the same way. If you attach one the wrong direction, then obviously the table won't open.
And with that finished, I was ready to set the table upright. This table is incredibly heavy and sturdy. It took me about four tries to get it lifted and turned over. That table top appears to be solid wood.
And here it is with six of the chairs around it.
I decided that I prefer it with one leaf in it, so I did go ahead and switch out the apron on one leaf.
Here's how that turned out. It was just a matter of cutting an apron piece, gluing it to the leaf, and then adding a wood wedge, glued to the leaf and the apron and nailed into place.
The frustrating thing is that I really tried to pay attention to detail on that apron, and be sure that I cut each of the long sides from one continuous piece of lumber with a cut in the middle so that the table would open. That way, when the leaves are all out, the apron has continuous wood grain from one end to the other. And then I decided to keep one leaf in, which breaks that continuous wood grain that I worked so hard to make sure I had. 😀 Oh well.
Now I just have to strip the table top, and stain and polyurethane the whole thing. I want a light to medium wood tone on the whole table, and I'm really hoping I can achieve the look I envision in my head (and that I practiced here).
So here's one more quick look at the old table (and yes, I saved those legs, and I'm sure I can find a use for them)…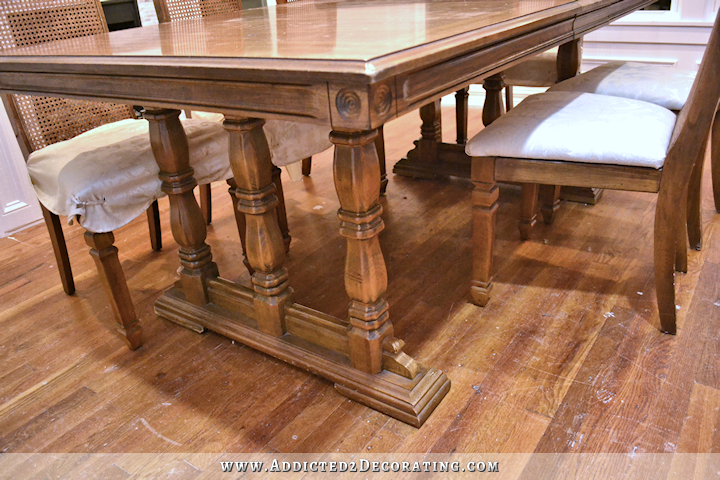 And my new table using the table top from the old table…
Reusing that old table top saved me hundreds of dollars on tools and lumber that I would have needed in order to make my own table top, and it saved me many hours of learning how to use new tools and making my own table top. It worked out perfectly! I did still have to buy new table legs, but I bought the cheapest knotty pine legs here, and I used the new table glides that I had purchased, which I think was a good decision in the end.
Addicted 2 Decorating is where I share my DIY and decorating journey as I remodel and decorate the 1948 fixer upper that my husband, Matt, and I bought in 2013. Matt has M.S. and is unable to do physical work, so I do the majority of the work on the house by myself. You can learn more about me here.
I hope you'll join me on my DIY and decorating journey! If you want to follow my projects and progress, you can subscribe below and have each new post delivered to your email inbox. That way you'll never miss a thing!