Last Updated on October 7, 2017 by Kristi Linauer
There are a few things you can count on with me. (1) I love color. (2) I love well-made lined draperies. And (3) I love built-ins — anything from cabinets to bookcases to banquette seating and anything else. To me, built-ins are one of the main things that elevate a house from builder-grade basic to custom.
I've restrained myself in this house. Besides the obvious built-in storage in my bathroom, kitchen, and eventually the pantry (i.e., areas where one generally expects to see cabinets and shelves), the only additional built-in storage that I have in the main areas of my house is in the music room.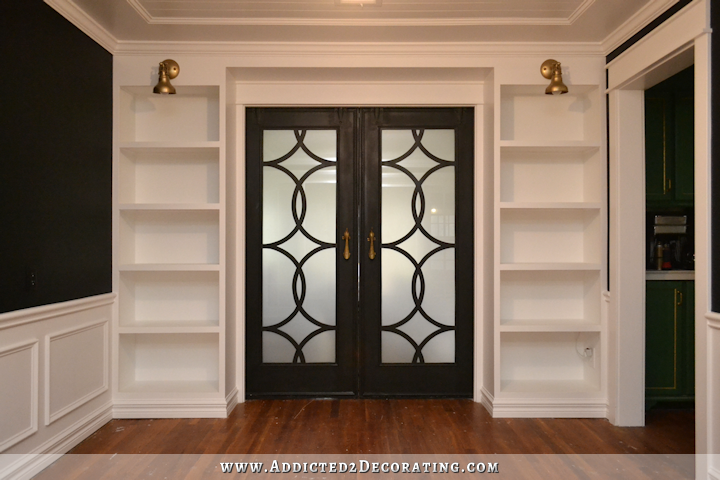 And until just a couple of days ago, the only other built-in storage I had planned was for the hall tree that I want to build in the hallway. In case you're confused about how all of these spaces fit together, here's the floor plan to help you get your bearings.
So the hall tree I have planned for the hallway will be just to the left as you walk from the music room into the hallway, just outside the door to my office.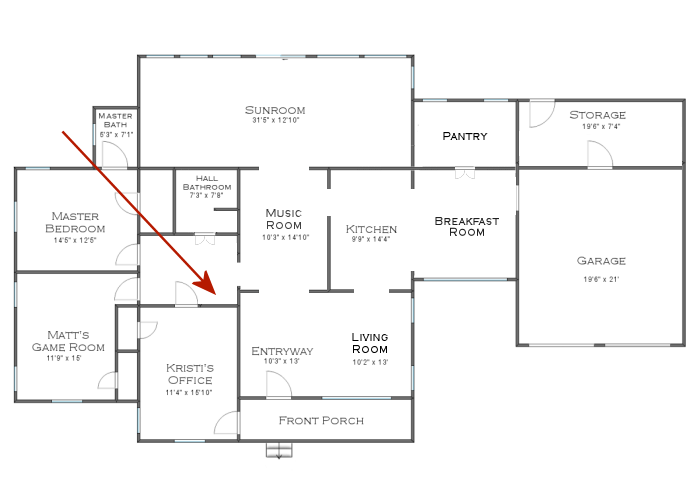 So far, that's it. Music room bookshelves and hallway hall tree.
But now I'm wondering if I might want to add some closed cabinets around the door of the pantry.
The cabinets would be about 13 inches deep, floor to ceiling, and they would have doors on them, so there wouldn't be any open shelving on this wall that demands lots of decorative tchotchkes. I wouldn't do rolling/pocket-type doors on the pantry like I did in the music room. These doors are much narrower than the music room doors, and I'd have them open on hinges just like the bathroom doors. I'm envisioning something like this, without the draperies…
Except with a different cabinet door configuration, and of course my doors would lead into a pantry rather than outside. I think the space is perfect for it, and I don't know that one can ever have too much storage space. What I store there doesn't necessarily have to be food/kitchen/pantry-related. Since it would be closed storage, it doesn't matter.
Adding those built-ins cabinets would make the usable floor space of the breakfast room 12′ 6″ (from the front windows to the front of the cabinets on the pantry wall) by 11′ 3″ (from the garage wall to the breakfast room side of the kitchen peninsula).
But there are two things that keep me from diving right in. The main issue is that I'm having trouble envisioning how that much storage along the same wall in three rooms right next to each other would look. There's the bookcases on the music room wall…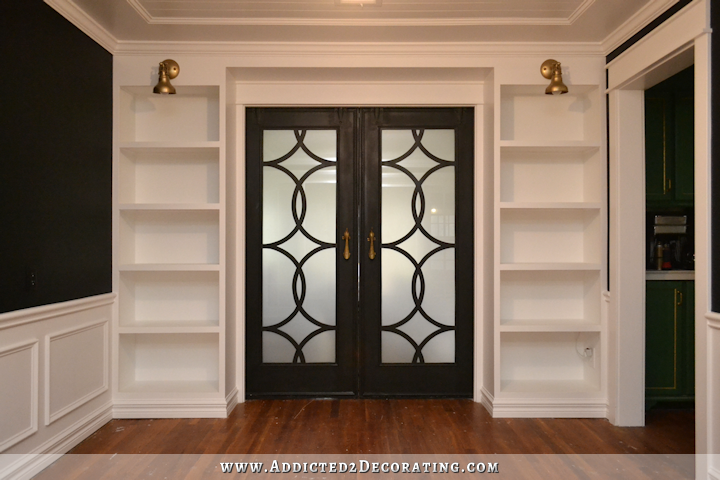 And right next door, on the very same back wall in the kitchen, is the wall of cabinets…
And then in the very next room to the right, on that very same back wall, would be more built-in cabinets.
So my main hesitation is not knowing if that's too many cabinets/bookcases built into the same back wall in three adjoining rooms. I would have built-ins along this same wall in three rooms…
But the only time you can really see all three walls is either from the breakfast room, or if you're standing in the middle of the kitchen. So I might be making something out of nothing.
And my second issue, which really isn't an issue but just a change in plans, is that if I do built-ins on those walls in the breakfast room, then I feel like my grasscloth would be wasted in there. There would only be one wall with any decent amount of wall space showing, and that wall will have a big TV on it, which will hopefully be cleverly hidden, but that still means the wall will be covered with something. So if I go this route, I'll switch my music room wall plans with the breakfast room wall plan, and use the grasscloth in the music room and do the birds and butterflies in the breakfast room.
To answer the most-asked question lately 😀 , no, the entryway mural didn't make the cut with my decorating reboot, but ever since I devised my new decorating plan, I've been planning to use the birds and butterflies pattern on the music room walls. I don't really have a problem switching those plans, though. And the more I think about it, the more grasscloth seems more appropriate for a music room, and the birds and butterflies "wallpaper" seems more appropriate for a breakfast room.
But I'm still not sure if it's too much built-in storage on one wall of the house. That's my main issue right now. I may go for it anyway. To me, it just makes sense.
Addicted 2 Decorating is where I share my DIY and decorating journey as I remodel and decorate the 1948 fixer upper that my husband, Matt, and I bought in 2013. Matt has M.S. and is unable to do physical work, so I do the majority of the work on the house by myself. You can learn more about me here.
I hope you'll join me on my DIY and decorating journey! If you want to follow my projects and progress, you can subscribe below and have each new post delivered to your email inbox. That way you'll never miss a thing!