Last Updated on December 2, 2016 by Kristi Linauer
I'm so glad that most of you loved my new kitchen cabinet colors just as much as I do. There's something so welcoming about those colors that just say "home" to me.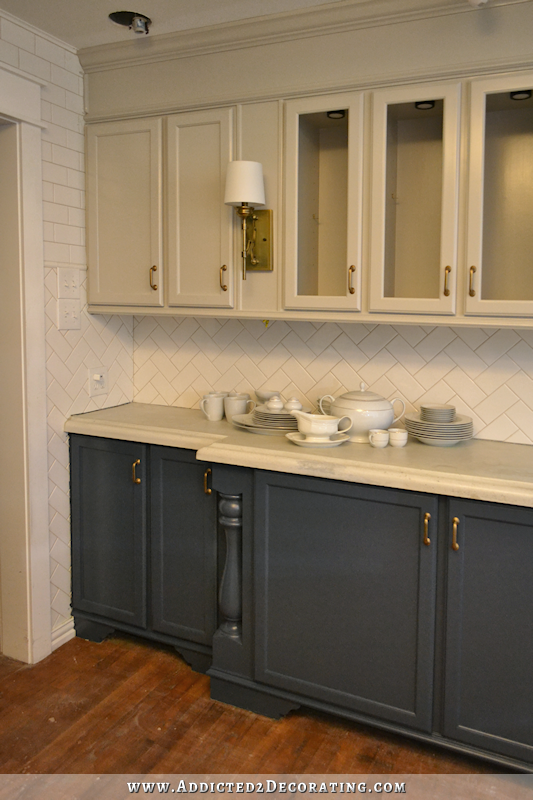 So with that in mind, I'm ready to share more of my plan with you. I spent the last three days sorting through fabric options, shopping for furniture, and having so much fun finalizing my plan for these rooms. I already had a general decorating plan and knew the direction I was heading, but actually finalizing decisions has been so much fun. And it really is amazing how much easier this has been with my new kitchen colors! It's like I no longer come up against a roadblock with every decision I try to make.
Anyway, first up is my new living room drapery fabric.
I tried to adjust the color to get it as close to the real thing as I could. It's not quite there, but that's okay.
Here's the picture of it from Fabric.com (they actually don't carry it anymore), and its not right either. The background is definitely not this stark white.
So it's probably some happy medium between those two. But you get the idea, right?
The background is a beautiful creamy white, and it has all of the colors that I love — dark blue, light blue, green (although not quite the green I was hoping for, but I can work with it), purple, teal, etc.
And here are some accent fabrics that I picked up from JoAnn Fabric that complement the drapery fabric beautifully.
The green and white are both Crypton fabrics, and the purple and blue are both Jaclyn Smith Home fabrics. I absolutely love the look and feel of the Theater Velvet, and it comes in several different colors. I just picked up the light blue because it caught my eye and went beautifully with the drapery fabric, but I'm sure there are other colors that would work as well.
My sofa fabric is still up in the air, because I'm still sorting through different sofa style options, as well as three different furniture arrangements that I'm considering for the living room. And yes, the furniture arrangement will determine the color of the sofa. 🙂 I'll share more on that later, because I need to clear out the room, get out my roll of painters tape, and start marking off different furniture arrangement options to see which one will work best. Once I know for sure, that will determine not only the style of sofa I want, but also the color. But again, more on that later.
And here's the general color direction I'll be heading towards for…well…everything. Everything from wall colors, accent furniture, accent fabrics, accessories, etc.
Those paint chips are: (1) Behr Flowery, (2) Benjamin Moore Iceberg, (3) BM Galveston Gray, (4) BM Porcelain, (5) Behr Rejuvenation, (6) BM Antique Pearl, (7) BM Smoke, (8) BM Gentleman's Gray, (9) BM Venezuelan Sea, (10) BM Rockport Gray, (11) BM Revere Pewter, (12) BM Shadow, (13) Behr Box Office, (14) Behr Pesto Paste.
Some of those colors I'll definitely be using. Others are just more for inspiration for accents and accessories. Obviously Gentleman's Gray and Revere Pewter are in my kitchen. I have a definite plan for Galveston Gray and Rockport Gray. I also have a definite use for Iceberg. And then for another project, I've narrowed it down to Porcelain and Flowery.
So my house will definitely be colorful. But it'll be a more subdued, relaxed, comfortable (for me) colorful. And I'm ready for some calm colorful in my life. 🙂
Addicted 2 Decorating is where I share my DIY and decorating journey as I remodel and decorate the 1948 fixer upper that my husband, Matt, and I bought in 2013. Matt has M.S. and is unable to do physical work, so I do the majority of the work on the house by myself. You can learn more about me here.
I hope you'll join me on my DIY and decorating journey! If you want to follow my projects and progress, you can subscribe below and have each new post delivered to your email inbox. That way you'll never miss a thing!