Things have been slow on the studio front over the last few days as I've been working on installing the rest of my outlets and switches, but I did finally get the back entry light fixture wired up so it actually has power now. I was so excited to see it turned on and show y'all what it looks like, but ugh…I have such a hard time getting good pictures of lights when they're turned on.
I don't know why the picture shows dark areas on the globes. 🙁 You don't see those when you're actually standing in the room. So, booooo.
Anyway, that circuit is now all wired up and working, and my sweet mom came over yesterday and scraped the overspray off of the glass on the back doors. It looked like this before she started…
And now it looks like this…
I can't wait to get some pretty white trim around the doors! That's going to look amazing against the green walls and the black doors. But I can't do trim until I at least put in the second layer of subfloor, and it would be preferable if I could also get the flooring installed.
And while my mom was working on the doors, I had a guy over here to remove the ceiling fan, reduce the length of the downrod, and reinstall the fan closer to the ceiling. Remember how low it was?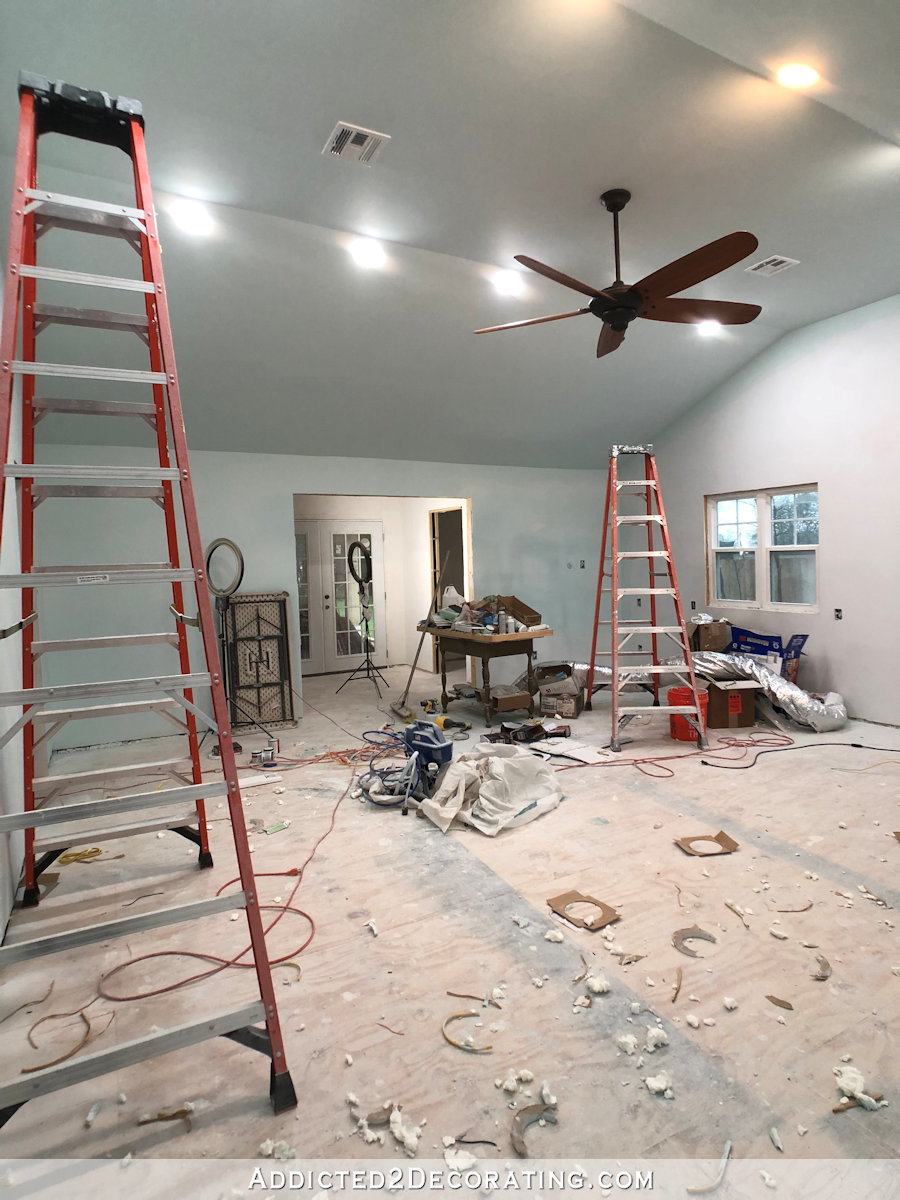 Well, now that sucker is hugging the ceiling.
I think it looks so much better, and while I was afraid that it would drastically cut down on the air flow, it doesn't seem to have affected it much at all. That huge 68-inch fan still pushes quite a bit of air, so I think it'll be really comfortable in there during the heat of the summer.
Now my question is…to paint or not to paint? Ever since a few of you mentioned the idea of painting the fan to match the ceiling and walls, I haven't been able to get that out of my mind. I don't really like the fan as it is with its oil-rubbed bronze finish (that's just not a favorite finish of mine), but it was the nicest big fan I could find locally, so I went with it.
But the idea of painting it to blend in really intrigues me. Should I? I mean, that's one of those things that can't be undone, kind of like painting brick. Once you pull that trigger, it's done, and you have to live with it. So I'm hesitant, but intrigued.
Anyway, to the main point of today's post. I got my wallpaper sample with the edited design. If you'll remember, I decided to change the background color on the floral design so that instead of being white, it would match the light aqua color on the walls and ceiling. I also ordered a much larger sample so that I could see an entire pattern repeat. I arrived yesterday, and here's how it turned out…
As you can see, the background color that I chose is just a touch darker than the wall color. I can't decide if that's okay, or if I need to edit it again and order a new sample. Ugh. I hate wasting money on samples.
Here you can see the new larger sample with the blue background and the original sample with the white background.
I definitely prefer the blue to the white, but I'm just not sure if I should go with this one, or lighten it just a touch. I thought I was choosing the exact color, but the Spoonflower sample chart has such tiny samples that it's pretty much the same thing as choosing a tiny paint sample and trying to imagine it in your entire room. Here's what their sample chart looks like printed on fabric…
So anyway, I haven't quite decided yet if I'm going to just go with it or edit it again. I'm going to continue looking at it as the lighting changes in the room throughout the day.
As a side note, I think that color chart is so pretty that I'm thinking about framing it and hanging it in my studio somewhere. I think it would make an interesting piece of artwork.
Addicted 2 Decorating is where I share my DIY and decorating journey as I remodel and decorate the 1948 fixer upper that my husband, Matt, and I bought in 2013. Matt has M.S. and is unable to do physical work, so I do the majority of the work on the house by myself. You can learn more about me here.
I hope you'll join me on my DIY and decorating journey! If you want to follow my projects and progress, you can subscribe below and have each new post delivered to your email inbox. That way you'll never miss a thing!