Last Updated on December 24, 2015 by Kristi Linauer
I think finding the right sub-contractor to do work in your house is much like a relationship with a significant other — when it's right, you just know it.  You may be able to put your finger on exactly why it's right, or you may not.  It might just be a "feeling" that you have.  But either way, you just know. And when it comes to window installers, I'm certain I've found my perfect match.
I'm sure you could tell in my last post that I was feeling pretty frustrated and discouraged about windows.  My experience with that window company actually wasn't my first attempt at finding someone to install new windows.  I had already talked with and "interviewed" two or three other installers, and I just didn't get that feeling that any of them were right for the job.  For whatever reason — either telling me that what I wanted wouldn't work, or telling me that a building permit isn't needed for that kind of job when I know it is, or giving me ridiculously high quotes, or showing up really late for the appointment (something that doesn't really convey trustworthiness and dependability IF they don't call or text to let me know they'll be late) — I just didn't get that feeling that I wanted to hire them for the job.  So the window company that I told you about on Wednesday was about my fourth attempt, and when it went south, that's when my frustration and discouragement set in.
Then it dawned on me.  I have a plumber who I absolutely love and trust.  And since he's a self-employed local small business owner (it's just him and his assistant), I bet he knows other self-employed small business owners who could do just about anything I need done on my house!  So I texted him, and he sent me a name right away.  I called this framer/window installer, and was impressed almost immediately.  I told him what I wanted, and then said explicitly, "I do not want replacement windows!"  And without skipping a beat, he said, "Oh no, you don't want those!  You want everything taken out and everything replaced."  Aaahhhh…he gets me.  🙂  I had a good feeling about this.
So he came yesterday morning to measure and give me an estimate for installation.  He had given me a time frame when he would show up, and said he would text when he was on his way.  He texted me, and showed up during the time frame he gave me.  Bonus points for reliability.  And on top of that, I really liked him.  He was easy to talk to, he understood exactly what I wanted, and he explained things to me very clearly.
My next "test" for him was the front window.  I told him that the other company had told me that I'd have to keep the windows in the same configuration as they are now because the two vertical pieces separating the casement windows from the center picture window are load bearing.
He said, "You don't have to keep this configuration.  You can put whatever kind of window in there you want.  It just has to be framed correctly."
I could have hugged him.  Seriously.  I refrained because…awkward…but I wanted to.  😀
Anyway, he said that if I wanted one solid window there (like a big picture window), he would just need to be sure that there's a 12-inch header above the window.  If there's not one there, he could add one.  No big deal.  But if I wanted three separate windows of equal width, and it turns out that those vertical pieces are load-bearing, then he could just move them over so that they're spaced equally.
I just loved his "can do" attitude.  He didn't make anything seem impossible or too difficult, and on the flip side of that, he didn't act as if this job wasn't worth his time.
My final "test" was when I asked him if he would have to pull a building permit for the job.  I think something in the way I worded or asked the question gave him the impression that I didn't want a permit pulled for this job, and he seemed kind of reluctant to answer the question outright.  But he finally said, "Well, I would definitely want to.  The people in the permit office know me and trust me, and I'd hate for them to catch me doing a job like this without a permit.  It would ruin my credibility, and since this is what I do, I couldn't really use ignorance as an excuse."  Bonus points again!  🙂  I assured him that I definitely do want him to pull a permit.  He seemed relieved.
So it took a few months and several tries, but I finally found my perfect match.  Now I just need to get my windows ordered this afternoon to get this ball rolling.  He offered to order the windows for me, but he also gave me the exact dimensions of the windows I'll need, along with the names of people at two local lumber yards (where the local builders go — they don't buy windows at Home Depot or Lowe's) who I could contact myself and order the windows directly from them.  And since there are so many options when it comes to windows, I chose to order them myself so that I can better understand my options and make an educated decision.
The main decision I need to make before I head over there this afternoon is regarding the style.  I've just kind of assumed all along that I would go with this 6-over-6 divided lite design.  I love the way it looks, and I know it fits the style and age of the house since all of the original windows in this house are this style.
But when I was looking at window options last night, I also came across this 6-over-1 style.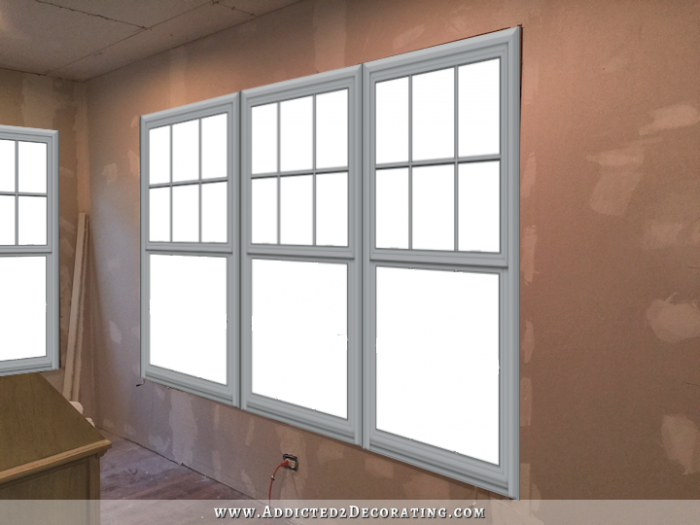 Matt likes the second one better, but insisted that I not make my decision based on that.  He wants me to have the one that I like better, but I honestly don't know which one that is.  It might come down to a spur-of-the-moment decision as I'm placing my order this afternoon.
I'm just so excited to finally be moving in the right direction with this!  And I'm so thankful that I've finally found an installer who I like and trust.
Oh, and I did finally hear back from that other company.  Here's what they said:
Hi Kristi,

I got with the installer [in Richardson, 110 miles away] and unfortunately due to his schedule and distance, he would not be able to do the re-framing.  If you can get a contractor to reframe the openings, we could come in with our windows.  The issue I see is, the contractor would have to frame it up to your liking…then give me the measurements to order.  I would be 6-8 weeks out from that point to get them ordered, so you would have holes in the house for that amount of time.
Holes in my house for up to two months?  Ummm…no thanks.  When it's not right, you just know it.  And sometimes you can put your finger on exactly the reason(s) why.
Addicted 2 Decorating is where I share my DIY and decorating journey as I remodel and decorate the 1948 fixer upper that my husband, Matt, and I bought in 2013. Matt has M.S. and is unable to do physical work, so I do the majority of the work on the house by myself. You can learn more about me here.
I hope you'll join me on my DIY and decorating journey! If you want to follow my projects and progress, you can subscribe below and have each new post delivered to your email inbox. That way you'll never miss a thing!