Overmantels, Wainscoting & Windows (Decisions Have Been Made!)
My progress on the taping, mudding, and sanding of drywall has been pretty slow lately.  As I've said before, anything dealing with drywall is the part of DIYing a house remodel that I dread the most (especially taping and mudding the ceiling).  But I've also had lots of other things (excuses!) to keep me sidetracked, like a new HVAC installation week before last, and then my window selection and the search for an installer last week.  And speaking of windows, I ordered the 6 over 1 design, with the top grid sandwiched between the glass for easier cleaning.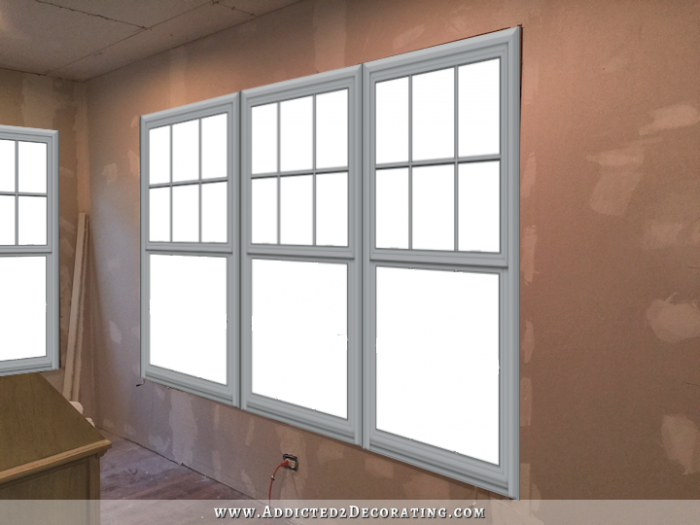 But this week, I have no distractions, and therefore, no excuses.  These walls and ceilings WILL be finished and ready for trim and paint by this weekend.  Or at least, I'll work my hardest to try to meet that goal.
Knowing that I'll be ready for trim soon, I forced myself to make some decisions this weekend.  First up, my wainscoting decision.  I decided that I do want the wainscoting in the dining room, and so I'll be using the picture frame style.
And also, rather than doing full wall wainscoting on the entryway wall and chair rail height in the rest of the room, I've decided to do full wall moulding in the whole room — entryway and dining room.  The dining room really has a relatively small amount of wall space since it's mostly windows and doorways and a fireplace, so I'm just going to keep everything unified in there — no two separate wall designs, and no different wall colors in the entry and dining room.  I'll do all four walls with the same treatment and same paint.  So the whole front room will look like this…
via Make It Luxe
At least for now, I'll keep the walls all one color — Polar Bear, which is the white that I use on all of my trim.  But depending on what I end up doing in the music room, I might eventually do something like this, but with a lighter neutral color on top…
via Sarah Richardson Design
I'm definitely doing chair rail height wainscoting in the music room.  That I know for sure now.  But I'm not quite yet convinced that it needs to be white like the dining room and entryway.  It might end up being black, because I think that black wainscoting looks amazing with the "wallpaper" I want on the upper part of the walls.
I'm just not sure yet, and I probably won't make that final decision until I have the moulding on the walls in there and I can test black on a section.  If I use black, then I think that the walls in the front room need to stay all white.  If I use white wainscoting in the music room, then I think I could use a different (neutral) color on the upper section in the front room.  But white on the bottom and a different color on top in the front room, and then black wainscoting with trees and birds on top in the music room, sounds way too chaotic for me.  So I'll just have to wait and see.
Oh, and if I get the picture frame moulding on the walls, and it looks funny with recessed panels on the pony walls…
…I realized that it would be a very simple fix to make these look like the walls.  I'm still not sure that that will even be necessary, so I'm waiting on that as well.
The fireplace is a completely separate thing, and I don't think it's necessary at all for it to be trimmed out the same way the walls are, so the fireplace didn't factor into my decision at all.
But speaking of fireplace, my plan from the beginning was to eventually finish it out with an overmantel.  I've been waiting all this time to build the overmantel until the old polystyrene ceiling tiles were gone, and new drywall was up.  And now that I have new drywall on the ceiling that will hopefully be ready for paint soon, I can start thinking about how I want the overmantel to look.
If you'll remember, the fireplace itself went through a bit of a transformation a few months ago.  When I first built the fireplace, it had a very Craftsman look to it.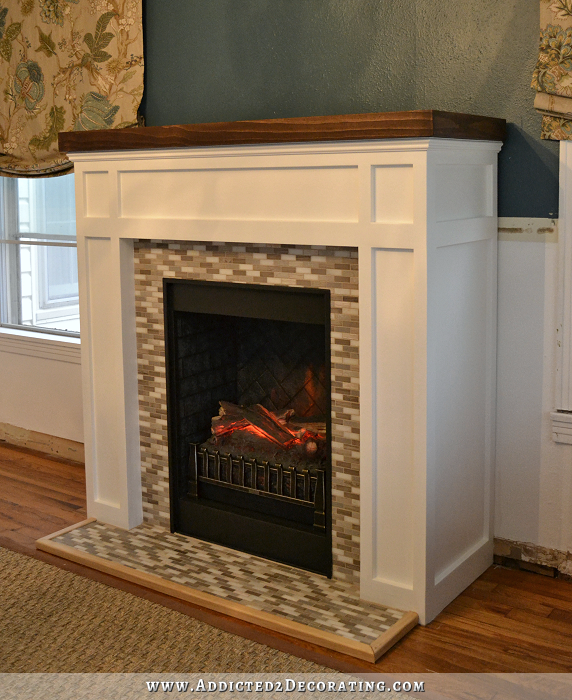 I wanted a more traditional look, so I gave the fireplace a makeover by adding a bit more moulding and swapping out the stained mantel for a painted mantel.  I also lightened up the tile with some paint.
It looks so much more in keeping with my style now, but I'm always trying to walk that line between formal and casual.  I don't want a super casual-looking house, but I don't want it tipping to the formal side either.  I want a good blend of both. (Again, it's the whole "gold leafed kitchen cabinets used with concrete and subway tile" idea.  Nothing to push it too much one way or the other.)
So with that in mind, I'm thinking about taking this overmantel design, and adapting it so that it'll blend with the design that I have on the fireplace.
via Tiek Built Homes
In fact, that fireplace looks very similar to mine.  Mine just has a bit more moulding on it inside the panels.  And I've already used a similar shiplap-inspired design on my bathroom ceiling, and I'm considering using it in other places as well, so once everything is said and done, it'll be just one more design element that is carried throughout the house.
I tried to do a little photo editing to get an idea of what that would look like, along with my black and white striped curtains and new windows.  It's a little (or a lot) rough looking, especially since I didn't "paint" the walls and add trim, but it'll work for now.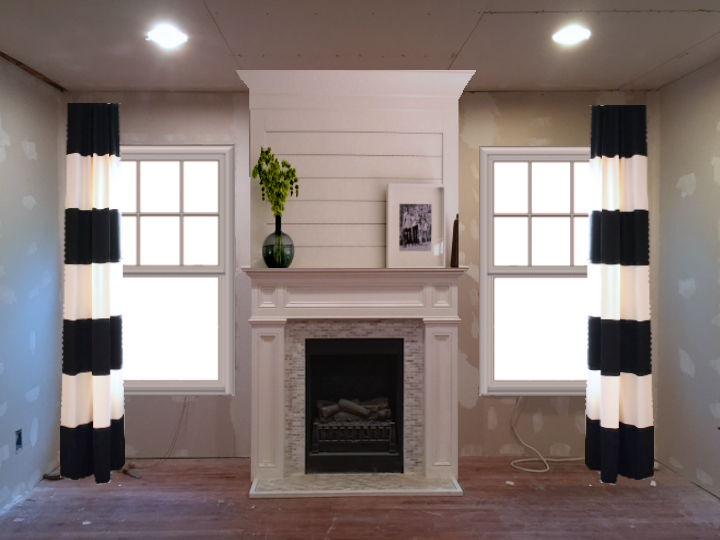 I do plan to make some modifications to the design so that it blends with my particular fireplace a little better.  I think that'll just be a matter of adding a bit more trim to the overmantel to blend better with the fireplace design.
I'm so excited to see this room come together.  I HAVE to finish this taping and mudding so that I can get on to the fun stuff!! Right at this moment, I'm feeling very motivated!
Addicted 2 Decorating is where I share my DIY and decorating journey as I remodel and decorate the 1948 fixer upper that my husband, Matt, and I bought in 2013. Matt has M.S. and is unable to do physical work, so I do the majority of the work on the house by myself. You can learn more about me here.