One Room Challenge, Week 1: The Pantry Plan
Y'all, I'm doing it! I decided to finally do a One Room Challenge as a guest participant. After years of following the other participants, making an afternoon of admiring all of the reveals each season, and wishing I had the nerve to participate, I've finally decided to do it.
Since I have two areas in my home that I'd like to finish before the end of the year, it was perfect timing. And as much as I'd like to finish my studio, I knew that was WAY too big of a project to finish in five weeks.
But the pantry? Well, the pantry feels doable in five weeks. It'll still be challenging since it's nothing but a blank room right now, I'm building the cabinets myself, and as usual, I'll be doing everything by myself. But it's doable.
To refresh your memory, the pantry is an area that I carved out of the big room that the previous owners called the den, which was at one time a covered, open air breezeway type of thing that connected the original kitchen to the garage. Then at some point, someone closed it in, but they didn't do a great job. This is what the back of the den looked like when we bought the house…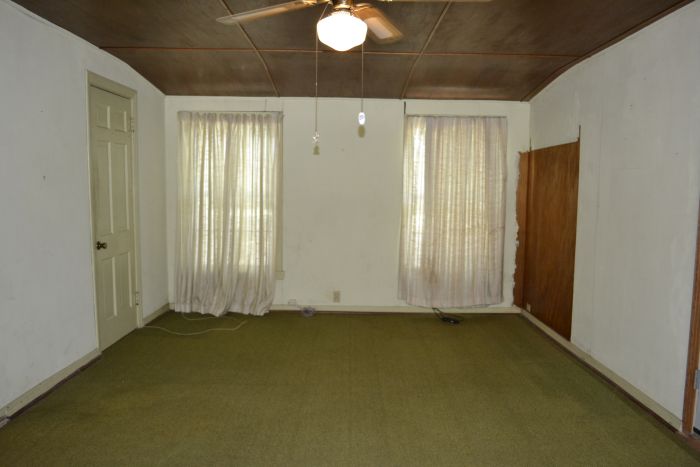 So during the breakfast room remodel, my brother and I completely rebuilt the back wall of this room, removed the two windows, and installed one new (and much smaller) window.
Then I built a wall to separate the large room into two rooms — a breakfast room and a pantry. I finished the breakfast room almost a year-and-a-half ago (you can see before and after of that room here), but ever since then, the pantry has just been sitting there, waiting for attention, but being ignored and avoided.
For some reason, I've been terrified of moving forward on the pantry — terrified of making a wrong decision on how to build and organize that room. I have no idea why, exactly. I'm generally a "jump in with both feet" kind of person, but this pantry… *sigh*.
So for well over a year, I've just closed the doors, kept the lights off, and pretended like the pantry doesn't exist (unless I want to pile random stuff in there to get it out of the way.)
But y'all, it's now time to open the doors and turn the lights on, because I feel motivated and I have a plan!
The room right now is just a shell. It has electrical, flooring and drywall. It's a great start, but there's quite a way to go to turn this into a usable pantry.
The room is twelve feet wide and seven feet deep. The only thing I have to work around is my new freezer that was delivered on Friday, which will sit in the front left corner of the room where you see it in the photo below.
The ceiling is slanted, which is a real pain. It's eight feet high on the door side, but only seven feet high on the window wall.
I wish there was a way to raise the ceiling so that the room has an eight-foot ceiling throughout (like the change we made to the back entry of the studio), but unfortunately, this ceiling has to stay like this. It's not ideal, but I can work with it.
I'll also need to move the HVAC vent because its current placement interferes with my plan. Fortunately, the wall is still open on the other side (which is the still-unfinished half bathroom at the back of the studio) so I can easily move it without much effort.
So that's what I'm looking at. It's a big (for a pantry) blank box waiting to be filled.
And since I put French doors on it, and it's open to the breakfast room, it needs to be pretty — somewhere between a functional food pantry and a butler's pantry.
So after procrastinating and wrestling with a plan for this room for about 16 months, I finally have vision for it. Not only do I have vision for it, but I actually drew it and have it on paper. Here's the plan…
On the back wall with the window, I'll be doing lower built-in cabinets that have drawers in the middle under the window with cabinets on either side that have pull-out shelves. I'll be making my own colorful marbled resin tiles for a bold backsplash that will cover the 18 inches from the countertop to the bottom of the first open upper shelf. And I'll have two open shelves along the back wall.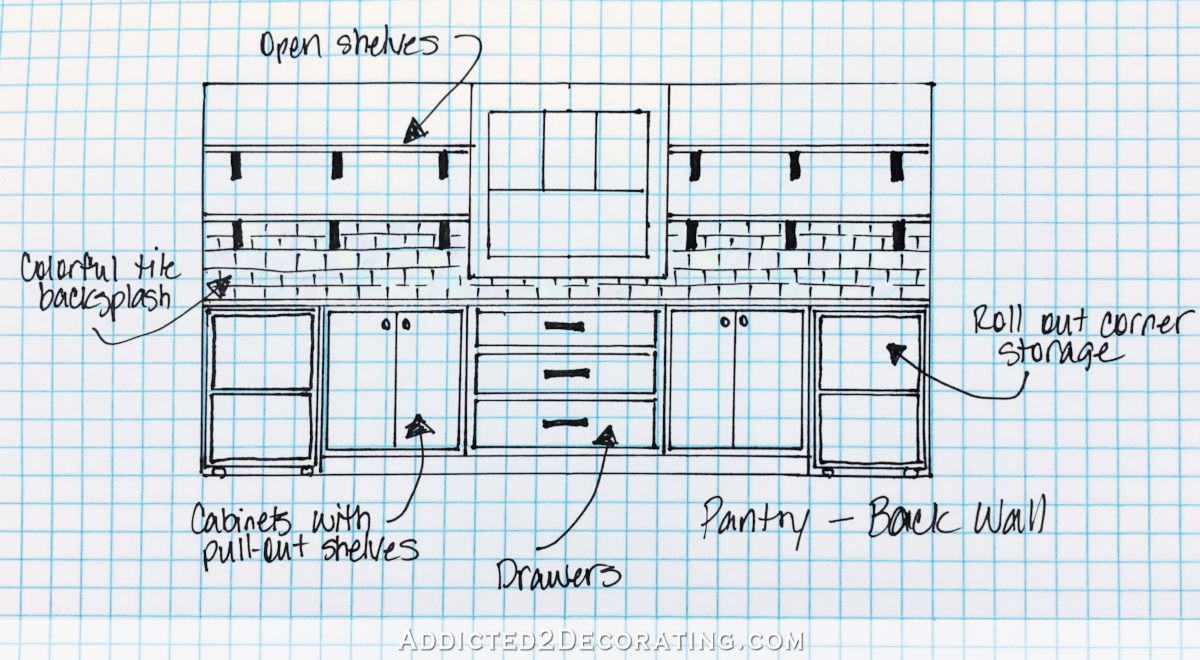 As far as the roll-out corner storage goes, I'll explain that in a bit.
The countertops, lower cabinets, and upper open shelves will wrap around on both side walls. Here's how the left wall will look with the freezer…
And because of my incessant need for symmetry (yes, I realize it's ridiculous, but I need it 😀 ), I'm going to try to balance out the other side with a full-height open shelf storage cabinet.
So here's the plan for the corners, which is the biggest thing I've wrestled with on this pantry design for the last 16 months. Even though there are several options and designs available to make the most of lower cabinet corners so they don't become some dark pit where things go to be forgotten, it's still difficult to know what would work best.
So the option I've come up with is to create carts on casters with false drawer fronts on both sides. Those will pull out completely and allow full access to the corners. I'm still considering carts on casters for the corners as well, but that plan could change if I find they're not necessary.
Now about those colorful backsplash tiles — my absolute favorite part. I've been testing out different color combinations, and I finally decided to go with teal/turquoise, green, purple, white and gold. I tried leaving one of them out so that it doesn't become too busy, but I just can't bring myself to leave one out. I love lots of color, so I'm going to embrace it. 🙂
I wish y'all could see these in person, because pictures just don't do the gold justice. You can see it better in this short video I posted on Instagram yesterday.
View this post on Instagram
Two other big detail decisions I've made are the cabinet color and the countertop material. I know that white is the go-to color for pantries, but I'm pretty sure y'all know better than to expect that from me, right? I don't do white cabinets. 🙂 I don't do much white at all.
My lower cabinets are going to be purple. Dark purple. As in, a Benjamin Moore Shadow-type of purple.
I might not choose that one exactly. I'll have to get a few tiles done first so that I can take those with me to choose a color, but that particular purple is very similar to the color of my buffet in the breakfast room, which I love. So that's the plan for now, but as y'all know, that could change at any time. Until the cabinets are actually painted, the color is subject to change. And even then, it's not guaranteed. Heck, I could end up with green cabinets. 😀
As far as the countertop goes, I have weighed so many options — concrete to match my kitchen countertops, DIY butcherblock-type countertop like the hallway bathroom, actual butcherblock like in the condo kitchen, etc.
I've finally decided to make a countertop out of red oak tongue-and-groove flooring — the same hardwood flooring I have throughout my house. But the countertop won't be stained. I'm going to keep it natural and seal it. I think it's going to look beautiful, so fingers crossed that it'll actually look like the picture I have in my mind. 🙂
And that's it! If things go well and I don't start second-guessing myself and making excuses for delays, I just might have a finished pantry in a few short weeks.
Be sure to check out all of the other participants in the One Room Challenge!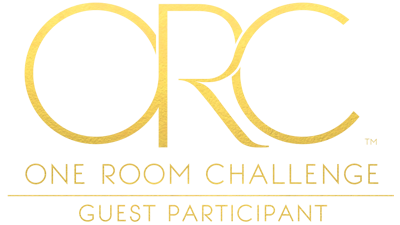 ---
---
Update:
My pantry is finished! Want to see the entire project from start to finish? You can find every single post about the pantry build right here…
Or you can skip to the end and see how it turned out. Here's a peek of the finished pantry…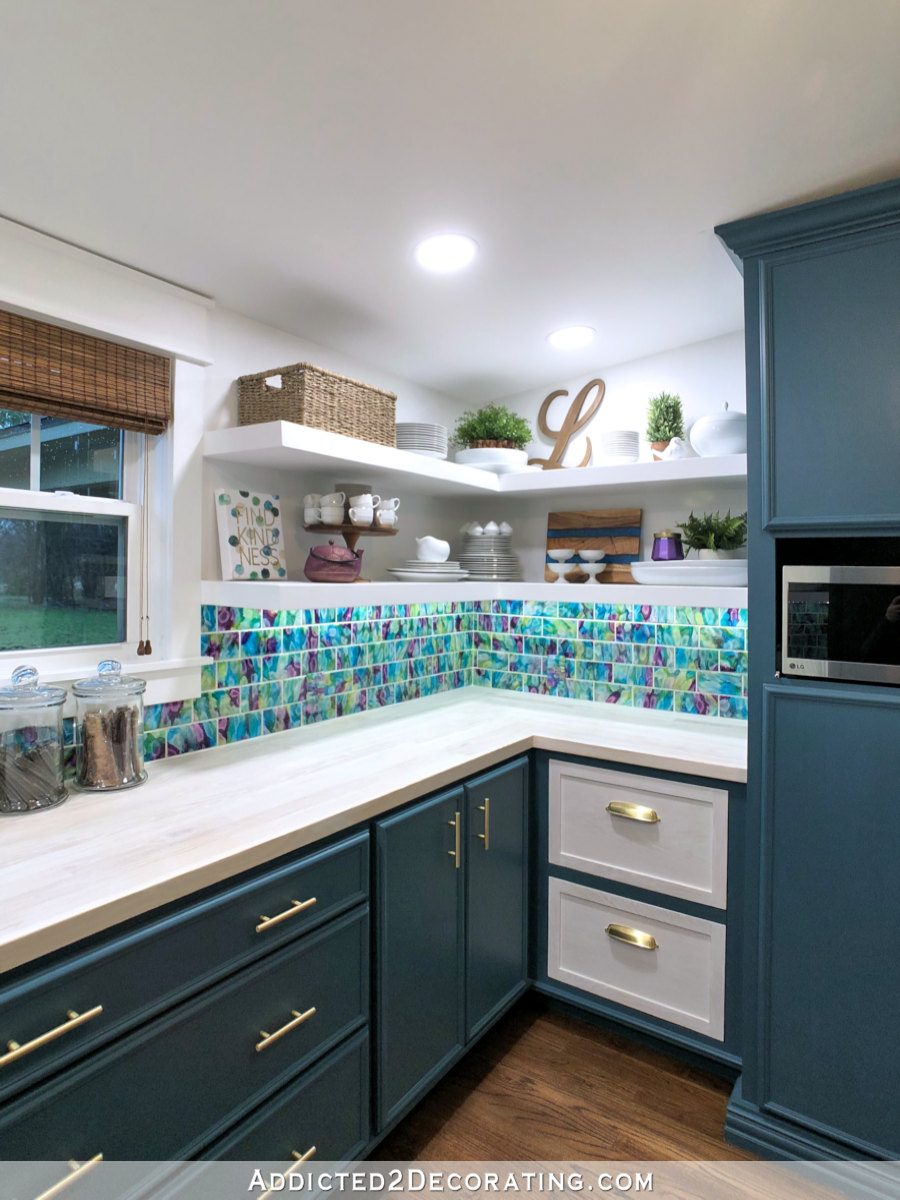 You can see more pictures on the before and after post right here…
Addicted 2 Decorating is where I share my DIY and decorating journey as I remodel and decorate the 1948 fixer upper that my husband, Matt, and I bought in 2013. Matt has M.S. and is unable to do physical work, so I do the majority of the work on the house by myself. You can learn more about me here.