Backsplash Tile Experiment #2 (Much Better This Time!) – Resin and Alcohol Inks
Y'all, I spent all afternoon and evening yesterday doing more experimenting with tiles and resin. And this time, at the suggestion of several of you, I tried alcohol inks. After many, many tries (and fails), I finally got my technique down where I could get fairly consistent results. I tried several different color combos, but I did more turquoise, teal, green, white and gold than any other color. Here's how they turned out…
So basically, I covered each tile with clear resin, dropped about 12 drops of alcohol inks in random colors and random patterns onto each tile, and then used my heat gun to mix, mingle and marble the colors together.
This process definitely created a more interesting look than the resin and latex paint combo that I showed you yesterday. The colors are more vibrant, and the alcohol inks naturally create more visually interest patterns.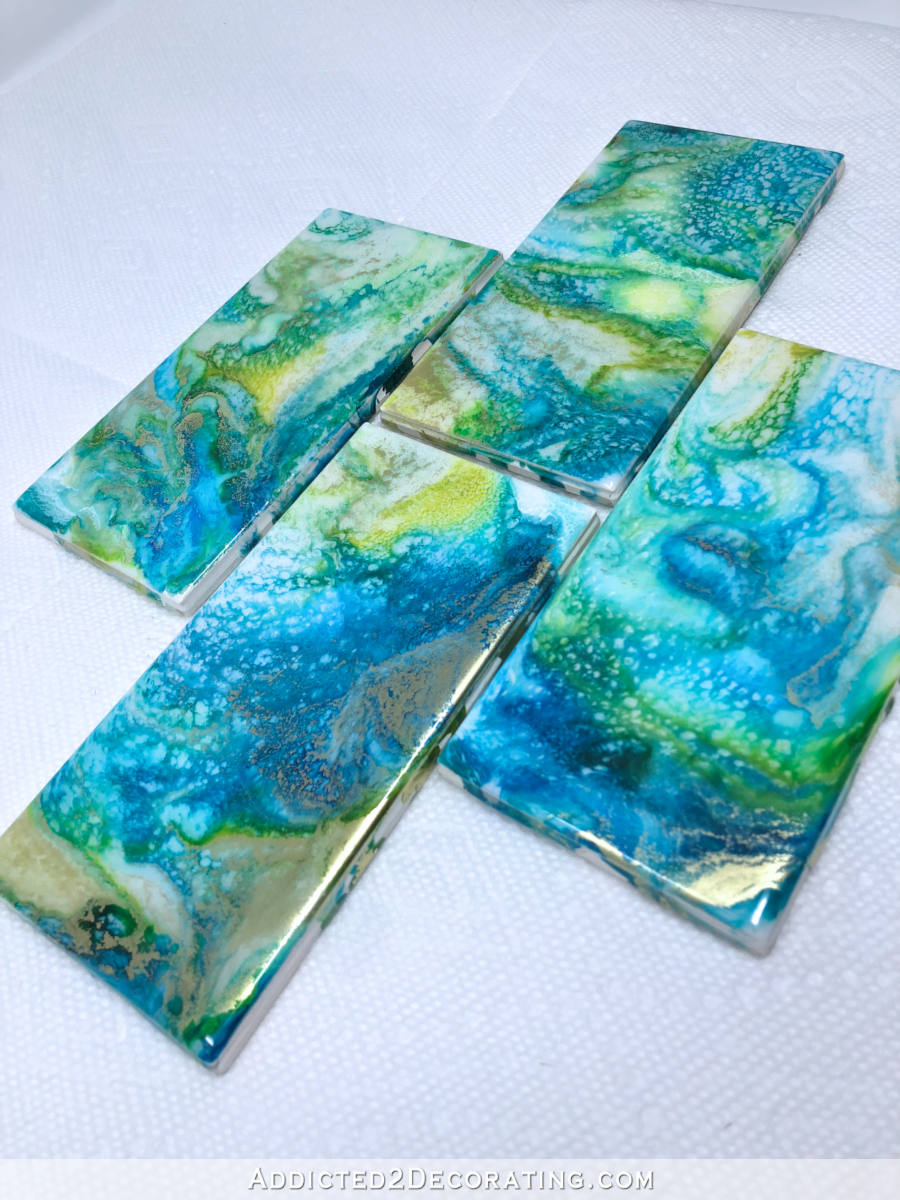 And I wish y'all could see them in person. The gold is absolutely stunning when it catches the light.
And here are the four in the turquoise, green, white and gold colorway along with one of the turquoise, green, purple and white, and then one of the turquoise, green, white and pink tiles.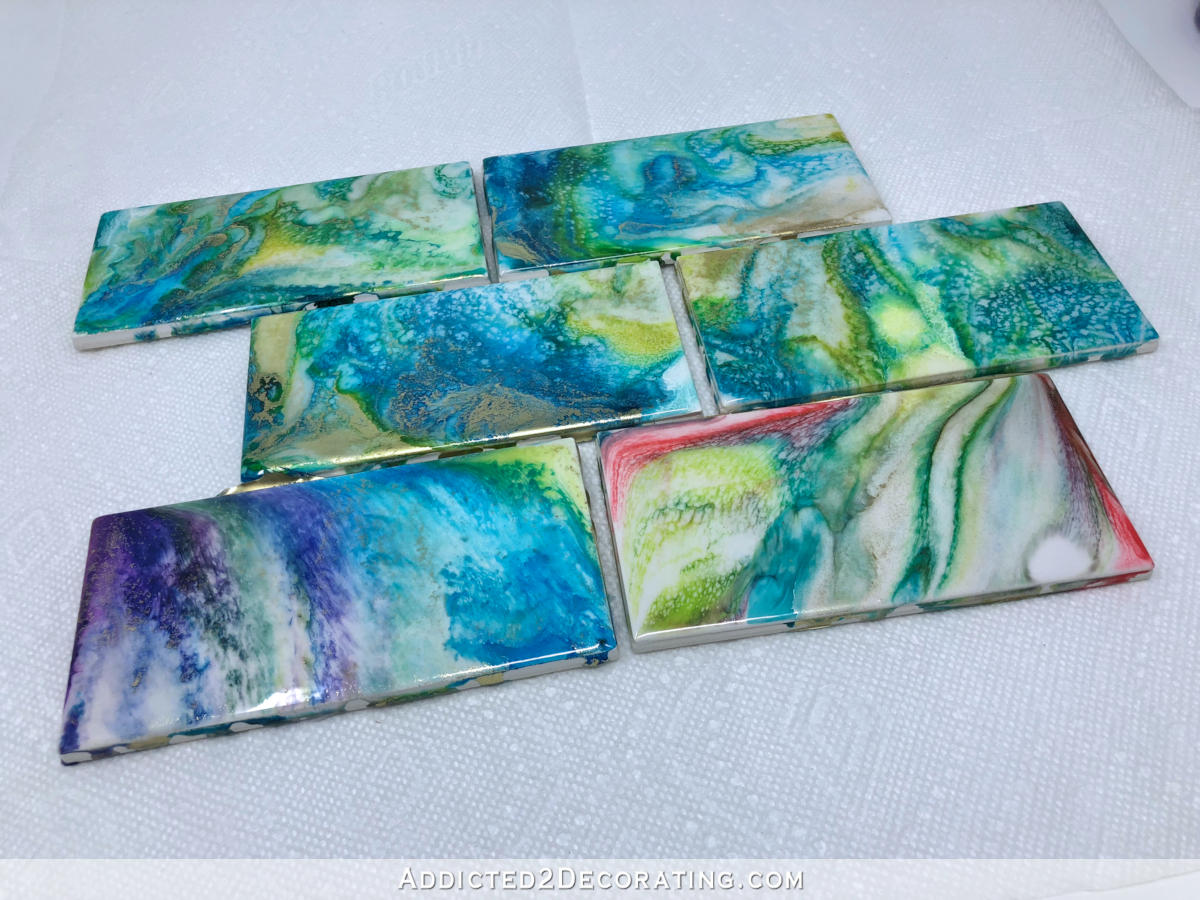 Those didn't turn out quite as nice as the green and turquoise ones becasue I did those before I "perfected" my technique (which still isn't perfect, but it's getting there).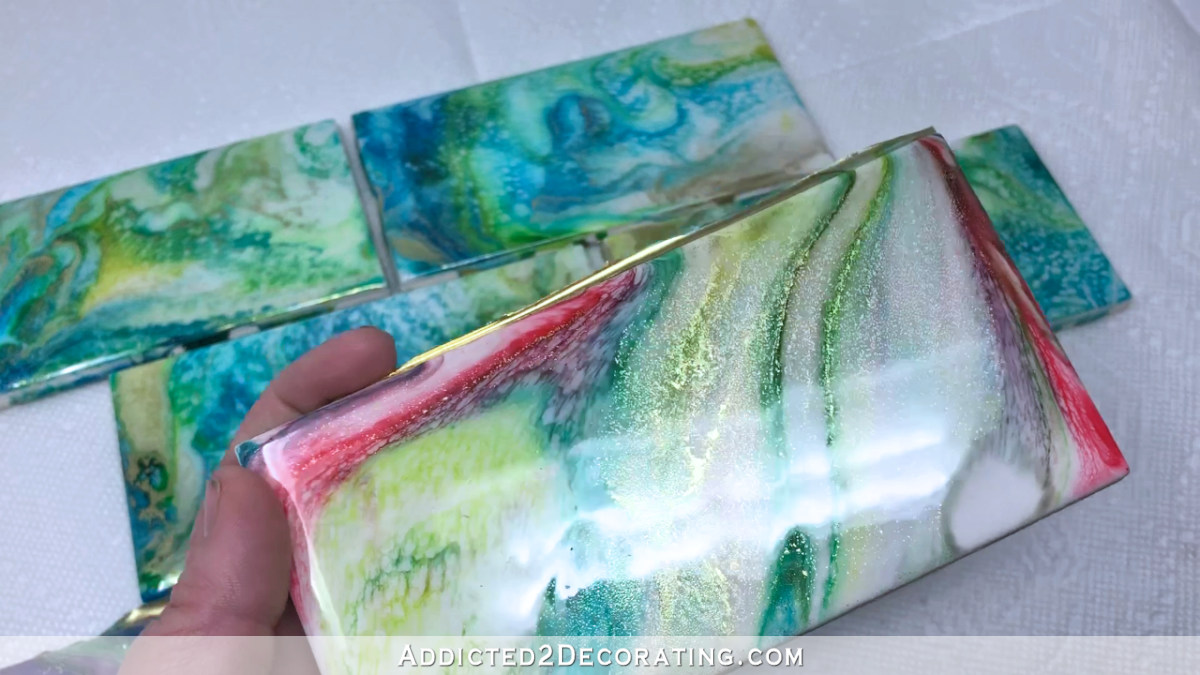 So now I just need to decide for sure what colors I want to use. I've definitely ruled out the ones with the pink. Since these tiles will be seen through the doors of the pantry, I feel like pink would stick out like a sore thumb. But my breakfast room is teal, green and purple, and it's right next to my teal kitchen. So I feel like either of the other two tiles would work. So what do y'all think? Add the purple? Or stick with the turquoise and green alone?
Anyway, I'm so glad some of you suggested the alcohol inks! For some reason, it didn't even occur to me to try those.
And if you're wondering whey I'm spending so much time on this, it's because I've signed up to be a guest participant in the One Room Challenge, and it starts Thursday. I need to get all of my decisions and purchases ready to go for my pantry because I plan to hit the ground running on this thing. I'm giving myself until the end of the day tomorrow to finalize all of my decisions. And since I'm going to need over 200 tiles for the pantry, this is going to be quite the undertaking.
UPDATE:
After hitting "publish" on this post, I decided to try another test with teal, purple, white and gold — no green. Y'all, this just may be the winning combination! I absolutely LOVE this one. I love it more than the teal and green, which is strange for me, because those are my colors. But just look how gorgeous this is! It's still very wet in this picture since I literally just did this about five minutes ago, but it's resin, so it'll look pretty much the same when it's dry.
---
---
Update:
My pantry is finished! Want to see the entire project from start to finish? You can find every single post about the pantry build right here…
Or you can skip to the end and see how it turned out. Here's a peek of the finished pantry…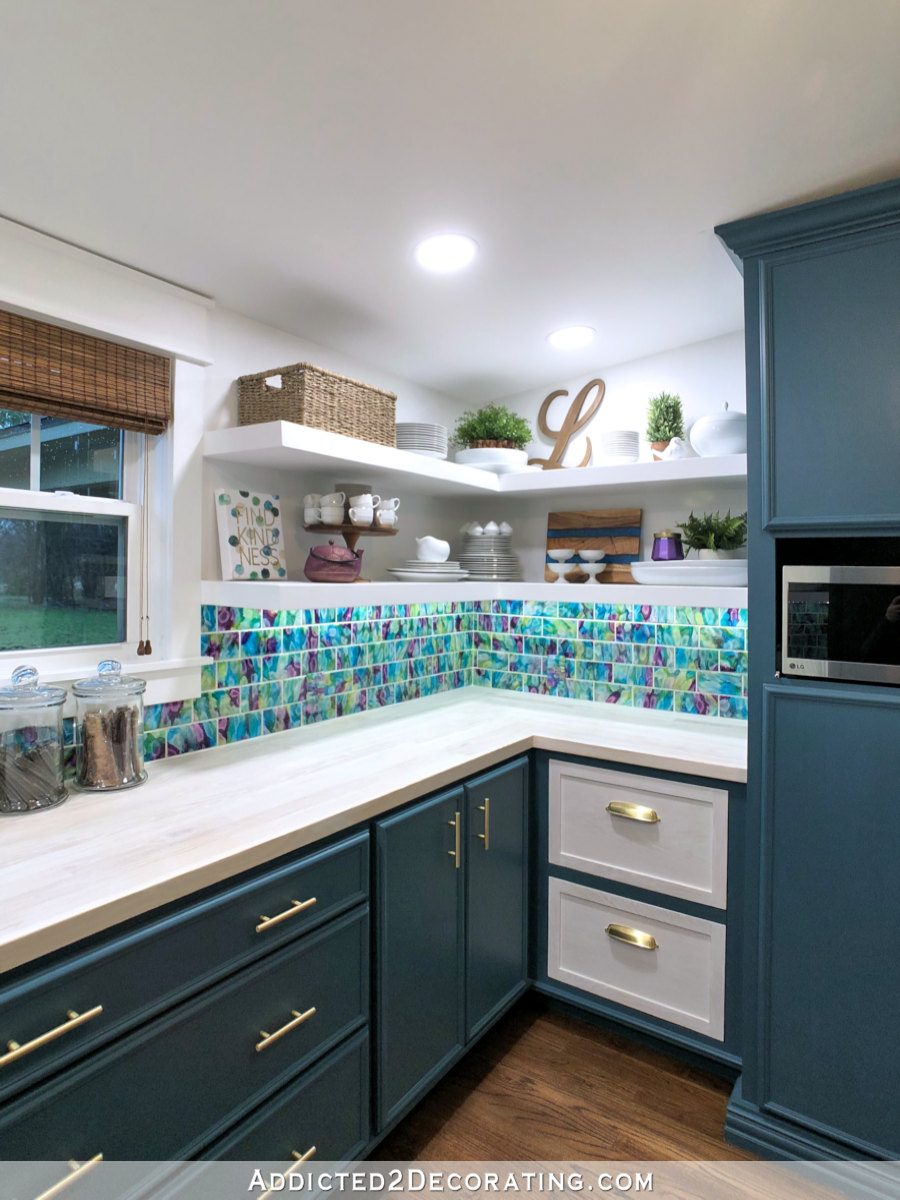 You can see more pictures on the before and after post right here…
Addicted 2 Decorating is where I share my DIY and decorating journey as I remodel and decorate the 1948 fixer upper that my husband, Matt, and I bought in 2013. Matt has M.S. and is unable to do physical work, so I do the majority of the work on the house by myself. You can learn more about me here.