The Happiest Front Door On The Block (My Cheerful Coral Front Door)
Y'all know I'm all about the quick and easy projects right now. And since my house was finally painted last week (you can click here to see the before and after if you missed it) and my front porch lights were installed, I thought it was time to get some color on my front door.
And my color of choice? Coral! I had a hard time deciding between the pinkish corals or the orangish corals, so I tried to go somewhere right in the middle. Compared to the others I was considering, this one leaned the most orange. And yet on the door, it looks like a very pink coral. Doesn't it just look happy?! 😀
The name of the color I chose is Benjamin Moore Bird of Paradise. Just the name is a happy one. It conjures up images of the dancing Birds of Paradise on the first Planet Earth series, and every time I pull up to my house and see my pretty front door, I kind of want to dance around my front yard like those guys.
Of course the really close up view is the best one. A bit further away, and the image is kind of ruined by the unfinished porch ceiling.
And from the street view, it gets upstaged by a brown yard void of any landscaping and a sagging porch roof.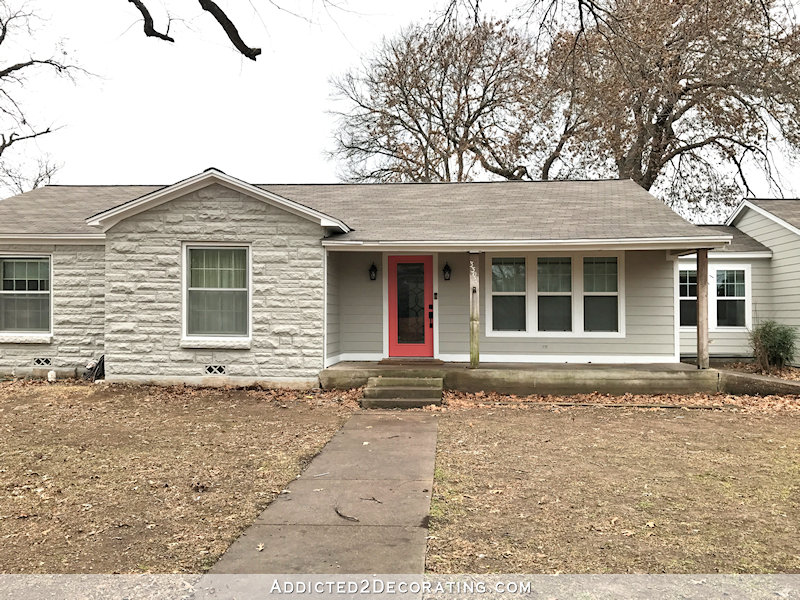 It's one step at a time, right? It'll all get done. But for now, I like to stick to the close up view.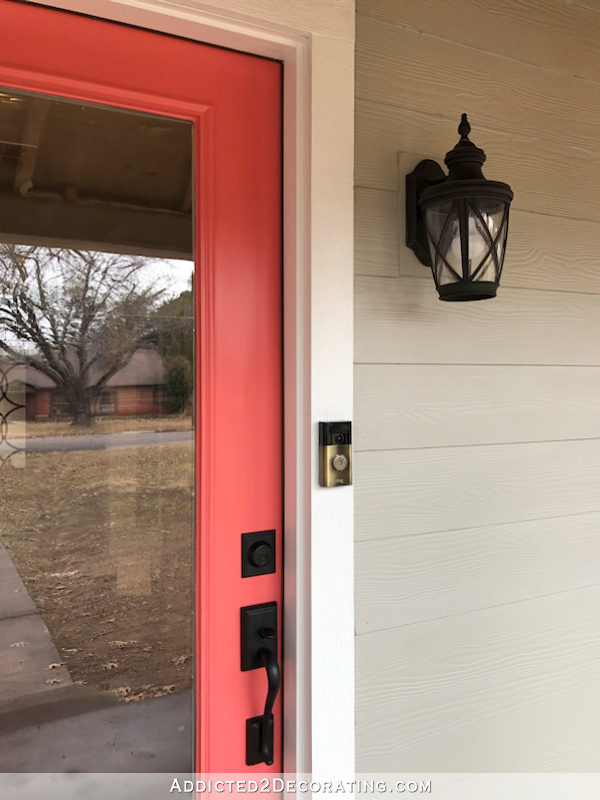 The lights I chose are these Allen + Roth Castine Wall Lights from Lowe's. My doorbell is this Ring video doorbell in antique brass from Amazon. And my handleset is this Schlage Matte Black Addison Exterior Entrance Handleset from Build.com.
Now that my door is painted, I can make a decision on the color for the shutters. I tried two different colors, and so far I'm undecided. They're very similar, and yet, they're not. The dark blue on the right is Benjamin Moore Gentleman's Gray. It's such a gorgeous, deep blue. But it's more of a true blue, and I tend to lean more towards teal. So I took some Gentleman's Gray and added some green that I had on hand (kind of a Kelly Green), and that's what you see on the left.
Here they are in the breakfast room window, with the Gentleman's Gray on the left and the teal on the right.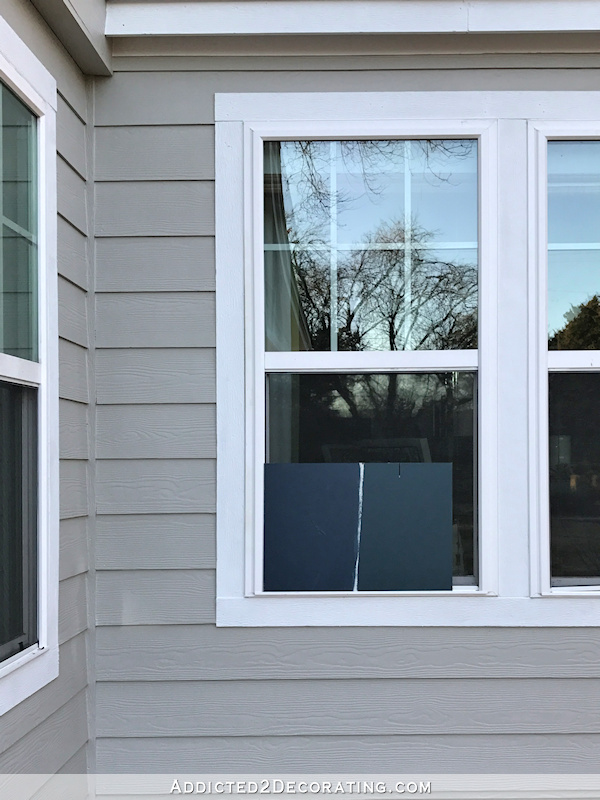 Actually, after looking at that again just now, I think I'm leaning towards Gentleman's Gray. It's definitely much closer to the mock up I did…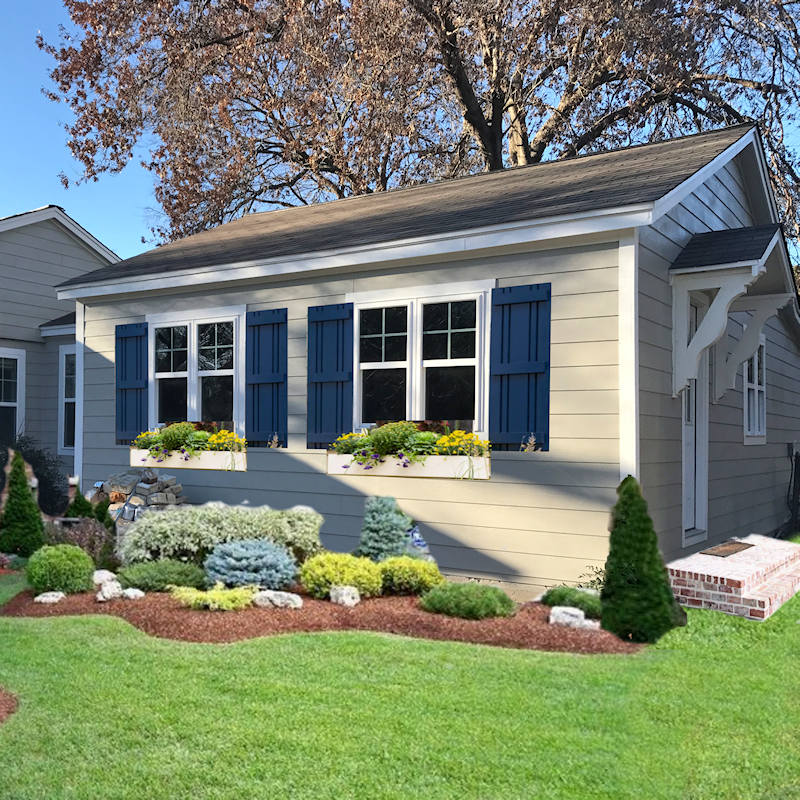 (Edit: My brother just came over and before I could even ask him, he said he liked the teal better. 😀 )
What do you think? Gentleman's Gray or teal?
And then one more thing that I can't decide is what color to paint my studio door. It can be seen from the street, so should it also be coral? Or should the coral be reserved only for the front door?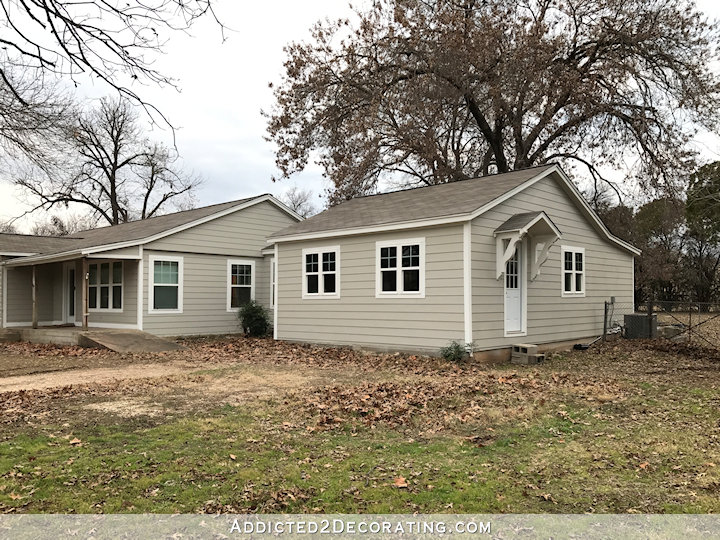 I think it would look so amazing for that door under the cute little portico to be coral, but then part of me thinks the coral should be reserved just for the front door. Y'all give me your thoughts, because I'm a kind of out of my element when it comes to house exteriors. And for some reason, I'm a lot more timid with the "try it and see if you like it, and if not, redo it" attitude that I bring to my projects indoors. I find exteriors a bit intimidating.
So I need to decide on…
Shutter color: Gentleman's Gray or teal?
Studio door: Coral or white?
Addicted 2 Decorating is where I share my DIY and decorating journey as I remodel and decorate the 1948 fixer upper that my husband, Matt, and I bought in 2013. Matt has M.S. and is unable to do physical work, so I do the majority of the work on the house by myself. You can learn more about me here.