Last Updated on December 24, 2015 by Kristi Linauer
This past Saturday was the one year anniversary of the purchase of our house.  Now if you'll remember, we didn't actually move into the house until two months later because I wanted to remove all of the carpet and refinish the hardwood floors first.  We also needed some pretty major plumbing done.  So we didn't move in until October 19th.  But we closed on August 16th, and I started working on it right away.  So it's time for a one-year tour!
Since I'm sharing not only the past and present, but also the future plans for each room, I'm going to break this up into more than one post.  One post with all of that info about every single room of our house, including the exterior, would take way too long to read.  So today I'm going to show you the living room, entryway, music room, hallway, and hallway bathroom.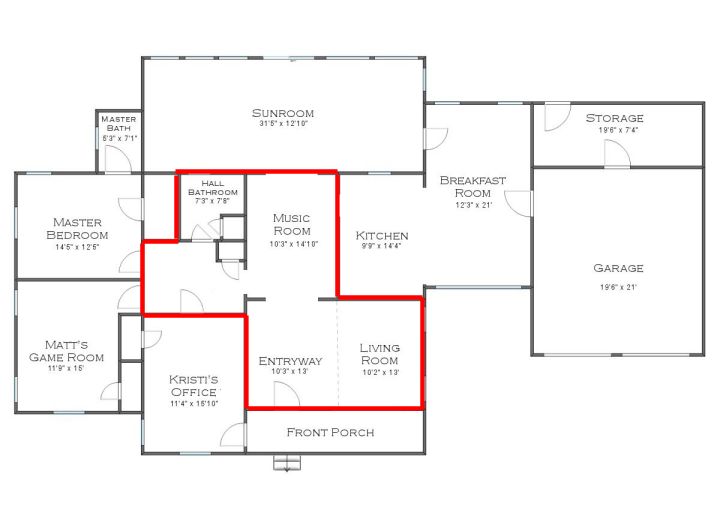 So let's start the tour, shall we?
Entryway and Living Room – 50% complete
When we bought the house, this is what this area looked like.  Here's the living room…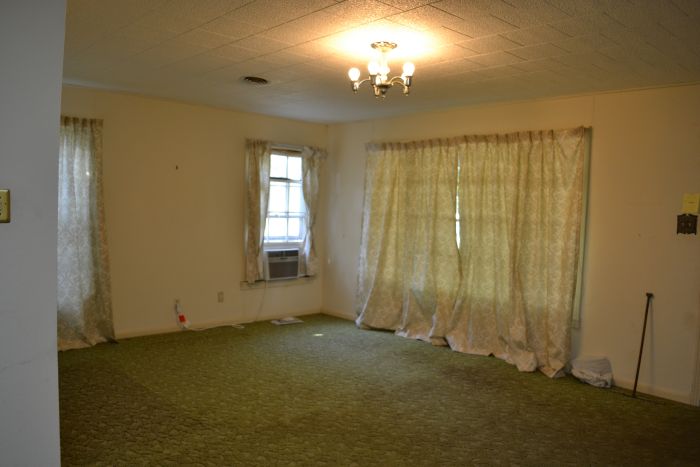 And here's the living room and the entryway…
I actually showed you this room very recently, and nothing has changed since then…
And the only thing that has changed in the entryway is that I finally added the trim around the front door.
As you can see, there's still so much to be done.  First of all, I want to remove all of the polystyrene tiles from the ceiling, as well as the 1 x 4's that they're attached to, and I want to re-drywall the ceiling.  That will be a huge undertaking, so it's something I'm going to hire out.
After that's done, I can add the overmantel to the fireplace that will look something like this…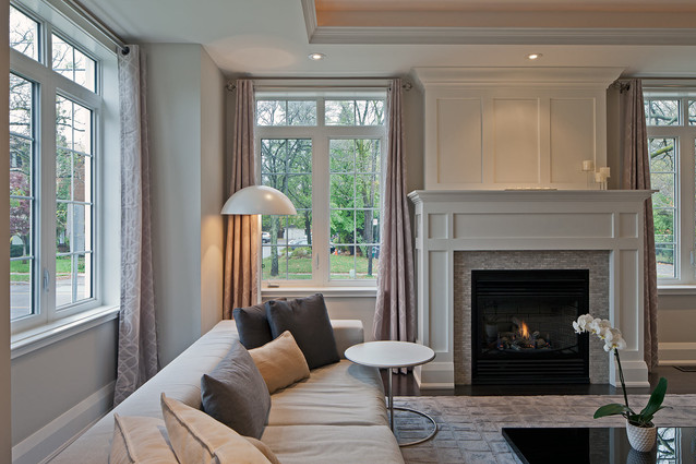 Contemporary Living Room by Toronto Photographers Peter A. Sellar – Architectural Photographer
But mine will be wider. I like an overmantel to be the same width as the fireplace. But it'll be very similar to that one, painted white to match the fireplace.
Then I want to add real wainscoting to the walls. Right now, the bottom section is just drywall that is painted white. That was fine as a temporary "Phase 1" thing until we got our house leveled, but now that the house has been leveled, I can add actual wainscoting to the walls. I want something like this…
Contemporary Hall by San Francisco Architects & Designers Winder Gibson Architects
I had originally thought that I wanted grasscloth wallpaper in the living room and entryway, but I think I've changed my mind.  I'm perfectly happy with the teal wall color that is on the walls now (Mythic Forest by Behr), so I think I want to save the grasscloth wallpaper for the music room…but not teal.  I would use something more neutral instead.  In my mind, it would be a nice transition between the living room/entryway and the kitchen.
Music Room – 5% complete
Here's what this room (meant to be the dining room) looked like originally…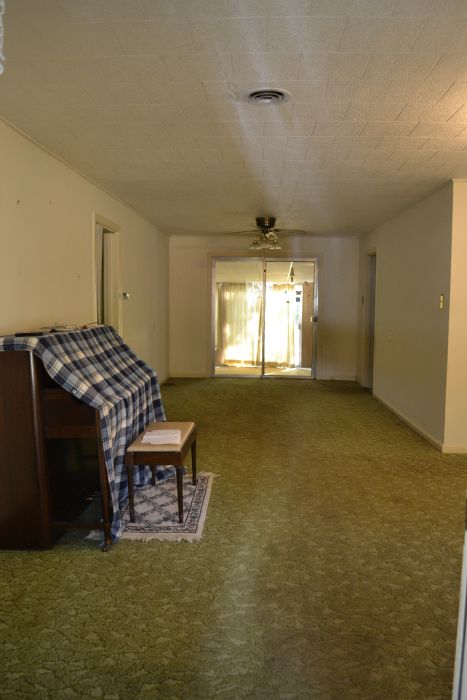 And here's what it looks like today…
Granted, that's not much progress, but at least we don't still have green carpet!  And the table and chairs will eventually be moved to the breakfast room as soon as that room us usable.  🙂
I removed the carpet and refinished the hardwood floor.  My father-in-law removed the sliding glass door when he was here in February, but you can see part of it is still sitting over to the side.  Yep…it's been sitting there since February.
I need to trim that door out, and it shouldn't take that long to finish.  But the reason I haven't done that yet is because I first needed to figure out if the doorway needed to be moved and/or widened.  At the beginning of the kitchen remodel, I kept going back and forth between wanting to bump out the kitchen wall to expand the kitchen, but obviously I settled on not doing that and keeping with the original kitchen footprint.  And then I was unsure about how I would arrange the music room, so I wasn't sure if the doorway might still need to be moved over and/or expanded in any way.  But now I think I've decided to keep it just like it is, and repeat that same doorway opening between the entryway and the music room.
That will give some definition between the entryway/living room and the music room without it feeling too closed off.  It will also allow me to decorate those spaces independently from each other (i.e., teal walls and wainscoting in the living room and entry, and grasscloth walls in the music room).  Right now, it's just all one big expanse of space, and it's just too much.  It would force me to treat all of those areas as one when it comes to wall color/treatments, and that's not what I want at all.
If I can figure out a way to put some French doors on those doorways without it feeling too closed off, I just might do that as well.  I know my plans go against the whole "open floor plan" design that most people want today, but I've always been drawn to the floor plans of old houses that actually have separate rooms for different functions, with French doors to close off those rooms.  If I wanted an open floor plan, I wouldn't have purchased a house built in 1948.  🙂
So basically right where the music room wall ends on the left on the picture below, there will be a wall built there that is parallel to the wall where the front door is, and the doorway will be exactly the same as the one where we removed the sliding glass door (that I have my back to while taking this picture below).
The most important thing that will go into the music room is a piano.  I don't have a picture, and it's currently in storage, but it's the piano that my mom learned to play on when she was a young girl, and then I learned to play on when I was growing up.  It's nothing fancy — just a very simple upright piano.  But I love the history behind it, and can't wait to get it in my house and decorate this little music room around it!
As a side note, I've mentioned before the difference in color between the old wood floors in my house and the new red oak in the kitchen.  You can really see it here.  It's a huge difference, which is why I'm going to be staining the kitchen floor to get it to match a bit better.
Hallway – 10% complete
When we moved in, the hallway looked like this…
It's so crowded looking because there was originally a closet right there on the left just as you entered the hallway.  That closet wasn't original to the house, and wasn't really framed out and trimmed out properly, so I removed it.
Here's a view of it from the other direction, with me standing in the master bedroom doorway to take the picture.  The door to the right of the closet is my office.
Today, the hallway doesn't look a whole lot better, but again, at least the green carpet is gone and the closet is gone.
And of course, I tested out some different colors/stains on the doors a while back, so those still look the same.  I've decided to go with white trim and black doors, so hopefully I can get this mess all looking pretty and cohesive before too long.
One other thing that has been done in the hallway is I removed the polystyrene tiles from the ceiling, as well as the 1 x 4's that they were attached to.  That caused the old, thin drywall to crumble in areas, so I ended up just taking all of the drywall off of the ceiling, and my brother-in-law and sister and I put up new drywall in there at the same time we did the drywall on the kitchen ceiling.  So the ceiling and walls still look like a mess, and are in need of some taping and mudding before they can be painted.
And I don't want to put up the ceiling light until that's done, so for now, we use a floor lamp for light in the hallway.  😀
And then here's the view the other direction back towards the living room.  You can see where the closet was removed, and at one time the walls (along with everything else in this house, including the exterior siding) was painted seafoam green.
I do still have the original closet on the other side, but it's filled up with a big metal thing that is part of the furnace, so it's not really usable as a coat closet.  And I suspect that once we get our HVAC system, that closet will be used for the part of the system that goes inside (don't know the name), so I really don't have a usable coat closet.  That's something I hope to remedy, but I'm not sure where I'll put one just yet.
As of right now, the plan for this hallway is to cover the walls with wood slats to mimic the original shiplap siding currently in the breakfast room.  I keep coming back to this picture as inspiration.
Rustic Entry by Johns Island Architects & Designers Wayne Windham Architect, P.A.
I thought for a long time that I wanted the walls white in the hallway, but now I'm thinking I want a light neutral color so that my pretty trim around the doors will stand out more.  And of course, the trim around the doors will be exactly like the new trim I've put around the kitchen doors and the front door, and I want my doors painted black.  I'd also like to add a solar tube to the hallway so that it can get some natural light.  Right now if any of the bedroom doors are closed, the hallway is so dark during the day.
Hallway Bathroom – 0% complete
Unfortunately, the hallway bathroom hasn't changed much at all.  A year ago, the bathroom looked like this…
It looks very much the same today.  I did remove the shelves from around the toilet, and also the metal towel holder beside the tub.
But the main difference is that the storage cabinet above the tub is gone.  That made it feel like I was showering in a cave.  Now it feels so much more open, even if it's not pretty at all.  🙂
I also started taking down some of the polystyrene tiles from the ceiling, but didn't get very far on that.  The good news is that I think I'll actually be able to salvage the drywall on the ceiling.  Of course, I'm pretty sure that everything else in here will need to be ripped out down to the studs, so I should probably just re-drywall the ceiling also.
That window will be removed since it looks out into the sunroom (which will eventually be the family room), so I think I want to add a solar tube to this room for some natural light.
I had thought at one time about doing some temporary stuff in here, like painting the tiles white, and giving the walls a coat of paint.  But I've decided against that.  I'd rather not waste my time and money on temporary fixes like that when there's so much to do in this house, and temporary fixes are not the end goal.  So I'll just live with the bathroom like this for now until I can get to the real remodel (which I'm hoping will be next year!).
And as far as how I want to design and decorate this room, I'm not completely sure yet.  I keep bouncing some ideas around in my head, but I find myself constantly going back to this guest bathroom from  For The Love Of A House.
By the time I actually get to my bathroom remodel, I may have completely different ideas about what I want.  But I do love the pedestal sink (which is about all my little bathroom can hold), the marble tile floor, and the wainscoting.  It's simple and pretty, and at least right now that's what I think I want for this bathroom.
But of course, if you know me even the slightest, you know my plans are subject to change at any moment.  It's only final when it's finished…and even then it's not always final.  😀
(By the way, those completion percentages are total guesses based on what I know still need to be done and the amount of time still needed to complete each room.  There's no scientific accuracy to those numbers at all.)  🙂
Addicted 2 Decorating is where I share my DIY and decorating journey as I remodel and decorate the 1948 fixer upper that my husband, Matt, and I bought in 2013. Matt has M.S. and is unable to do physical work, so I do the majority of the work on the house by myself. You can learn more about me here.
I hope you'll join me on my DIY and decorating journey! If you want to follow my projects and progress, you can subscribe below and have each new post delivered to your email inbox. That way you'll never miss a thing!