I remember at some point last fall, I made the comment that I was so tired of seeing chalkboard paint projects everywhere. I mean, every time I turned around, I was seeing something else being turned into a chalkboard. I thought to myself, "Seriously…how many things do we need in our homes that we can write on and draw on with chalk?!"
Well, I guess at some point between then and now, I completely changed my mind. Call me a big 'ole hypocrite, because after I voiced my "I'm sooooo over chalkboard paint" thoughts on the A2D Facebook page, I proceeded to create two different chalkboard projects in my home.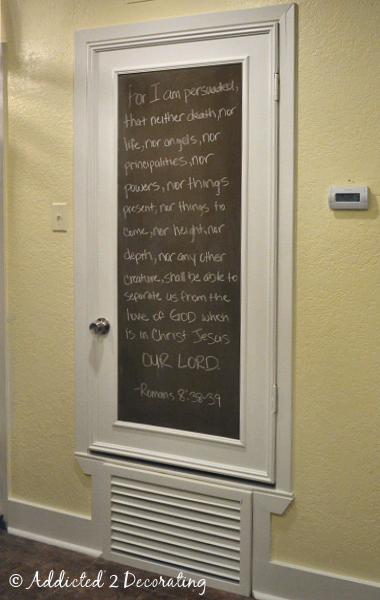 Framed magnetic chalkboard spice rack that currently hangs on the wall in my kitchen,
and my hollow core door-turned-chalkboard that I finished up this past weekend.
Long before I declared that I was soooo over chalkboard paint, I had used it on two other projects…

Chalkboard basket tags that I use in the cubbies of my breakfast room,
and a fancy spindle chalkboard that I made for John & Alice's family room.
So how do you feel about all of these chalkboard projects everywhere? Are you like I was last fall, and think to yourself, "Oh gosh…another one?!" every time you see something else turned into a chalkboard? Or do you enjoy seeing the creative ways that people use chalkboard paint in their homes? Have YOU made a chalkboard yourself for your home? If so, what does it look like? Do you actually use it? Where is it located in your home? If you'd like to share your chalkboard project, leave a link in the comments below!
I admit, I now (once again) enjoy seeing chalkboard projects. Perhaps it's because a bit of the excitement about chalkboard paint has worn off, so I'm not seeing chalkboard projects every single day. Or perhaps it's because I came to the realization that chalkboard paint isn't going away, so I may as well embrace it!
---
---