Entryway Artwork – Fluid Acrylic Abstract Triptych
For a long time now, I've envisioned some big, bold, and very colorful abstract artwork for the entryway. I know abstract artwork isn't everyone's cup of tea, but I absolutely love it. Well, some of it. So I decided to revisit the idea of acrylic fluid artwork, which is where you use very thinned liquid acrylic paints and pour them onto the canvas in various designs, and then use various methods to marble the colors together. I've spent hours watching YouTube videos on this technique over the last year, and this artist is my favorite right now.
I tried this technique once before, which I shared with you in this post. While I loved the marbled effect I got with that project, I wasn't so crazy about the colors I used. After a while, it started to look like a raw cut of marbled beef…not exactly what I wanted on my wall. I ended up giving it away to someone who really liked it.
So this time for the entryway, I decided to do a triptych, and I went much heavier on the blue, green, and purple, and much lighter on the pink and orange. And as is typical for me, I didn't do any kind of small practice pieces before doing these. I just went right to the big pieces. I still need to make frames for them, and those will be white to break up all of the color. But here's how the actual paintings turned out…
Each piece is 18″ wide and 42″ tall. I used 1/2″ MDF, and primed each piece with oil-based Zinsser Cover Stain before pouring the acrylic paints. After letting the primer dry really well for about three hours, and then sanding it smooth with 150-grit sandpaper, it was ready for paint.
I used nine colors in all. The first was this light pink color. I mixed this myself, so I don't have a name or formula for it.
And then I used these six colors…
And then I made a light teal and a light purple using the Thai Teal and New Orleans colors above mixed about half and half with white.
These paints aren't pourable directly out of the containers. They have to be thinned considerably before they can be used.
The formula that I use for mixing the paints is:
The consistency will seem very thin and watery, but it worked really well for me. The panel on the left is my absolute favorite one. I like the soft, heathered colors.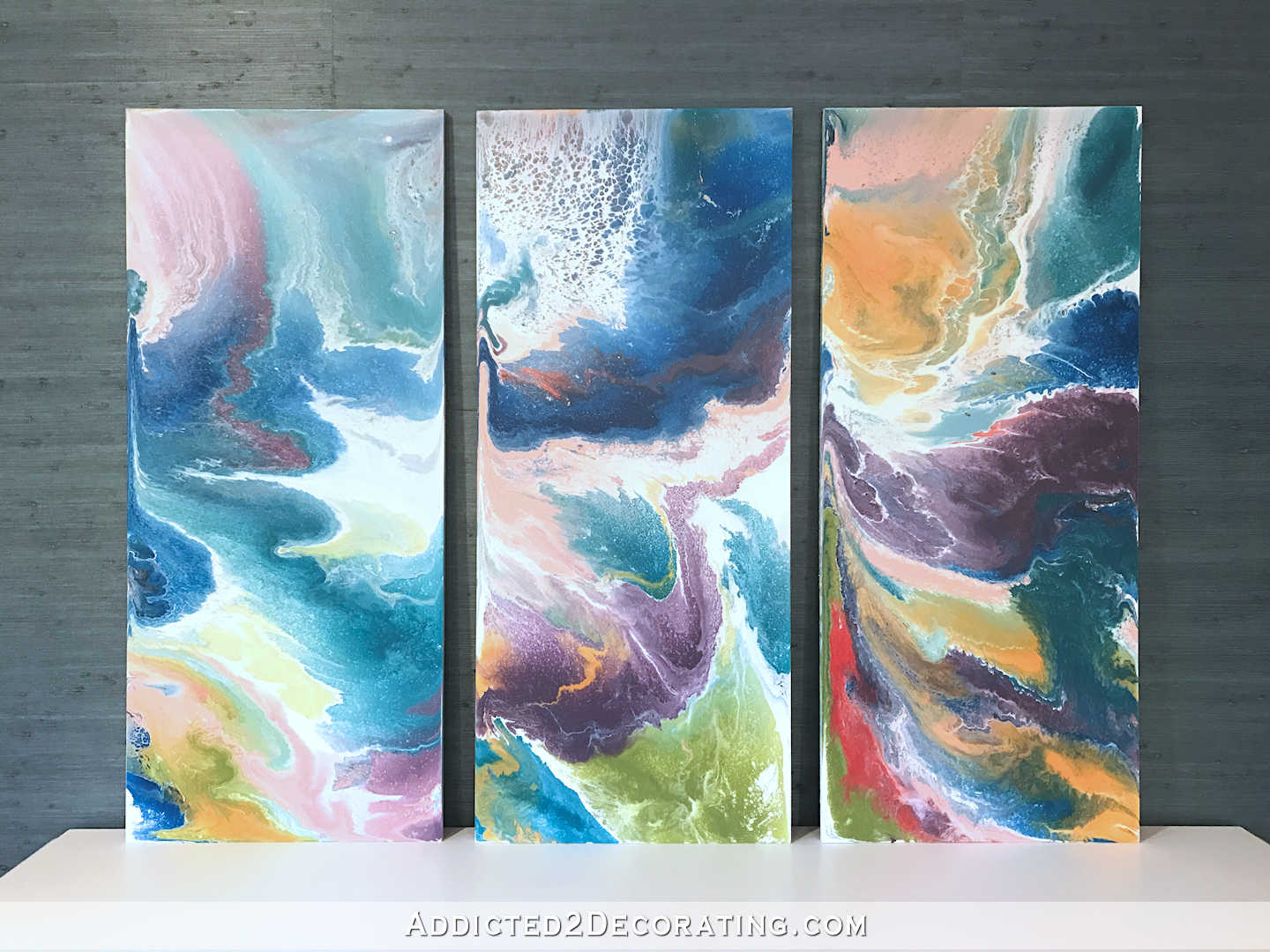 Here's a closeup of my favorite part…
That heathered look was created by spraying water with liquid dishsoap in it over the top, and then using a propane torch lightly over the top. This is the torch I have.
These cell are created by adding drops of silicone to the paint, which you can find in small bottles at Home Depot. I estimate that I used about 1 drop per 2 ounces of mixed paint.
One more trick I used was to attach a pistol grip blow gun to my air compressor, which I set on a very low pressure, to move the paint around the surface.
After I did my entryway artwork, I had lots paint left over. I decided to just play around on some 11″ x 14″ canvas boards that I had on hand.
For this one, I used the dark pink, teal, green, blue, and white, and I used the blow gun quite a bit…
This one has dark pink, blue, green, orange, light pink, and white…
This one is one of my favorites, with blue, light blue, green, purple, and white…
This is actually the first one I did, and I kept it simple with dark pink, orange, and white…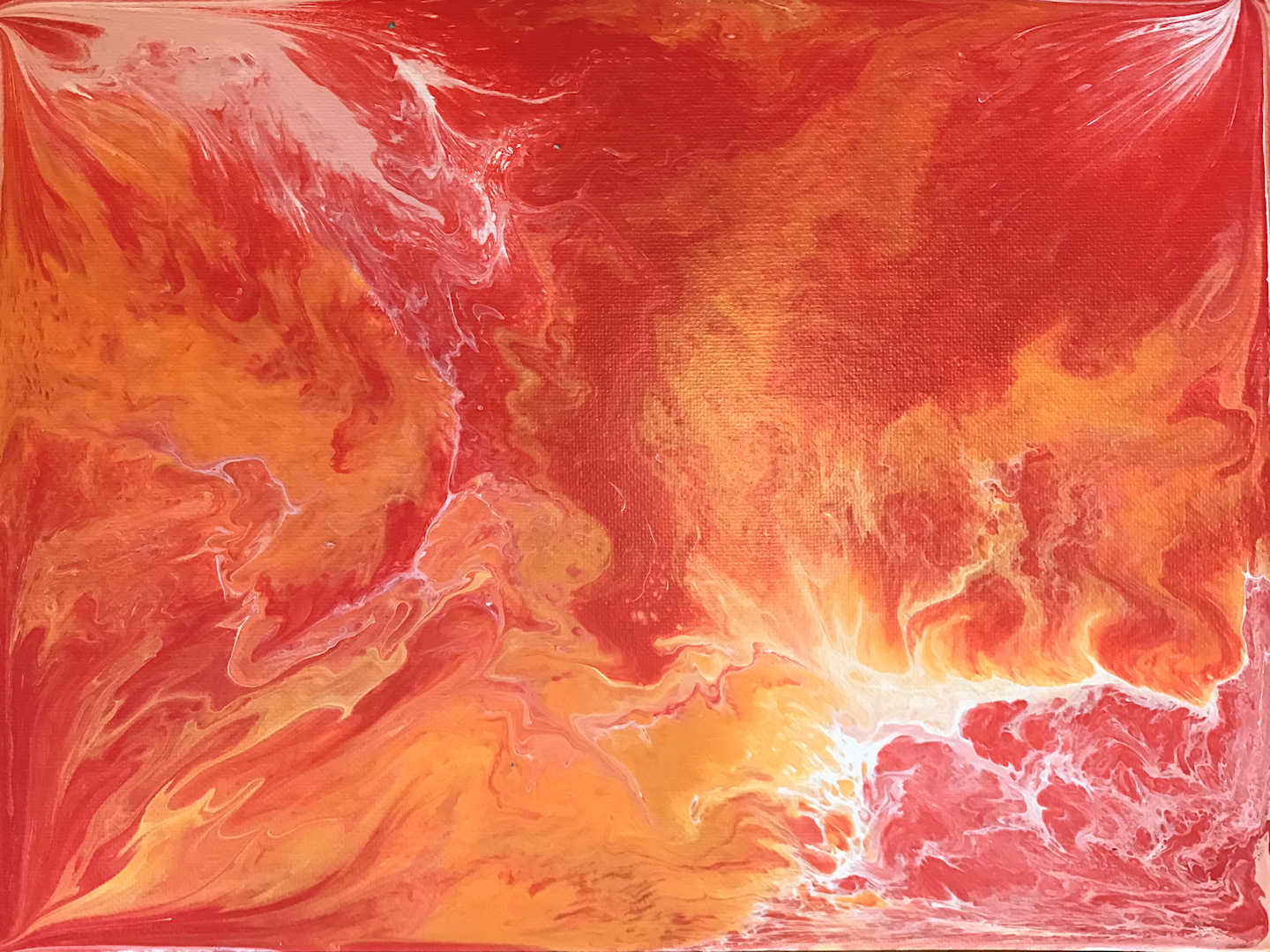 For this one, I used blue, green, purple, and white…
And finally, my absolute favorite one, with teal, purple, green, and white…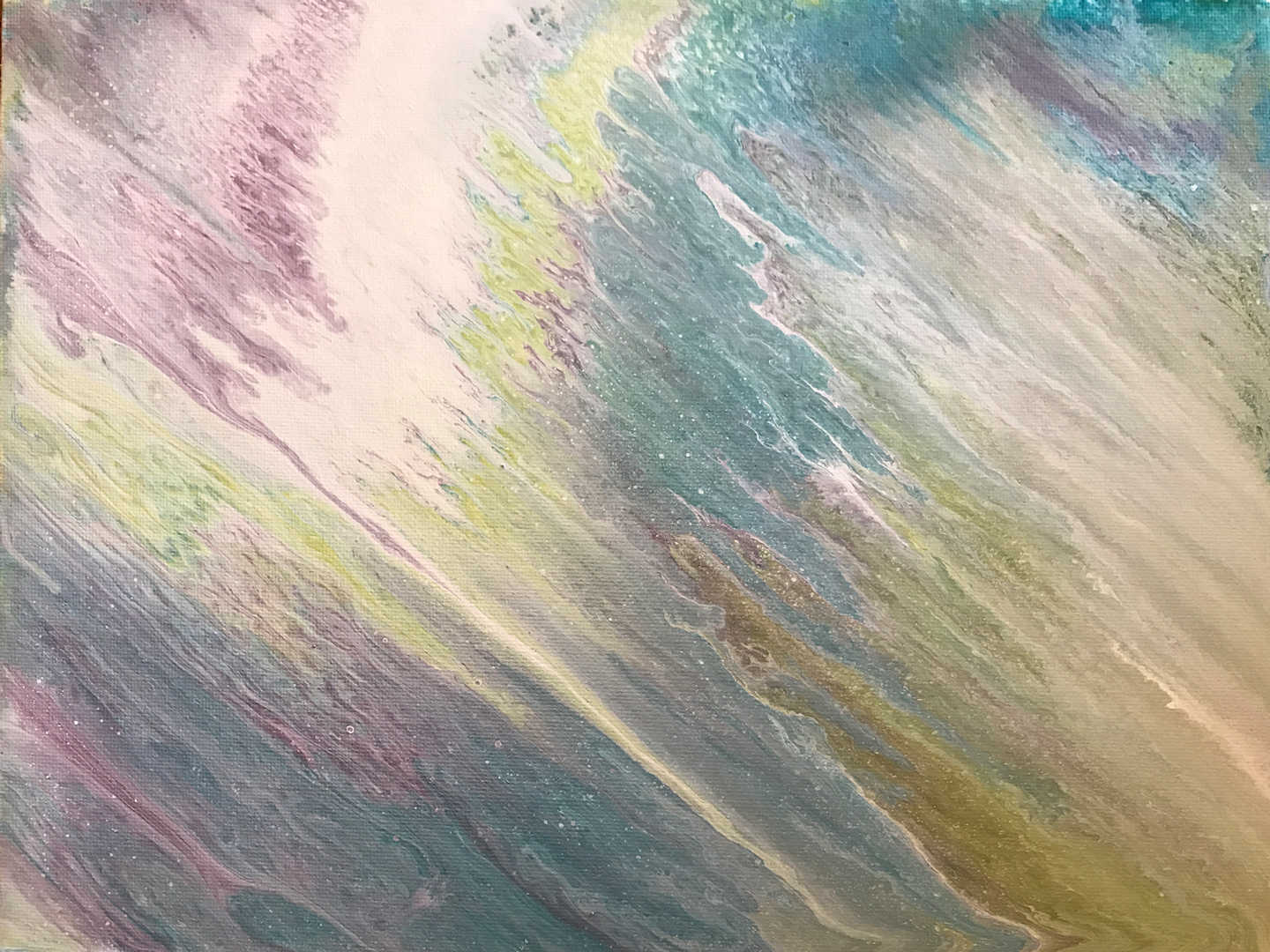 I'm having so much fun creating these, and it's one of the most relaxing ways to spend a few hours of downtime. I have a feeling there will be quite a bit of fluid acrylic artwork in my future.
UPDATE:
I made some easy and inexpensive DIY frames to go on these paintings. Click here to see that project, and the finished framed artwork on my wall…
Addicted 2 Decorating is where I share my DIY and decorating journey as I remodel and decorate the 1948 fixer upper that my husband, Matt, and I bought in 2013. Matt has M.S. and is unable to do physical work, so I do the majority of the work on the house by myself. You can learn more about me here.