DIY Fail & Paint Color Options
Yesterday, Matt and I celebrated our 15th wedding anniversary, so I set aside house projects for the day. But the day before that (Wednesday) was one of the most frustrating DIY days I've had in a very long time.
I had one goal — install three new prehung doors in the hallway. That should have been easily achieved, and yet at the end of the day, all I was left with was a very bad attitude. I didn't even have one single door installed.
I ran into problems with the very first door — the one just to the right of the hallway cabinets I just built. The room behind that door will be Matt's game room, but was originally planned to be my office (before the garage conversion). And for some reason, I never realized that the original door on that room was only 30 inches wide. I just assumed that it was 32 inches like the other two bedroom doors. And unfortunately, those two extra inches are non-negotiable. Matt can easily fit his wheelchair through a 32-inch door, but 30-inch doors are a problem for him, resulting in scratched and bruised knuckles.
So I removed the original door, and found that there was actually some extra room on each side. I had high hopes that the new, wider door would fit right in there.
But it didn't. The framed opening was about 3/4″ too narrow.
So I spent literally all afternoon reframing that doorway to accommodate an extra 3/4″ of door width. Oh, I know. That doesn't sound so difficult, right? But it was one of the most frustrating things I've tried to do in a very long time.
First of all, that wall is load-bearing, so removing and replacing a stud has to be done with care. But also, as I've mentioned many times before, these walls aren't just 2″ x 4″ framing with drywall. The walls have solid wood shiplap under the drywall on both sides. And while that's never really been an issue before, this time it was. I swear to you that the shiplap on this particular wall has somehow turned to petrified wood, because my saws refused cut through it.
I tried my reciprocating saw, alternating between two brand new blades (one "wood" blade and one "wood and metal" blade), and it would't cut through the wood. I tried my circular saw, and it literally stopped the blade completely almost every single time. Sometimes it might cut 1/8″ before stopping. Other times, it wouldn't cut anything before stopping.
I've never experienced anything like it. I finally did get it cut, but it took about two hours, alternating between the reciprocating saw and the circular saw, and taking frequent breaks to walk off the frustration so I didn't throw my circular saw across the room, to cut a line 80 inches high.
But that's not the worst of it. After all of that frustration and time, and finally getting the shiplap cut the full height of the door, I went to install the new door and the upper left corner wouldn't fit. The opening is about 1/8″ too narrow…still. So I get to cut through the petrified wood all over again.
After that, I was done for the day. And I've had to look at that door, sitting all cockeyed in the opening, seemingly mocking me, for the last 36 hours. But today, I will win. 🙂
Anyway, while I didn't do any actual work yesterday, I did take a few minutes to put some paint samples up in the hallway. I've made a decision about how I want the hallway to look, and it's going to be a pretty big departure for me.
I've decided that I want to paint the doors, the cabinets, and the trim (crown moulding, baseboards, door casings) a bold color. And since we're talking about my home, of course the color I chose is teal. I started with five different teals, but narrowed it down to two — Behr Beta Fish, which has a bit more green in it, and Glidden Nassau Night, which is more on the bluer side.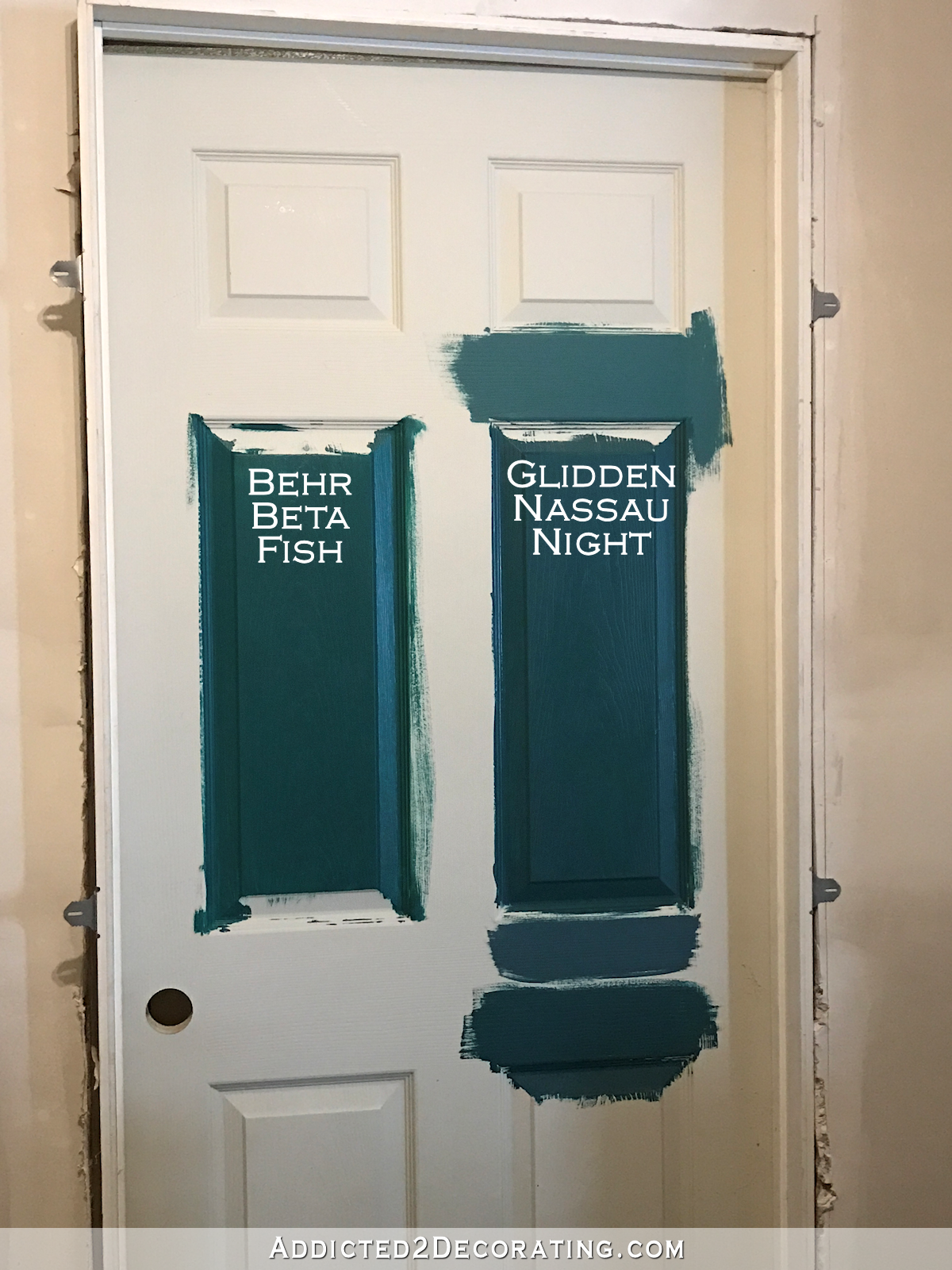 I'm generally drawn to teals that are more on the blue side, but in this case, I really like the greener Behr Beta Fish better. That touch of green just adds so much life and vibrancy to the color, whereas the blue one just seems a bit flat and dull by comparison.
But of course, the bluer one seems to complement the other teals I have in the house better. I painted some samples on the hallway bathroom door and tried to get a picture showing the entryway grasscloth and the bathroom door together…
(Never mind the teal vanity in the bathroom. That can be easily changed.)
I don't need them to match (which is good, since neither of them match the grasscloth), but I'm afraid that the greener one is too green to even complement the grasscloth. And that disappoints me because I love it!
I think both of them complement the kitchen cabinets, although I do think the bluer one looks a little better.
But that green one. *Sigh* I love it. I'm trying to convince myself that it will work, but I won't make my final decision until I get my new hallway light installed. It arrived yesterday, so I hope to get the ceiling primed and painted today so that I can get it installed by the end of the day. Then I can see each color in the actual light that will be in the hallway. That might make the decision a bit easier.
Anyway, I'm excited about my plan. I've never done a room where I've painted the doors and trim the same color (other than white), so this is a bold departure for me. But I love the look when I see it in photos, so I have high hopes that I'll love it in my hallway as well. And if not…well, it's just paint, right? 🙂
Addicted 2 Decorating is where I share my DIY and decorating journey as I remodel and decorate the 1948 fixer upper that my husband, Matt, and I bought in 2013. Matt has M.S. and is unable to do physical work, so I do the majority of the work on the house by myself. You can learn more about me here.