Pantry Progress — Five Items Crossed Off The List!
Yesterday morning, I declared that I was going to be accountable and share updates with y'all every single day on my pantry progress until it's completely finished. Well, are you ready to see how much I got done yesterday?
Here's the list I made before I got started. I'm one of those people who prefers an actual handwritten list over anything kept on my phone or computer. I like to be able to hold it in my hands, take a pen and mark things off, and see it at a glance.
When I rewrote my list, I ended up with 20 items, and yesterday I was able to cross off five items! It was a pretty productive day! Here's a video showing what I got done…
(Having trouble viewing that video? Click here to watch on YouTube.)
I started off with the easiest items on the list — installing the stiles on the upper cabinets…
And I followed up with the next easiest thing on the list — finishing the ceiling paint around the edges. I figured if I could get some really easy items done and see some checkmarks on my list, I'd be motivated to keep on working. And I was!
After doing a few really easy items, I decided to tackle a project I've been dreading — installing the outlet at the back of the shelf where the microwave will go. That ended up being way more time-consuming that I had anticipated. It actually required rewiring two existing outlets while also installing the new one. I explain more about that in the video above. As frustrating as it was, I was so glad that I was doing that rewriting work while the studs are still accessible from the studio/half bathroom side.
Then I decided to finish up my work day by finishing up the building of the new drawer fronts…
I can get those primed and sanded today, and then I'll be ready to paint the four cabinet doors and three drawer fronts.
Five things done, fifteen to to. I'm feeling quite encouraged! 🙂
---
---
Update:
My pantry is finished! Want to see the entire project from start to finish? You can find every single post about the pantry build right here…
Or you can skip to the end and see how it turned out. Here's a peek of the finished pantry…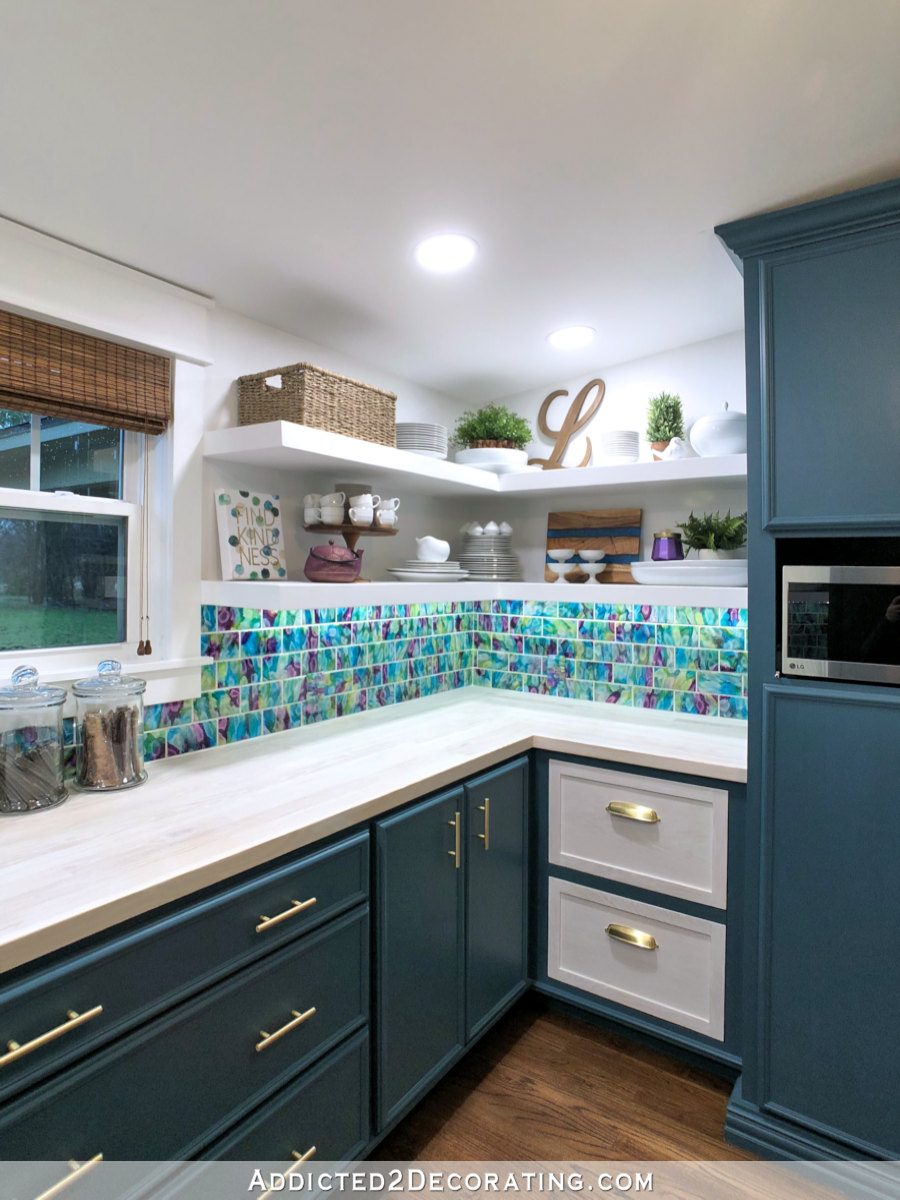 You can see more pictures on the before and after post right here…
Addicted 2 Decorating is where I share my DIY and decorating journey as I remodel and decorate the 1948 fixer upper that my husband, Matt, and I bought in 2013. Matt has M.S. and is unable to do physical work, so I do the majority of the work on the house by myself. You can learn more about me here.