The Perfect Teal Velvet For My Sofa (and Other Living Room Fabric Options)
So, just a little heads up here.  I'll probably be jumping around from project to project, and from the house to the condo and back to the house, quite a bit until the condo is finished.  It's imperative that I get the condo finished and on the market ASAP, but I can only concentrate on it so much when what I really want to be doing is working on my house.
And to add to what seems like complete randomness and disorganization, while my mind has been firmly focused on my living room for about three weeks now, and I've been full steam ahead on making decisions, getting it started, and working on it until it's finished, I've been given an incredibly motivating reason to drop the living room and work on the breakfast room instead.  And because I hate "secret projects" and bloggers trying to be all mysterious, I'll just say that it involves a magazine editor who has expressed an interest in photographing my kitchen early next year, but obviously that can't happen with the breakfast room looking like it does now.  And nothing is set in stone.  She may end up seeing my kitchen and deciding that it's not worthy of publication.  It's all very tentative right now, so I'll keep you posted as I learn more.
Soooo…all of that to say that I really have no idea what I'm doing, where I'm headed, or what I'll be doing from one day to the next.  I hope you'll stick with me through the randomness and chaos anyway, because regardless of what I work on from day to day, I'll at least be moving forward and making progress.  🙂
But on to the topic of the day…velvet!  (And other fabrics.)
As you know, I finally decided that I want a teal velvet sofa in my living room.  I ordered a few samples from Online Fabric Store.  From the online pictures, I wasn't really sure if any of them would work, but one of them turned out to be PERFECT!
I'm so excited one of these velvets turned out to be the right color because check this out…
Do you see that durability rating?!  150,000 double rubs!  Any fabric rated at 30,000 or above is considered heavy duty.  It's incredibly rare to see a fabric with a durability rating this high.  And it's also a cotton velvet, so while it will be very pretty, it won't be too super fancy for my house like a silk velvet might be.
So now that I've decided on the sofa velvet fabric, I still need to find the perfect drapery fabric.  I decided not to go with the Robert Allen Graphic Fret fabric because I saw some draperies using that fabric, and I didn't like them.  The pattern just seemed a bit too heavy.  So here are a few new samples I got.
This first one is Portfolio Zuma Stone.  As far as the color and the texture of the fabric, this one is my favorite.
In person, I absolutely love this fabric.  It has a very natural linen color to it, and it's about the same weight as a drapery linen.  I also like that it has an embroidered accent on it.  I'm just not sure about the flowers.  I generally love flowers, so I'm not sure what the problem is.  I think the online picture showing the repeated pattern kind of scares me off.
But I have a feeling it's much prettier in person, and you can see that the online picture looks much whiter and brighter than the actual natural linen color of the fabric.  But I'm still not sure of it.
The next one is Premier Prints Towers in Sherbet/Gray, which doesn't look gray at all to me.
I love this fabric, and I found this example on Custom Made that shows what it looks like as drapery panels.
If I only had one window, I'd probably go with this one.  But I have three windows, and one is rather large, so I wonder if this fabric might end up looking too busy if used on three windows.  But I do love Greek key trim (and Greek key anything else), so I could always use this fabric just as a trim on the leading edge of the draperies, like this drapery panel from Amanda Carol Interiors.  She used the same Premier Prints fabric in a different colorway as the trim.
And then the final one I'm considering is HGTV Curl Up in Quartz.
If that print were larger, I would have already ordered this fabric.  But the small print concerns me.  I can't decide of it will be subtle or busy and overpowering.  I tried to find draperies online made of this fabric, and this drapery panel listing on Etsy from Stitch and Brush is the closest I could find to a full length picture.
I keep coming back to this one because of the interlocking circle pattern, which I think would look great with the rolling doors…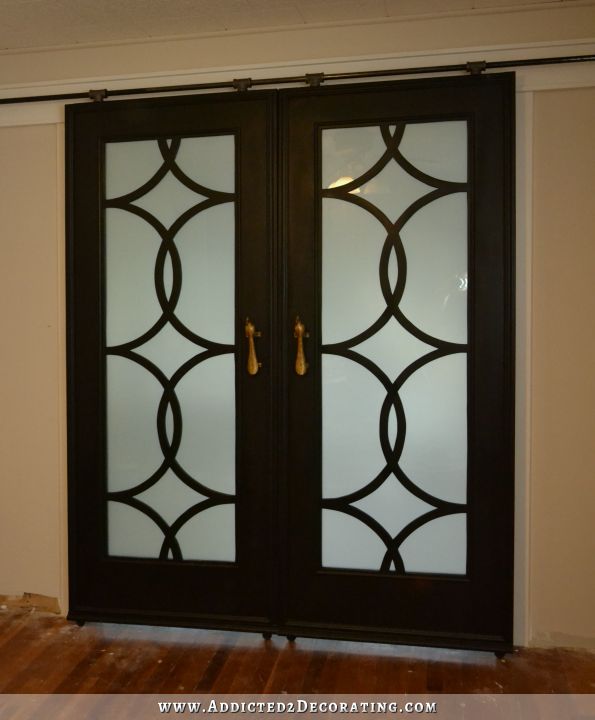 I love repeated elements in a room, but I'm still concerned that the print is too small and may look too busy.
So I still haven't quite settled on a fabric or a design for my draperies.  I haven't ruled out cornices, either.  I keep seeing some really pretty ones that don't look anything like 1980's cornices.  What I do know is that whatever I decide on is what I'll need to live with for many years to come.  I'm giving myself this one do-over, but this is it.  If I don't get it right this time, I'll just have to live with it.  🙂
Addicted 2 Decorating is where I share my DIY and decorating journey as I remodel and decorate the 1948 fixer upper that my husband, Matt, and I bought in 2013. Matt has M.S. and is unable to do physical work, so I do the majority of the work on the house by myself. You can learn more about me here.