New Living Room Artwork — Gallery Wall Of Bird Illustrations
Remember a couple of weeks ago when I shared that Flickr account with all of those collections of free nature illustrations? Well, I chose six colorful illustrations from my favorite collection (these birds, of course!) and created a gallery wall in my living room. Here's how it turned out…
I love the color it adds to my living room! In fact, when I started the project, it was actually intended for the hallway. I was trying to stay focused and get my hallway completely done, and this gallery wall of colorful birds was supposed to go on the wall to the left of the bathroom door. But as I got the pictures framed, I couldn't bear to stick them in the hallway. I wanted them in a much more prominent place, so now they're in the living room. I'll have to come up with another idea for the hallway. 😀
I narrowed down the bird illustrations to my six favorites, and then I cropped and resized them using my photo editing software. I use Corel PaintShop Pro, which you can find right here on Ebay. It's a great program for the price, and won't break the bank like Photoshop. I only edited them for size so that they'd fit into 8 x 10 frames, but I didn't edit the color at all on these.
Once I had them cropped and resized, I uploaded them to the WalMart photo ordering page on their website, and had them printed out as photos. I used WalMart because they were the only 1-hour photo place in my area that uses matte paper. All of the others (CVS, Walgreens, etc.) use glossy paper for their 1-hour photo printing, but offer matte paper if you want to have them printed and mailed to you, which can take up to 7-10 days. I opted for immediate gratification and went to WalMart.
The frames I used are these simple white frames with thick white mats from Target.
But after seeing the beautiful prints in those plain frames, I decided that they needed a bit of something. So I headed to Pinterest to find some inspiration, and I found several examples of white frames with gold corners that I thought were so pretty, so that's the direction I headed with these.
I measured and marked three inches going each direction on each corner, and then taped the corners using painters tape.
And since I initially used my favorite gold spray paint (Design Master Gold Medal, which you can find at Michael's), I taped off everything except the corners.
But here's the problem. That spray paint can be kind of finicky anyway, and since I sprayed it over a glossy white finish, it was even more so than usual. By the time I got my gallery wall hung, I had scrapes and chips all over the spray painted corners. I really should have sanded the corners before spraying them, but for some reason, I didn't even think about it.
So they either needed to be spray painted all over again, or I needed to come up with another plan. I tried other options I had on hand, starting with gold leaf. You can see the difference in this picture, with the spray paint on top, and the gold leaf on bottom…
I really preferred the gold leaf. It seems to have more depth of color than the spray paint.
I also tried liquid gilding, which was a horrible mess. That stuff dries so fast that it's hard to get a smooth finish. The streaky finish just didn't work for me.
And you can see the tube of Rub 'N Buff in the photo above, which I also tried. I didn't take a picture of that one because it didn't cover at all.
So the winner for me was the gold leaf. But I decided to go ahead and get the gallery wall installed before redoing all of the frame corners. That way I ran way less of a risk of scratching the gold leaf corners again.
To hang the gallery wall, I measured to find the vertical center of the wall, and placed a piece of painters tape on either side of center. I like about two inches of space between the frames of a gallery wall, so this was close, although painters tape is just shy of one inch wide.
And then I measured the overall size of the frame, decided where I wanted the middle row of frames, and measured and taped off that row.
Since my gallery wall only consists of six frames, that's all I needed. If I were making a larger gallery wall with more frames, I would have continued until I had taped a grid for as many frames as I wanted to use.
In my humble opinion, the key to hanging a perfectly straight, level gallery wall is to put away the nails, and use something that allows you to simply press the frame to the wall in the exact spot you want it. My product of choice is Command Picture Hanging Strips, which you can find at Home Depot, Lowe's, or right here on Amazon.
Since my frames are so narrow, I actually cut the strips in half lengthwise, and used a total of five halves (two-and-a-half full strips) on each frame. I put two strips on the top, two strips on the sides near the top of the frame, and one centered on the bottom of the frame. (The frame is obviously upside down in this picture.)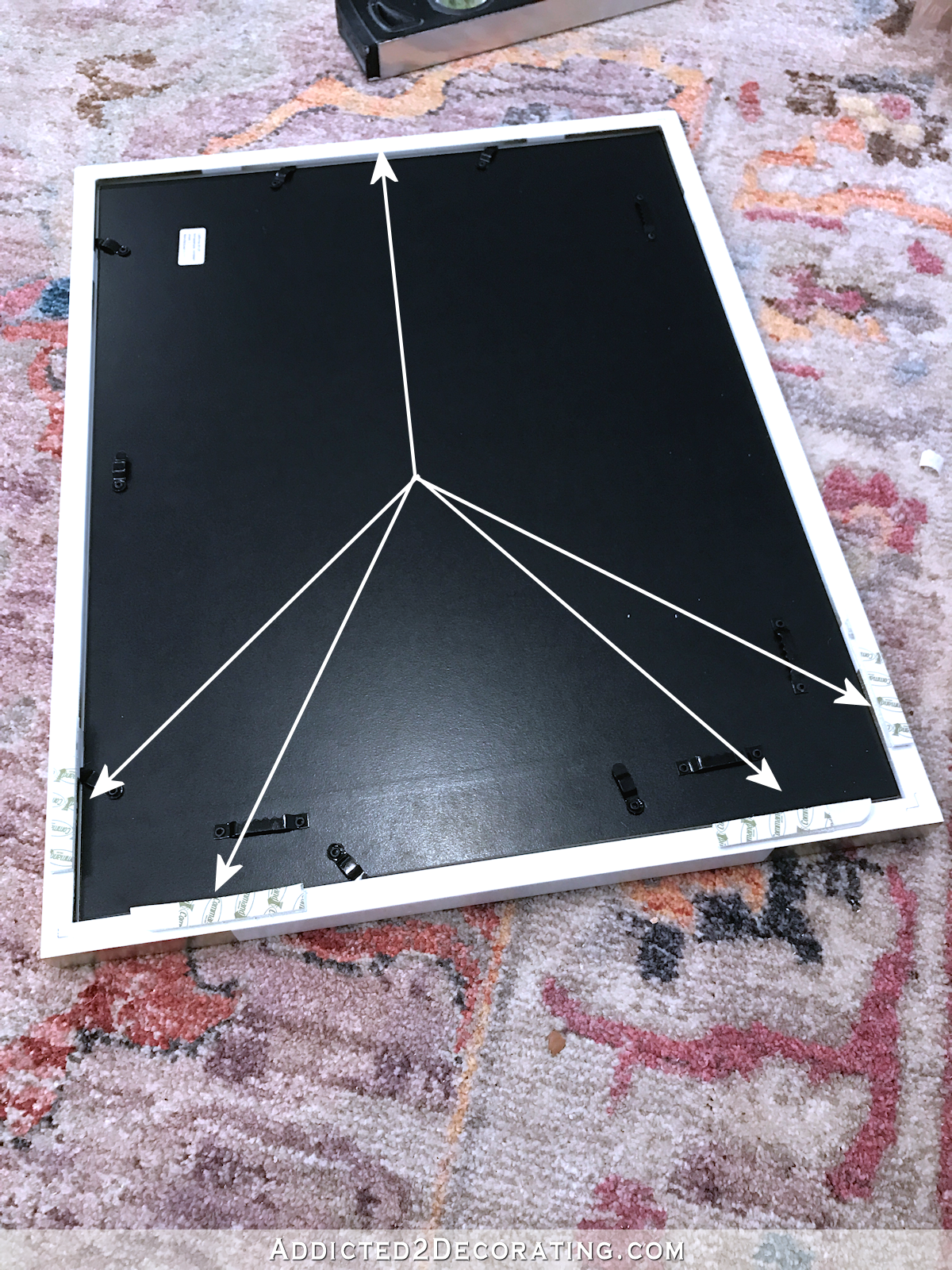 And then using the taped grid plus a level, I just pressed the frame into place on the wall right where I wanted it. (If you use this method, be sure to read the full instructions on the Command strips.)
And then I repeated that process on the next frame…
And continued until I had all six frames in place.
Once all the frames were in place (and after I had gone back and gold leafed all of the corners), I removed the painters tape from the wall.
I would use this exact process no matter how large of a gallery wall I was hanging. If I had to tape off a grid for 20 frames, I would do it. It's the price I have to pay as a perfectionist. 😀 But once those frames are up, they're not moving. I could slam my front door as hard as possible, and while my chandelier might sound like a wind chime from the vibration, those frames won't budge. I could even brush up against them with my shoulder as I walk by, and they won't budge.
They can be removed from the wall, though. So swapping out pictures is easy. The picture hanging strips work kind of like hook and loop tape (ie., Velcro), but not quite. You'd have to see them up close to get how they work. But I've used them many times, and I've never once had them fail on me. And if I decide that I want to remove them completely, they come off cleanly from the wall without messing up the paint. (Just be sure you're not using them on freshly painted walls.)
So here are a few closeups of the bird prints I chose for my wall…
This pinkish red bird on the left below is my absolute favorite…
And here's one more look at the whole wall, with a glimpse into the kitchen and breakfast r1om…
It's coming together! Of course, now I'm back to the drawing board for my hallway, but I think I have an idea. Stay tuned for that.
Addicted 2 Decorating is where I share my DIY and decorating journey as I remodel and decorate the 1948 fixer upper that my husband, Matt, and I bought in 2013. Matt has M.S. and is unable to do physical work, so I do the majority of the work on the house by myself. You can learn more about me here.