Four Reasons I'm Refinishing My Hardwood Floors First
The hardwood floor refinishing saga continues. 🙂 I finished up the sanding on Saturday, and then ended the day by sweeping off all of the walls. I took off on Sunday, giving the dust a day to settle, and then went yesterday to start the clean up.
I thought that I could get all of the dust cleaned up yesterday, and get the first coat of Waterlox on.
I was wrong.
I didn't finish with the cleanup. That's a huge job, and one that has to be done very thoroughly or I could ruin all of my hard work. Not only do the floors have to be cleaned, but also the walls, windows, lights, fans, light switches, curtains, vents, and anything else that can catch dust (which is basically everything from ceiling to floor).
(Awful iPhone photo, but you can get an idea of just how much dust there is!)
So I'm hoping that today will be the day I can finally see the first coat of Waterlox go on…but I'm not holding my breath. 🙂
In the meantime, I wanted to answer once and for all the single most asked question that I keep getting regarding my floors.
Why are you refinishing your floors first? Shouldn't those be done last in a remodel so you don't risk ruining them? Shouldn't you have at least gotten all of your walls painted first?
So here are my reasons for doing my floors first.
1. That green carpet HAD to go, and one thing lead to another.
You remember the green carpet, right?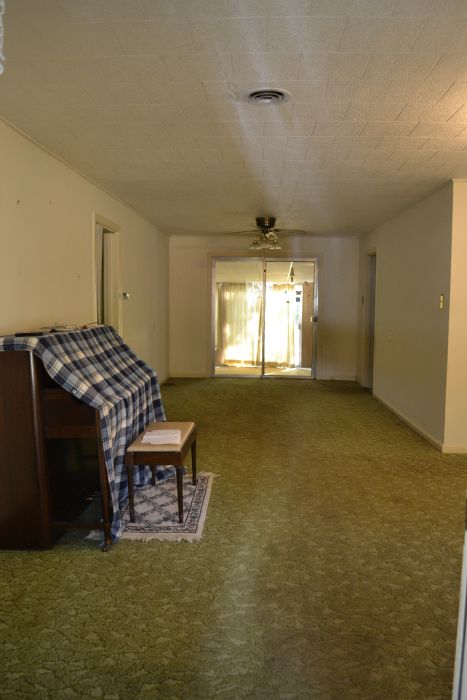 Perhaps others are made of stronger stuff than I am, but there was no way I could live even one single day with that green carpet. Absolutely no way.
As soon as we closed on the house, the very first thing I did was start ripping up carpet. That stuff had to go. Immediately.
Well, one thing lead to another. With the carpet up, I realized that there was carpet glue all over the floor. And it wasn't exactly something that could be easily cleaned up. It had to be sanded up. With 20-grit sandpaper.
So one thing lead to another, and here I am today with completely sanded floors ready to be cleaned and sealed.
2. This remodel will take years. I can't wait years for pretty floors.
I know a lot of people who purchase houses like this either make sure they have tens of thousands of dollars in the bank earmarked for remodel so that they can get everything done immediately before they move in. OR they take out a loan for much more than the house costs so that they can have that money to work with. OR they max out their credit cards so that they can tackle the remodel immediately.
Well, Matt and I don't have tens of thousands of dollars sitting in the bank earmarked for remodeling our house. And we don't believe in taking out loans or running up credit cards for those types of things. (The only loans we have are for our two mortgages, and we don't even have a single credit card to our names. Other than our two mortgages — one for the condo and one for the house — we live a completely cash-only lifestyle.)
So these projects are going to have to be done as we can save up the money for them. That means that a kitchen remodel might be two years away. Rebuilding the back room to create my dream laundry room and mud room might be four years away. Getting this entire house just the way I want it might be a 10-year project.
There's simply no way I could have waited until the "end of the remodel" to do the floors, because that means I would have been living with crappy floors indefinitely. Perhaps for years and years. Who would want to do that?
3. Refinishing floors is completely disruptive to day-to-day life.
I'm a DIYer. That's just all there is to it. I could spend an entire post explaining why I DIY instead of hiring out these projects, but instead of reading my ramblings, you can just read this post on Old Town Home. Alex pretty much sums it up perfectly.
When it comes to DIYing the refinishing of hardwood floors, the DIY version is a lot messier than the professional version. The equipment rental places don't rent out those fancy schmancy dust-free sanding systems. So it becomes a very messy job. Dust ends up in every nook and cranny, crack and crevice.
In addition to the mess, I'm also refinishing the floors in the majority of the house — three bedrooms (plus closets), hallway, dining room, living room, and entryway.
And when it comes to actually applying the finish to the floors, I have to apply five coats of Waterlox, each 24 hours apart, and then after the last coat goes on, the floor can't be walked on for seven days.
I guess what I'm trying to say is that the DIY version would have been completely disruptive to our lives if I had waited until we were actually living in the house to do the floors. All of the dust everywhere would have driven us crazy (and would have been very dangerous — we'd have to wear masks any time we're in the house), and once the finish started going on, we'd have to move out for about two weeks. That means we'd have to find a place to stay where Matt would be comfortable, AND where we could take our two cats and one dog.
Talk about a major pain in the rear!
To me, it just makes much more sense to get the floors done BEFORE we move in, while we still have the condo, and then move in after the floors are finished.
As far as painting the walls, I can just throw down a drop cloth when I'm ready to paint a room.
4. Scratches can be easily repaired with Waterlox.
Nope, this isn't a sponsored post. 🙂 Waterlox isn't paying me to say this.
I did quite a bit of research on how I wanted to finish my floors, and initially, I wanted to use tung oil. Not only do I love the way that an oiled finish looks, but I also love the fact that if you get a scratch or stain on an oiled wood finish, you can simply sand that one spot out, re-oil that spot, and it'll blend in seamlessly with the rest of the wood. (That's what I do with my butcherblock countertops that are treated with only mineral oil. It's fantastic!)
Waterlox is pretty much the same way. It's a tung oil finish, meaning that it's a mixture of tung oil, mineral spirits, and resins. Just like tung oil, it soaks into the wood, penetrating the pores of the wood, rather than just sitting on top creating a plastic coating like polyurethane does. And just like an oiled wood, if I get a scratch or stain on the floor, I can just sand out that one area, reapply Waterlox, and it'll blend in seamlessly with the wood around it.
You can't do that with polyurethane. And that's one of the main reasons I chose Waterlox over polyurethane. I know that as I start building cabinets, installing trim, replacing doors, etc., I'm bound to get a scratch or two (or twenty) in the floor. It shouldn't be a problem like it would be with polyurethaned floors.
So, hopefully this answers that question once and for all. 🙂 I know it seems a bit backwards to do the floors first, but hopefully it makes a bit more sense now.
Addicted 2 Decorating is where I share my DIY and decorating journey as I remodel and decorate the 1948 fixer upper that my husband, Matt, and I bought in 2013. Matt has M.S. and is unable to do physical work, so I do the majority of the work on the house by myself. You can learn more about me here.