The Decorating Plan For Our Master Bedroom
Several of you have asked me what will be the first room I decorate in the house. I think I've finally decided that I'll tackle the master bedroom first. It seems to the be room for which I have the most concrete ideas.
Well, I have definite plans for the master bedroom and the hallway bathroom, but after working so long and hard on refinishing the hardwood floors, I'm not sure that I want to jump right into a long and exhausting bathroom remodel just yet. 🙂
So, the bedroom it is!
The main colors in the room will be white, navy blue, and natural linen. I'll add some wood furniture stained in a medium brown tone, and then I'll find one colorful fabric that will bring in some accent colors that I can use in the room to keep it from looking too stale. That's the overall plan. Now some specifics:
Y'all know I've been loving me some navy blue for quite some time now, and I think it's the perfect color for a bedroom. But I don't what to the room to be too dark, so it'll be balanced with lots of white, like this.
Entryway by Michael Robert Construction, via Houzz
When it comes to wainscoting, I'm a sucker for just about any style, from a simple board and batten, to the fanciest and most traditional panels all dolled up with fancy trim, and everything in between. But in the house I'd like to keep things very simple — nothing too fancy or intricate. I think I'll do something similar to this board and batten wall from
Life On Virginia Street
.
Board and batten wall treatment idea, from Life On Virginia Street
As far as the bed goes, I want to make some sort of platform type bed similar to this one. I don't have a source link for this picture, because I think it's a bed from Pottery Barn that they no longer carry. If you recognize it from somewhere else, please let me know!
I love the stained wood, and the turned legs. I'll also be adding a headboard, but I haven't decided on the style just yet. I want to use a combination of stained wood and fabric somehow, but I haven't really decided on the specific design yet.
If you'll remember, our bedroom isn't arranged ideally. The wall directly across from the door into the bedroom has a window right smack dab in the middle of it.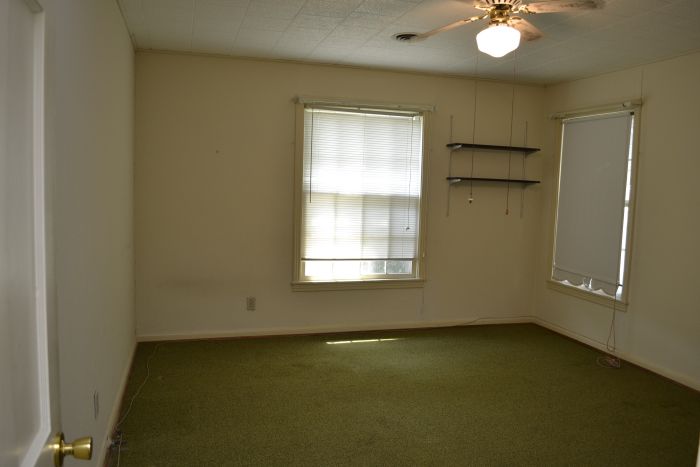 Sorry! I keep forgetting to take updated pics without the green carpet! But you know it'll have lovely hardwood floors when this week is over. 🙂
Anyway, putting a bed in front of a window is generally considered bad design, so I had decided to put the bed on the long wall on the left.
Well, to heck with that, and to heck with rules. I'm putting the headboard right in front of the window, and then I'm going to make the whole thing look quite intentional, as if it was part of my design plan all along. 🙂
I imagine a beautiful headboard (again, I haven't decided on the exact design just yet, but some combo of stained wood and upholstery), and then the window will be surrounded by lots of lovely fabric that will frame the window and the headboard.
The final decision on what fabric I use will be determined by the headboard fabric, but right now, I'm imagining yards and yards of glorious natural-colored linen, similar in color to these linen draperies from Restoration Hardware.
Linen draperies from Restoration Hardware
Of course, if I end up upholstering the headboard with linen (which I think would be gorgeous), then I'll have to use something else on the window. That might be where my colorful fabric comes in, but I had really hoped to use it in smaller quantities, like on pillows for the bed.
But anyway, as far as the colorful fabric goes, I've found a few that might work, but I think this one is my favorite.
P. Kaufmann Sea Breeze Patriot, via Online Fabric Store
It's colorful without being too bright and bold. And then I could add an accent fabric like this…
So that's the plan right now. I need to find the perfect navy blue. I've seen many people mention that Benjamin Moore Hale Navy is their favorite navy blue paint color, but if you've found one that you love, please share! I want it really dark, but not so dark that it looks black in pictures. So dark, but still obviously blue. Any ideas?
Addicted 2 Decorating is where I share my DIY and decorating journey as I remodel and decorate the 1948 fixer upper that my husband, Matt, and I bought in 2013. Matt has M.S. and is unable to do physical work, so I do the majority of the work on the house by myself. You can learn more about me here.