Scalloped Console Table – Part 1
After spending Saturday lost in indecision over my sofa table (which I'm now calling a console table, and you'll understand why later), I finally just decided to go for it yesterday, and I got all of the building done.
It's still far from finished, but here's what the basic structure looks like…
I kind of combined ideas from three different console tables as my inspiration.  First was this Sasha Scalloped Console from Horchow, which retails for $2329.00.
I liked the way that the sides were enclosed, and the scalloped design was just on the front and back.  But the scalloped design on that one was a bit skimpy for my taste.
Then there was this Fabiani Console from Horchow, which retails for $1139.00.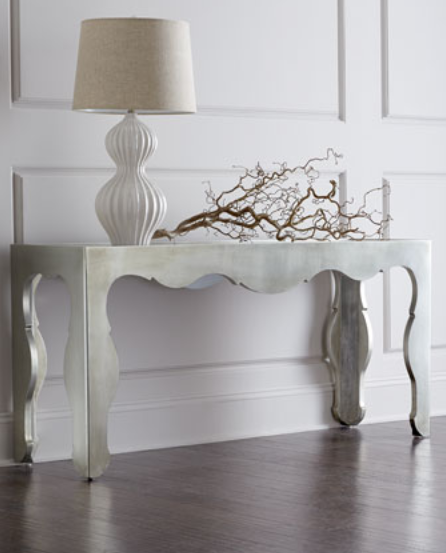 I liked the bulker scalloped design on that one, but I didn't like the open ends.  It reminded me a little too much of the IKEA Trollsta sideboard, without the cabinet.  I also liked how the scalloped pattern wrapped around to the legs, mirroring the design on the top.
And finally, there was this console table-turned-vanity from a Romanian home tour via Desire To Inspire.
This scalloped design was my favorite, so it's the one I based my design on.  (Thanks for the link, Steph!  🙂 )
So after putting all of those ideas together, I wound up with my scalloped console table.
I started out by having Home Depot cut the top and the front and back pieces for me.  The top is 64″ x 14″ and the front and back pieces are 64″ x 30″.
Next, working one one of the large pieces, I made my pattern.  Y'all have seen me do this a few times already on other projects, but any time I want to make an item where the design is mirrored on each half, I made a pattern that fits 1/2 of the item, and then I flip it over to use on the other half.  That way I end up with a perfectly symmetrical design.
To make my pattern, I simply tape together pieces of paper to cover the area where my design will go.
When I'm making a pattern based on something I've seen online, I always keep my computer handy so I can look at the inspiration piece while I'm drawing the design.
Also, any time I'm making a pattern that includes curves like this one, I gather up plates, bowls, cups, and any other perfectly round object I might need to help me in creating perfect curves.  Don't think for a second that I'm capable of free-handing perfect curves like that.  😉
This pattern was also a little different from others I've made in the past in that I wanted the design to wrap around from the top to the side "leg" with an identical pattern on each, just like the Fabiani Console above.  I did that by drawing the top design first (the part outlined in the dotted line below).
And then I folded the side up at an angle so that the two outside edges were perfectly lined up, and I traced the top design onto the side pattern.  Then when I flipped the side piece back down, I had a continuous pattern that mirrored the top.
When I was finally satisfied with my pattern, I cut it out with scissors, and then lined it up on my MDF along one edge, making sure that the top only went right to the middle of the MDF.  Then I traced around it with a pencil.
Next I flipped the pattern over, lined it up with the other side, and traced again.
By using this method, you always end up with a perfectly symmetrical design.
Next I used my jigsaw to cut out the two pieces.  I initially tried to clamp them together and cut them out at the same time, but when I realized how incredibly slow that process would be, cutting through that thickness, I decided to do them individually.  That went MUCH faster.
And just in case some of you aren't familiar with a jigsaw, it looks like this…
It's a hand held saw with a thin straight blade, and on most jigsaws, you can also adjust the speed of the blade.
TIP:  When cutting a scrolled design like this, it is very important that you use a blade that is made for cutting curves.  These blades are shorter, thinner, and narrower than other blades, and they also have more teeth on them.  This allows for better control and more detailed cutting.
When I had my two pieces cut out, they looked like this…
As I mentioned, I had Home Depot cut out the top and the front and back for me.  I cut out the sides myself using my circular saw, and I cut them out of the scrap that came out of the portion that I cut away from these scalloped pieces.
The side pieces that I cut measured 29 3/8″ x 14″.
So after cutting out the side pieces with my circular saw, I lined up the top piece and one of the side pieces, and secured them using wood glue and 1 1/4″ nails in my nail gun.
And then I attached the other side in the same way.
Then I took one of the scalloped pieces and placed it right on top.  I made sure that all of the edges were aligned, then I lifted it up just enough to get some wood glue between the pieces and then nailed the scalloped piece to the edges of the top and side pieces.
Then I flipped it over and attached the other scalloped piece.  (I didn't get a picture, but it's the same as above.)
At that point, the basic construction of the table was finished, which was a good thing because I was losing daylight fast!
So that's where this project stands right now.
And why am I calling it a console table instead of a sofa table?  Because when I brought it in and tried it out behind my sofa, I realized that I don't want a sofa table.  😀
Instead, this will be living against the long wall in the entryway, which is directly opposite the credenza wall.
The funny thing is that when I was building this, I was worried that it was too big and bulky.  But now that I'm using it against that big, empty wall, I'm concerned that it's too small.  Here's the big wall I'm talking about…
Sorry…I didn't clean up for y'all.  🙂  That's okay, right?  We're all friends here.
And I also haven't done any trim in this area because as far as our house being unlevel, this one wall is probably the worst in the whole house.  The previous owners had a piano here, and I would guess that it sat there for at least a couple of decades, but probably longer.  And it was an incredibly heavy piano.  You can literally feel the slope in the floor right here just by standing there.  So I'm really trying to hold out until we get the foundation level before I start adding trim here, or else it'll look like a mess once the house is leveled.
Anyway, back to the table.  As it turns out, I'm very thankful that I made it big, because this wall needs something big like that.  And of course, the table isn't finished, and I'll add artwork, lamps, and other things to fill in so it doesn't look so sparse.
But overall, I think I'm going to like it.  I really wasn't sure yesterday, but as soon as I placed it on this wall, I got excited about how the finished wall looked in my mind.  🙂
I'm still not completely sure how I'll finish the table.  I've considered paint (the easiest), but I've also considered covering it in fabric, or possibly some vinyl that looks like leather.  I've also considered nail head trim.
So we'll see where this ends up.  More than likely, it won't be finished tomorrow.  🙂
Addicted 2 Decorating is where I share my DIY and decorating journey as I remodel and decorate the 1948 fixer upper that my husband, Matt, and I bought in 2013. Matt has M.S. and is unable to do physical work, so I do the majority of the work on the house by myself. You can learn more about me here.