Last Updated on January 14, 2019 by Kristi Linauer
Well, July was a strange month. It was the first month this year that I didn't get one single thing checked off of my master to-do list for the year, and it was the first month of the year that almost everything that got done around here was accomplished by other people and not by me.
But the most important thing is that there was forward momentum, and quite a bit of it, even if it wasn't on my list, and even if it wasn't done by me.
It's amazing to me that at the beginning of July, my garage looked like this…
…and now it looks like this…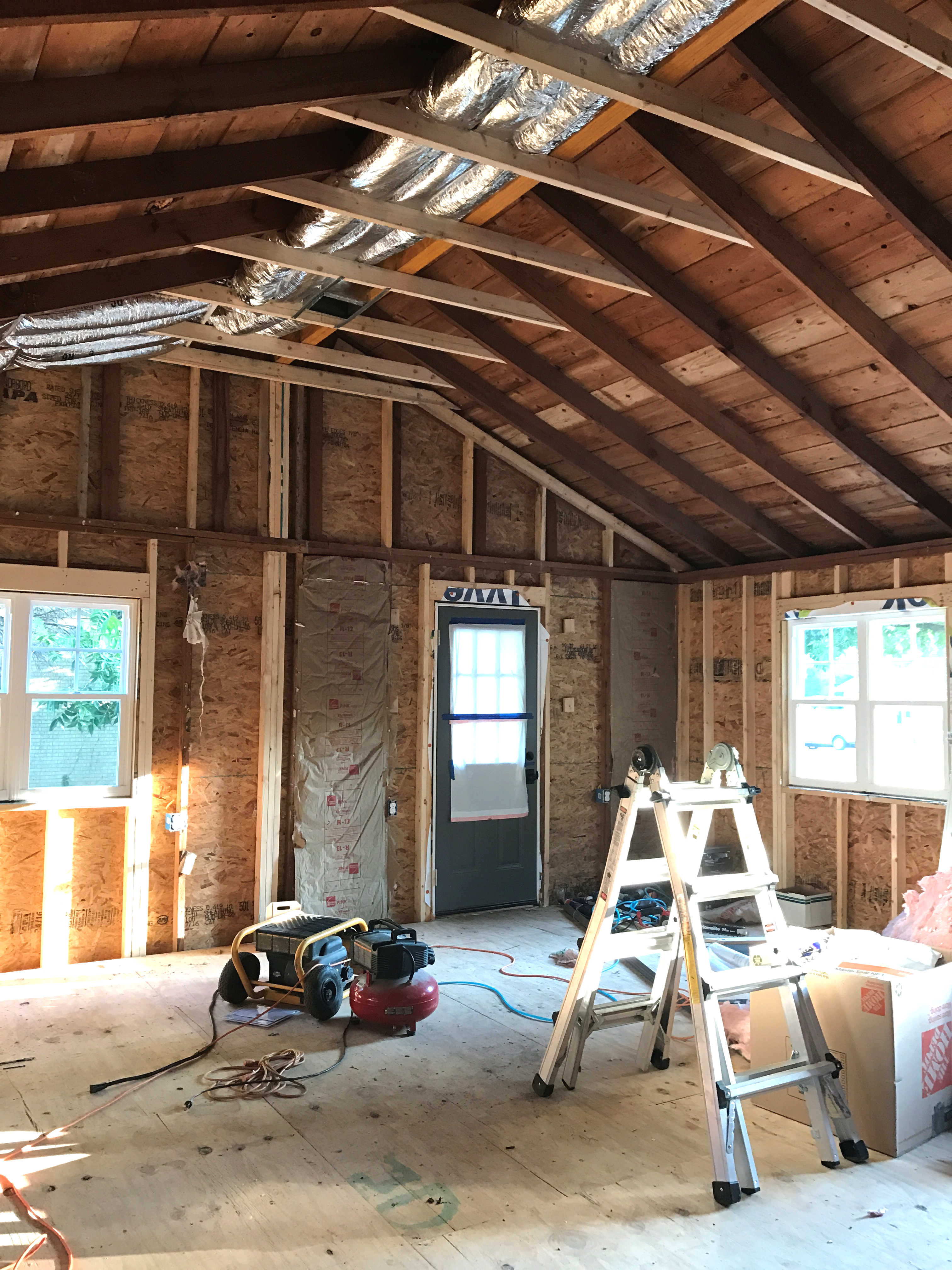 And the outside that looked like this…
…looks more like this (except that the siding on the studio is completely finished now)…
It was a fun month, and I have to admit that it was really nice standing back and watching other people do the work on my house for almost a whole month. In fact, the only project I actually did with my own hands (with my brother's help, of course) was building this portico over the studio side door.
You can click here to see details about that project.
The portico still isn't finished, although my brother and I did get the custom brackets installed which you can see here. It's still far from finished. I need to do quite a bit of wood filling, sanding, priming, and painting. Then I need to install the last few ceiling boards and install the pendant light. But it's getting there!
So this month, it's time to get back into the swing of things. My shoulder, back and arm are better (still not 100%, but much better), and I'm anxious to get refocused on my list of goals for the year. I've got five months left to get through that list, so it's time to buckle down.
I do want to completely finish the portico, but after that, I'd like to focus on the living room. I still only have one drapery panel finished for the room, and I did that last year…
I still have five to finish, and two of them are double-width panels, which I hate making. But I need to just get in there and get them done.
My grasscloth accent wall in the entryway has just been sitting there, begging for artwork, for a month now…
…so I'd like to make something to go there.
And this dresser that I bought for the entryway needs some work…
The drippy, messy chalk paint finish isn't what I want, and the top actually needs some repair.
And finally, I'd love to get the two chairs and the sofa for the living room completely stripped and ready for reupholstering, and possibly even make some headway on some of the upholstering. My sofa currently looks like this…
It looks pretty bad right now, but with some refinishing on the wood, and new foam, batting, and fabric, I think it'll be very pretty. I also plan to replace the three seat cushions with one long cushion. A couple of months ago, I thought I might pay to have it upholstered, but any extra money for that has now been spent on extras for the studio. So now it's definitely going to be a DIY project.
And as far as the two chairs go, they're in even worse shape than the sofa. Much worse. I've been dragging those things all over, from one non-climate-controlled storage building to another, for probably ten years now just waiting for the opportunity to use them. So now I finally have a use for them, and I'm so excited to reupholster them and get them looking brand new. I still have no idea what fabric I want to use on them. But I can at least get them stripped and ready to go for next month.
So with the exception of the portico, the living room and entryway will be the main focus for the month. I'm really looking forward to leaving construction behind for a few weeks and turning my attention back to some pretty decorating projects. I can only take so much construction before I need some pretty in my life. 🙂
Addicted 2 Decorating is where I share my DIY and decorating journey as I remodel and decorate the 1948 fixer upper that my husband, Matt, and I bought in 2013. Matt has M.S. and is unable to do physical work, so I do the majority of the work on the house by myself. You can learn more about me here.
I hope you'll join me on my DIY and decorating journey! If you want to follow my projects and progress, you can subscribe below and have each new post delivered to your email inbox. That way you'll never miss a thing!