Let's Play A Game Called "Are These Asbestos Tiles That I Just Removed?"
Other possible titles for this post:
What NOT To Do With Decades-Old Vinyl Tile,
How To Be An Irresponsible DIYer, and
Do What I SAY And Not What I Do
Remember those old tiles that were on my kitchen floor?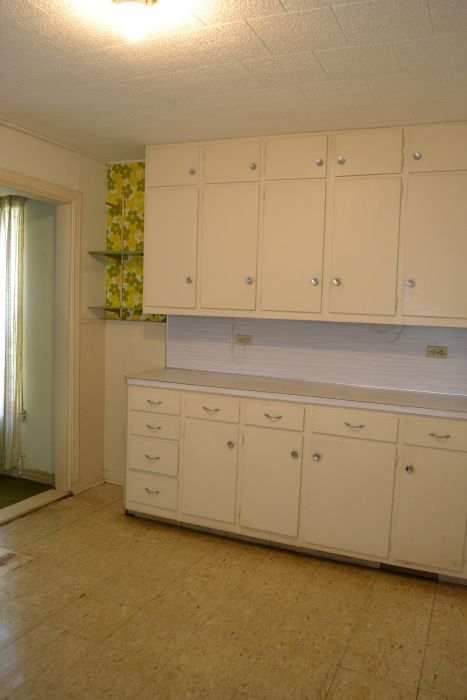 On Sunday when I was taking pictures, I noticed that a few of them were completely loose.  They were literally just sitting on top of the subfloor and could be lifted right off.  So I did just that.  I lifted them up to see what was underneath.
I was thrilled…ecstatic…to find a slatted wood floor underneath!!  Here's the very first iPhone picture I took of my exciting find…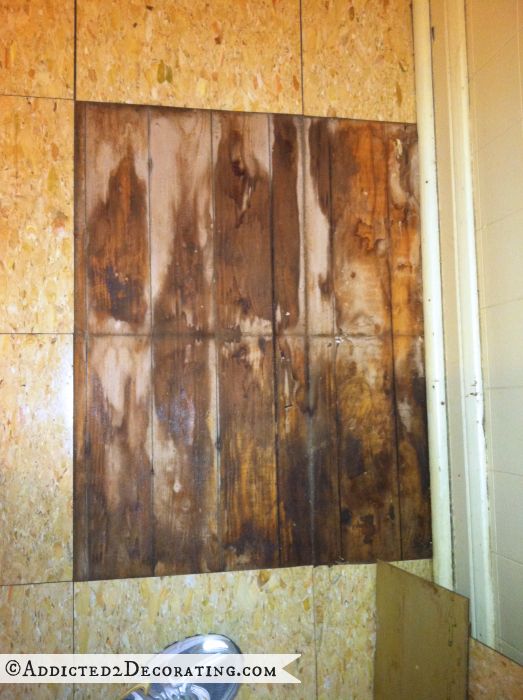 So in my "I WANT TO SEE MORE OF THAT FLOOR RIGHT THIS SECOND!!!!!" zeal, I continued popping up the tiles.  Most of them were so poorly stuck to the wood that I could pop them up with my fingernails.  The rest required nothing more than a flathead screwdriver underneath one corner to get them started, and then they popped right up as well.  I didn't break one single tile while removing them.  (Some of the tiles are broken, but they were already like that just from years and years of wear.)
And in about 30 minutes (yes, thirty minutes!!), the kitchen floor looked like this…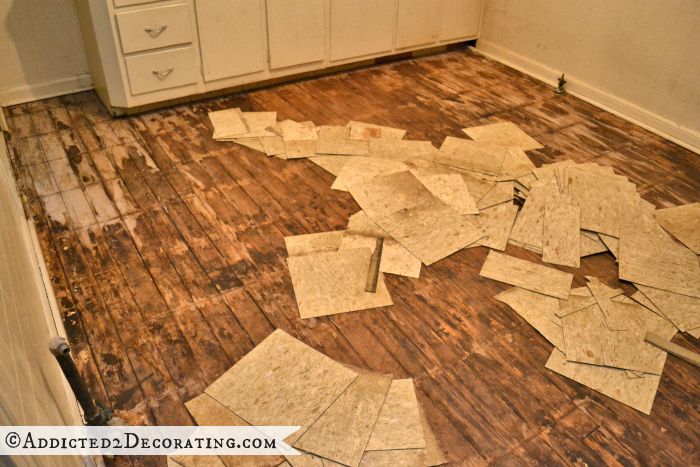 It was seriously the quickest and easiest old flooring removal I've ever done…EVER…and IT.WAS.AWESOME.  Talk about immediate gratification!!
So I headed home, so proud of myself for my accomplishment, and so excited about my amazing discovery so full of potential.
And then the thought crept in.  "What if those were asbestos tiles?"
Now let me back up a bit…
It's not that I'm so completely irresponsible or uninformed that the thought of asbestos tiles hadn't even crossed my mind.  In fact, when I saw those tiles the first time, my very first thought was "I wonder if those are asbestos tiles.  Oh great.  I'll have to have those tested.  And if they are, then I can't remove them."
And that nagging question stayed with me.  So I got the opinion of two people (two people who I thought might have some insight on the subject), and both said, "No, I don't think those are asbestos tiles."
The last person who said that was the house inspector.  And for some reason, I thought he probably knew what he was talking about, so I took his word for it.
So fast forward to me driving home (after having just plucked up every single tile from my kitchen floor, crawling around on my hands and knees, wearing regular 'ole clothes, using my bare hands, and casually tossing each tile into a pile as I removed it) and the thought creeps in.  "What if those were asbestos tiles?"
That thought nagged at me in the back of my mind for the rest of the day.  The next day (Monday) that nagging in the back of my mind became more of a constant shouting in the forefront of my mind.  And Monday night, the shouting was so loud that I couldn't sleep.  At all.  I lay awake tossing and turning, until finally I just decided to give up on the pursuit of sleep and I got on my computer and did some research (until 6:30am!!).
What I found out was that instead of telling me, "Oh no, I don't think those are asbestos tiles," the inspector should have told me this…
It's actually impossible to tell whether or not tiles are asbestos tiles just by looking at them, but the age of these tiles certainly falls within the time period when asbestos tiles were widely used.  I would suggest you have those tested before disturbing them.  And keep in mind that it's not just the tiles that contained asbestos back then, but also the adhesive they used.
Yeah.  If only.
So yesterday, I decided that worrying wasn't really accomplishing anything.  It was time for action.  So I gathered up a sample of the tile and a sample of the adhesive and took them to the asbestos testing place here in town.  That way I'll know for sure.
If they are asbestos tiles, there's not really anything I can do about the tiles at this point.  I can't really unring that bell.  But having that knowledge will help me develop a game plan from this point forward.
At this point, I think my game plan will be this:
Put on protective clothing, gloves, and a respirator thingy, and carefully bag up the tiles, taking every precaution so that I don't break any tiles.
Purchase an adhesive remover specifically made for removing asbestos adhesive.
Suit up in the appropriate protective clothing, and remove the adhesive.
Once the floor boards are clean, order an air quality test that specifically tests for airborne asbestos (and other contaminates).
If the levels are above the safe zone, call the inside air cleanup people and have them do what needs to be done to remove it.
Now I'm not really worried about health issues or anything at this point.  After doing my research, I'm well aware that it's prolonged exposure to airborne asbestos that causes major health problems.  And by "prolonged," we're generally talking about years, like people who have worked in a job that required them to be around asbestos.
But it's certainly something that I don't want to take a chance with, especially considering that once the asbestos is airborne, it can stay there for years and years.
So anyway, I should have the results sometime tomorrow.
Have you ever had to deal with asbestos tiles?  I'd love to hear how you handled it.  Did you encapsulate the tiles?  Hire an abatement company to remove them?  Do you own abatement?  Carelessly pluck them up without giving any thought to wearing protective clothing, breathing mask, or gloves, and casually toss them into a pile in the middle of the room?  🙂
Addicted 2 Decorating is where I share my DIY and decorating journey as I remodel and decorate the 1948 fixer upper that my husband, Matt, and I bought in 2013. Matt has M.S. and is unable to do physical work, so I do the majority of the work on the house by myself. You can learn more about me here.