Last Updated on December 24, 2015 by Kristi Linauer
Disclosure: This post is sponsored by Build.com. All opinions are my own.
My bathroom is finally starting to look like a real, functional bathroom thanks to some items provided by Build.com, including an undermount sink, faucet, toilet, vanity mirror, shower trim package, and pulls for my vanity!
The sink that I chose is the Miseno 18.5-inch rectangular undermount sink, and I can't even tell you how relieved I am that it actually works with my DIY wood countertop.
I was so nervous installing it (which I did with the countertop removed and flipped upside down, using silicone adhesive as well as the mounting brackets provided with the sink) so when I finally got the countertop put back in place and saw how great the sink looked, I breathed a huge sigh of relief!  Then about 45 minutes later, after the silicone adhesive had started to set a bit, I realized that I had installed the sink backwards, and had to undo everything and do it all over again.  🙂  True story.  But it all turned out okay, and I love how the thick countertop looks with the undermount sink.
The faucet is this Delta Windemere Centerset faucet in the Brilliance Stainless finish.
I ordered this faucet when I first started the bathroom remodel, when I still planned on doing a temporary makeover, and when I planned on using a much smaller vanity.  But when I changed my mind on the temporary remodel, and then decided to use a bigger vanity, I decided to go ahead and use this faucet because I think it's very pretty, and I actually really like the smaller size.  It seems like most people use widespread faucets with undermount sinks, but I'm okay being a little different!  🙂
The mirror, the Gatco Channel Large Oval Beveled Tilting Wall Mirror, is also something that I ordered at the beginning, when I thought I'd be doing a more temporary makeover, and using a much smaller vanity.
I've wanted one of these tilting mirrors for a very long time, but now that I'm using a much larger vanity in here, I think I might save this mirror for the master bathroom that I hope to spruce up later this year (which is why the mirror isn't installed, and it's just sitting on the ledge).  I think the size will be perfect in there since it's a smaller bathroom with a much smaller vanity.  I'll do something much larger in this bathroom to better fit the larger vanity.
And hallelujah, I finally have a toilet!  😀  I got the American Standard White Evolution 2 toilet tank and matching elongated toilet bowl, both in white.  And let me tell you, it was so nice having this shipped to me and delivered right to my front door.  In the past, I've bought them locally, and had to unload them and carry them from the car or truck to the house by myself.  Sometimes it's just so nice to have others do the heavy lifting for you!
I'll actually be swapping this toilet with the one in the other bathroom (Matt's bathroom).  Matt complains quite often about how the other one is too high.  This one is and inch-and-a-half shorter, so it'll be perfect in his bathroom.  The other one also has a taller tank, which I think will work better sitting next to the tall vanity in this bathroom.  So I have the fun of swapping and installing two toilets to look forward to this weekend.  🙂
And if I can ever get all of my tiling and caulking done in the shower, I'll actually have a fully functional shower because I have running water now!  I got the Delta Windemere Tub & Shower Trim Package, which is the same style and color (Brilliance Stainless) as my sink faucet.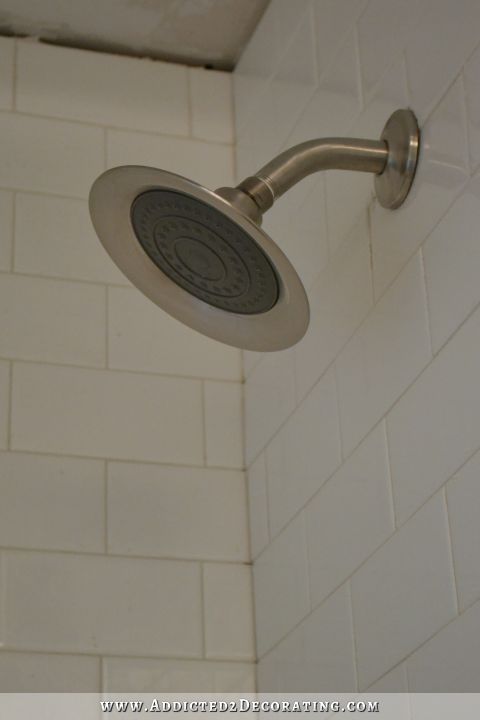 And finally, those vanity pulls that so many of you asked about the other day also came from Build.com.  They are these Hickory Hardware 3″ Studio Collection pulls in the stainless steel finish.  (I took this pic before I repainted the walls.)
So I just need to finish up a little bit more plumbing, get those toilets swapped out, and this bathroom will once again be a fully functional bathroom!  That's so exciting to me!
Now, speaking of wall color, you might notice that I painted my walls.  🙂  I said yesterday that once the tile was installed, it make me second guess my wall color, and while many of you suggested that I wait until the shower curtain is hung to make my final decision, I just didn't want to wait.  You know how it is when something just doesn't feel right?  That's how I felt about the wall color.  It just competed with the tile too much, and started to look more like a color suited for the condo.  No shower curtain fabric would make it right in my eyes.
So first thing yesterday morning, I grabbed the gallon of paint that I had originally purchased for the room — a light neutral color called Chocolate Froth that I actually pulled directly from the mosaic tile.  I painted it on one wall, waited a bit for it to dry, and I absolutely hated it.  It was kind of a light pale fleshy color.  Just…yuck.  So I grabbed the gallon of Crisp Celery and added some of that green to the Chocolate Froth to cut the red.  It was better, but still not great.  Then I added more green, and more green, until I had this really beautiful, very subtle light green color.
You can see all three colors here:
On the far (right) wall is the Chocolate Froth.  On the far end of the left wall is my first mixture of Chocolate Froth and Crisp Celery.  Still too red.  And then on this end of the left wall is the color I ended up using.  You can see that it's still green, but it's sooooo much lighter than the original Crisp Celery.  Here's a closer up view of the two colors side-by-side.   The strip of Crisp Celery looks SUPER green compared to the new color.
And a look at the two in the cans — Crisp Celery on the right (obviously) and the new mixed color on the left and in the lower tray.  The tray in the upper left corner of this pic is my first attempt that was still too red.
I'm so pleased with this new color.  I didn't have to settle for a boring neutral, and I still get my green, even if it is oh, so subtle.  It's not an in-your-face green, and this one doesn't fight with the mosaic tile border.  And it still complements the shower curtain fabric beautifully.
And here's a side-by-side before and after view of the repainted walls.
So if I'm remembering correctly, this was my first project redo so far on this whole bathroom remodel, right?  That's pretty good considering my track record!  😀  And if I have to redo a project, I'd much rather it be painting walls than something much more complicated like sanding and refinishing floors.
Things are really starting to come together on this room now!  It's exciting to see the finish line!
Addicted 2 Decorating is where I share my DIY and decorating journey as I remodel and decorate the 1948 fixer upper that my husband, Matt, and I bought in 2013. Matt has M.S. and is unable to do physical work, so I do the majority of the work on the house by myself. You can learn more about me here.
I hope you'll join me on my DIY and decorating journey! If you want to follow my projects and progress, you can subscribe below and have each new post delivered to your email inbox. That way you'll never miss a thing!