An Addition To My 2019 House Goals (My Hallway Bathroom…Again)
Do you have a room or area in your house that you walk into and just think ''ugh…this just isn't right'? Well, that's how I feel every time I walk into my hallway bathroom, which is generally a few times a day. And y'all, no finished area in our houses should make us feel that way.
As much as I've been trying over the last couple of years to avoid redoing areas that I've deemed are finished, I just can't commit to living with my hallway bathroom looking like it does now for another year.
Now granted, what I have now is way better than what I started out with…
In 2015, I remodeled that bathroom, ripping it down to the studs, ceiling joists, and floor joists, and completely rebuilt it. And after that remodel, it looked like this…
You can see more of that hallway bathroom before and after here…
But then at the end of 2017/beginning of 2018, during the hallway remodel, I decided to paint all of the hallway doors teal, which meant that the bathroom vanity color needed to change. And because nothing else I tried seemed to work with the dark countertops, I ended up going with this perfectly neutral (and perfectly drab) shade of gray.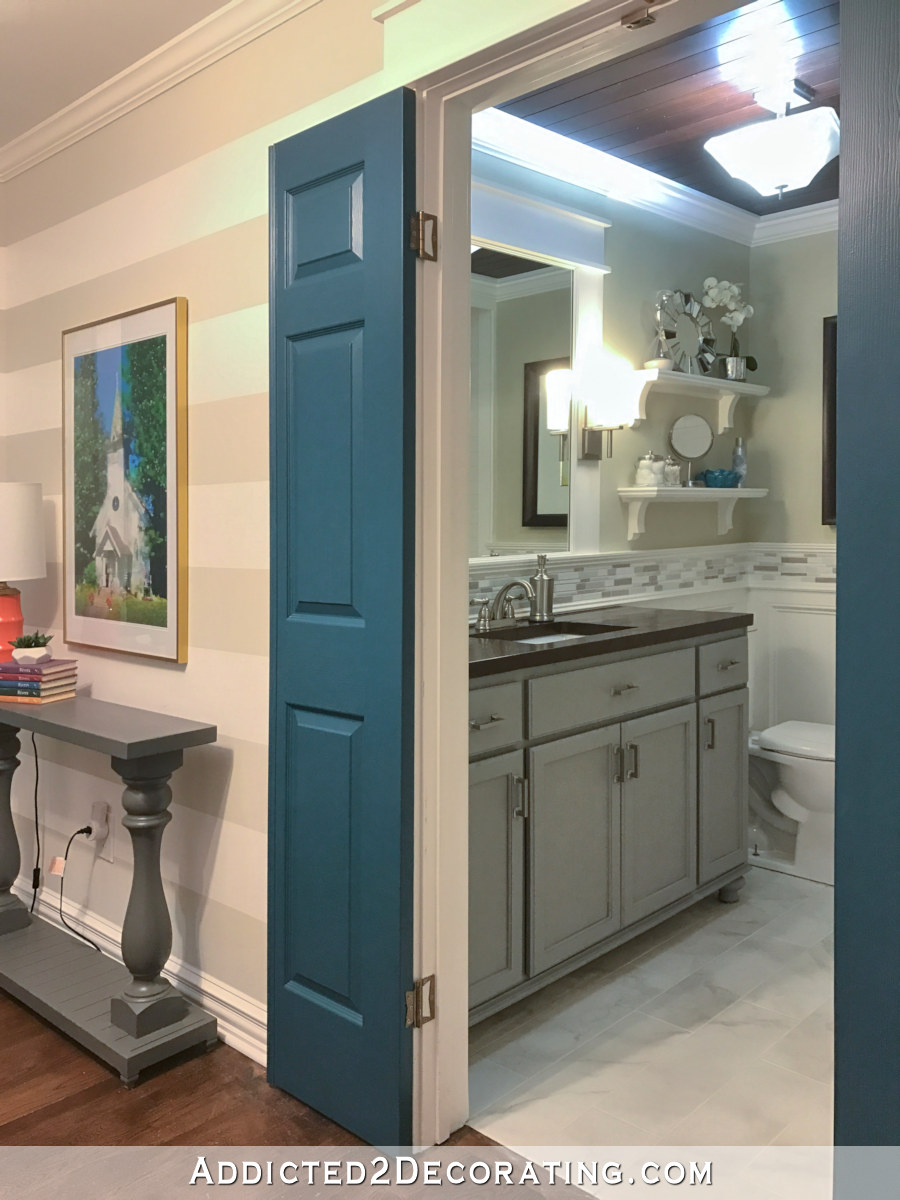 And somewhere along the way, the adhesive-back Velcro that I had used to put up the decorative shower curtain panels gave way, and the panels fell down (because I failed to take two extra minutes to staple them in place like I should have done). They held up there for over a year, but the adhesive on those heavy duty Velcro strips just isn't strong enough to hold curtain panels up year after year after year.
So at this point, literally the only color in my bathroom is the really light green on the walls, and the bits of color in the artwork that I did for the wall. It feels like all of the life has been sucked out of the room, and I just can't stand the fact that a room that's supposedly "finished" has such a depressing feel to it. And because I thrive on colorful surroundings, I've decided that I won't make myself live another year with this drab bathroom.
If it were a seldom used guest bedroom that I could just close the door on and forget, that would be one thing. But this is our main bathroom that is used several times a day. It's one of those rooms that you can see from several vantage points in the house, including from the front door of the house.
So I've got plans. Colorful plans. My first plan is to get rid of the super dark color on the countertops. Now that I know about and have experience with wood bleach, I think I can make those countertops much prettier and lighter.** Lightening up the countertops will open up some color options for the vanity. (The super dark wood color really limits color options.) And then I'm going to pull out some fabric that I bought a while back to make a new, very colorful decorative shower curtain.
I'm excited to breathe life into this room again. I spent way too long remodeling that bathroom to feel such a sense of dread when I walk in there. After all of those months of work I put into it, I should absolutely love that bathroom. But I don't.
So I'm giving myself permission to add those things to my list this year. 🙂 I just don't think we should force ourselves to live with rooms that make us go "bleh" every time we walk in, even if they're somewhat new. If we have the time and the budget to make changes, we should! Our homes should make us feel a sense of "aaaahhhhh" when we walk in, not "bleh". Right? Right. 🙂
**Just to clarify, I'm not wanting a bleached white countertop in the bathroom. 🙂 But my problem from the beginning with that countertop is that I made it out of pine, which had so much natural orange/yellow in it that couldn't be drowned out with just one coat of regular stain. So I ended up using several coats of non-penetrating stain, and then two or three coats of oil-based poly. The result was a finish so thick and opaque that you can't really even tell there's wood under there. And since it comes across as more of a painted finish, rather than a neutral stained wood, it really limits color options for the vanity.
I'd like to strip/sand it off, bleach the wood to get rid of those yellow/orange undertones, and then stain it normally with just one coat of a dark penetrating stain (to match my ceiling) that allows the wood grain to show so it actually looks like a wood countertop. That will help it to read as more of a neutral in the room, and allow more options for the vanity color. But I do plan to keep the dark countertop and the dark ceiling, but hopefully without that heavy, thick, and opaque look that the countertop currently has.
---
---
Update:
My bathroom makeover is finished! Want to see the entire project from start to finish? You can find every single post about the bathroom makeover right here…
Or you can skip to the end and see how it turned out. Here's a peek of the finished bathroom…
You can see more pictures on the before and after post right here…
Addicted 2 Decorating is where I share my DIY and decorating journey as I remodel and decorate the 1948 fixer upper that my husband, Matt, and I bought in 2013. Matt has M.S. and is unable to do physical work, so I do the majority of the work on the house by myself. You can learn more about me here.