Last Updated on December 24, 2015 by Kristi Linauer
I took three whole days off of working on my bathroom…and my house in general. It was a great, relaxing weekend, but of course that didn't stop me from thinking about, dreaming about, and planning what I'll be working on next once the bathroom is finished. Matt thinks I should finish the hallway, but what I really want to work on is either the living room or the dining room.
Of those two rooms, the dining room seems way more daunting to me. It needs all new drywall (not just the ceiling, but the walls), the floor needs to be leveled (it's the only room in the house with a slab foundation), and for the life of me, I can't figure out the space planning for that room. So this weekend, as I was working on my new House Tour page, I tweaked the floor plan for the dining room yet again. It still just doesn't feel right. I'm beginning to think there's no perfect solution.
For those of you who are new to my blog (or who just might need a refresher 🙂 ), the dining room is located off of the kitchen. During the kitchen remodel, I opened up the wall that separated it from the kitchen. It originally looked like this…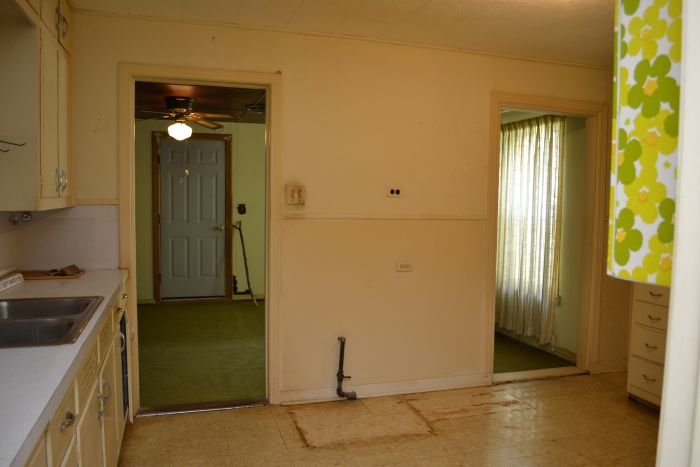 And now it looks like this…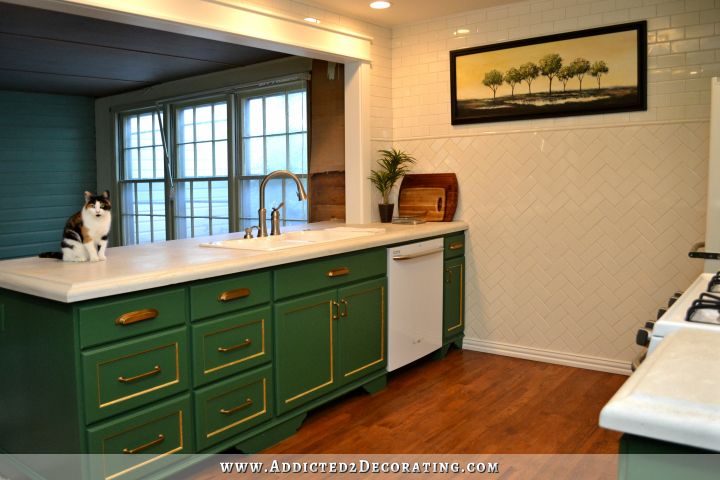 That dining room is the second largest room in the whole house — second only to the cavernous sunroom at the back of the house. Of course, I don't really think it was ever intended to be a dining room. The room I call the music room is the original dining room, but that room does not work for us as a dining room. (A table and chairs placed in the original dining room makes maneuverability through that room impossible for Matt.)
At one time, the side room was actually a covered outdoor area that connected the house to the garage, but at some point, it was enclosed. The previous owners called it a den, but with a front living room, and a family room at the back (eventually), I have no need for a den. I do, however, have need of a dining room.
Here's how the floor plan looked when we moved in…
So with the wall removed between the kitchen and dining room, and the peninsula in place, the floor plan today looks like this…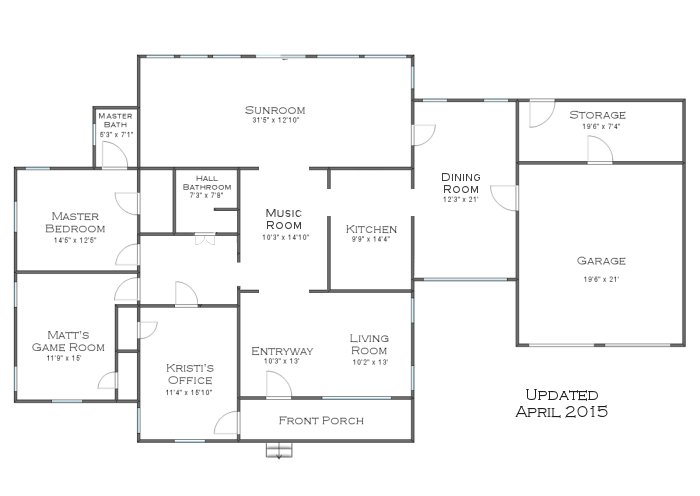 I've gone through sooooo many ideas for this room. One of my favorites was to put the table and chairs at the front of the room (near the wall of windows), and then put a seating area at the back with a fireplace between the two windows on the back wall. But while I loved that idea from a decorating standpoint, I just don't think I have need for another sitting area in the house. Plus, I couldn't figure out a way to make maneuverability from the (future) family room into the dining room easy for Matt with a seating area at that end.
What I really need is a pantry. I'm generally a form over function kind of person (unashamedly, I might add), but this is one time where I definitely prefer the function of a usable pantry over the form of a beautifully decorated sitting area with a cozy fireplace.
So after giving it much thought, I came up with this plan a few months back.
What I like about this plan:
It leaves an entrance into the dining room from the family room. I don't want the only point of entry into the dining room to be through the kitchen.
It gives me a large pantry so that I can put a small chest freezer in there.
It doesn't block off all of the light from the back wall, as there would still be one window on that wall.
It would be easy access to the pantry for Matt since the door to the pantry is straight ahead upon entering from the family room.
What I don't like about it:
There's no other option for garage door placement, which means that I'll be stuck with a garage door in my dining room. That's not ideal.
I'm afraid the placement will look (and feel) like an afterthought. Maybe it won't, but I'm afraid it will.
So this weekend as I was tweaking the floor plan yet again, I came up with this…
With that plan, I'd basically add two closet-style pantries on the back wall, and instead of two windows, I'd have one window in the middle. I could add a built-in window seat under the window to tie the two sides together and have a whole cohesive wall of built-ins.
What I like about it:
That would allow me to also move the garage door so that it's more towards the back of the room and out of the sight line from the kitchen, and not such a dominant part of the dining room.
It does provide a good deal of storage, and doesn't waste space like a walk-in pantry does.
What I don't like about it:
It doesn't allow room for a chest freezer. I could put it in the garage, but it just seems so convenient to have it inside since I have all of that room.
While I do think the window seat would be pretty, I'm back to form over function. I doubt it would ever be used. But since the ceiling slopes down on that end of the room, the wall isn't tall enough to put an exterior door on that wall, so I really don't know what else I'd put there. I could just get rid of all windows and have a whole wall of pantry, but I really do hate to get rid of all windows on that wall.
So I've reached a point of absolute frustration with this. I just can't figure it out. I've gone back and forth on so many options, to the point of driving myself crazy with this. I'm just about to the point of giving up and hiring a professional to do the space planning for this area of the house, because I just can't seem to wrap my head around it. But if I decide to tackle this room next, I need to get this figured out.
So I'm putting this out there one more time. If any of you see any options that I'm just overlooking, please feel free to share! I'm really going to seriously mull over every suggestion.
Addicted 2 Decorating is where I share my DIY and decorating journey as I remodel and decorate the 1948 fixer upper that my husband, Matt, and I bought in 2013. Matt has M.S. and is unable to do physical work, so I do the majority of the work on the house by myself. You can learn more about me here.
I hope you'll join me on my DIY and decorating journey! If you want to follow my projects and progress, you can subscribe below and have each new post delivered to your email inbox. That way you'll never miss a thing!