Last Updated on January 14, 2019 by Kristi Linauer
My hallway doors still aren't completely painted, the cabinets still need repair, the ceiling needs paint touchups, and the light still needs to be reinstalled, but by gosh, the trim and walls are finished!! And yes, I went with stripes. This was one time I was determined to forge ahead with my plan, regardless of how many people questioned it and said, "No! Don't do it!" And I'm so glad I did.
I used the same two colors that I used on my stenciled music room walls — Behr Polar Bear (which I use on all of my trim) and Benjamin Moore Classic Gray (the same color that's in my breakfast room, living room, and music room). And I was determined to do an odd number of stripes so that I could begin and end with the gray right against the crown moulding and baseboards, so I settled on eleven stripes. Thirteen felt like too many, nine seemed like too few, but eleven looked just right. That put the stripes at about 8 inches high.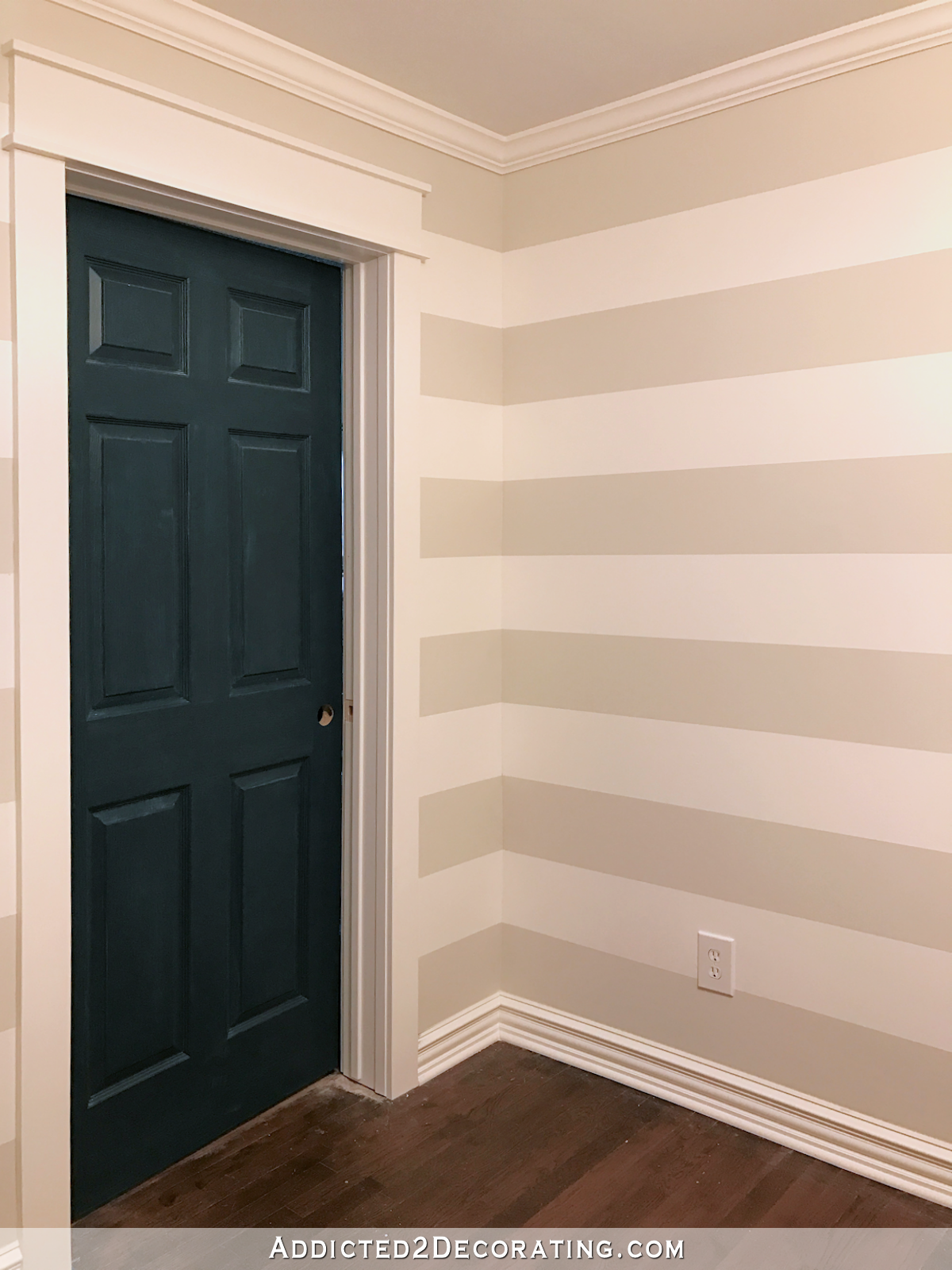 I'll share more pictures later this week, including views into the music room, a wider angle view from the music room into the hallway, etc. But for now, I thought I'd share the process of measuring, marking, taping, and painting the stripes so that they're as close to perfect as possible.
Before any tape goes on the wall, I actually draw the lines directly on the wall. I do not use a regular graphite pencil for this. I don't know if you've ever noticed, but graphite bleeds through latex paint, especially if you're using light paint colors. It's nearly impossible to cover up completely, and can be a real headache. So to draw the lines on the walls, I use a colored pencil — specifically a Prismacolor art pencil, which can be found at Michael's and other stores that carry art supplies — that is fairly close in color to the paint I'll be using. For this, I used Prismacolor Warm Gray.
I like these pencils because, first and foremost, they're not graphite and won't bleed through the paint. But if you get finished with your walls and see that some lines or marks are visible, those can be removed very easily (after the paint is dry, of course) with a damp cloth.
So using my Prismacolor pencil and a tape measure, I measured down from my crown moulding eight inches and placed a mark. I did this about every 16 inches.
Then using the longest level I have, I connected those marks and checked for level before using the level as a straight edge to mark the line on the wall.
If you have an old house like mine, where nothing is straight, level, or plumb, those marks down from the ceiling or crown moulding probably won't be in a perfectly level line. In that case, I try to split the difference while keeping the discrepancy within about 1/8 inch.
Then I measured down from that first line eight inches, made my marks, and then used my level to connect the marks and check for level and draw the second line. I continued this process down the wall, always splitting the difference on any discrepancies between the eight-inch drop down and the perfectly level line.
After all of the lines were marked, I was ready to apply the painters tape. Since my walls had only been painted about 36 hours earlier, I used the blue tape from Home Depot (3M, I think) that's labeled for delicate surfaces. And I had to keep in mind where my contrast stripes were going to be in order to determine on which side of the line I placed the tape. In reality, I used my colored pencil to make very light "X" marks where the stripes would go, but those didn't show in pictures, so I placed red check marks on the picture below.
So on the areas that would be the contrast stripes, the tape on top goes above the marked line, and the tape below the contrast stripe goes below the marked line.
The next step is the most crucial for getting perfectly crisp lines. I used my finger to quickly go over the tape and make sure it was really stuck to the wall with no wrinkles or puckers, and then using the wall color (Behr Polar Bear, in my case), I brushed on a thin coat right along the edge of the tape where I would later be painting the contrast stripe color.
By doing that, it kind of "seals" the tape to the wall. And if any paint bleeds underneath the tape, it's the wall color, so it won't matter.
Once that paint was dry (I gave it about an hour), I was ready to paint the contrast color. I cut in along the edges with a brush, and then rolled the large center areas with a 6-inch roller made for smooth surfaces. I had to do two coats on the stripes to get full coverage, but as soon as I painted on the second coat, I removed the tape.
When removing the tape, I pulled to tape along the wall at an angle, pulling away from the contrast stripe. I also pulled it off very slowly. In other words, I didn't pull the tape off of the wall by pulling out and away from the wall. If you do that, and/or you pull quickly, you run the risk of pulling off some of paint completely or creating bubbles of air underneath the paint, if the wall was recently painted. (As I mentioned, mine was painted just 36 hours or so prior to me painting the stripes, so it wasn't fully cured.)
So I finally got my stripes. 🙂 And I think the hallway is the perfect place for them.
Addicted 2 Decorating is where I share my DIY and decorating journey as I remodel and decorate the 1948 fixer upper that my husband, Matt, and I bought in 2013. Matt has M.S. and is unable to do physical work, so I do the majority of the work on the house by myself. You can learn more about me here.
I hope you'll join me on my DIY and decorating journey! If you want to follow my projects and progress, you can subscribe below and have each new post delivered to your email inbox. That way you'll never miss a thing!