Last Updated on December 24, 2015 by Kristi Linauer
Now I know what some of you are thinking.
"Hallway?! Why are you talking about your hallway?! You're working on your music room, and your dining room and entryway are still an unfinished mess!"
Right? Come on. You know you're thinking it. 😀
Well, here's the deal. This is one of those situations where one thing depends on another, depends on another, depends on another, and so on. Yesterday I worked on installing all of the moulding and trim on the wall on the right side of the music room (the wall shared with the kitchen). I got the chair rail, picture frame moulding, baseboard, and base cap installed. Then I was ready to work on the opposite wall.
The problem is that I can't install any of the moulding on that wall until the I install door casings on the opening from the music room into the hallway. And I can't install casings until I install the door jambs. And I can't install the door jambs until I know exactly how wide they need to be because I'll need to rip those down to the exact width on my table saw before installing them. And I don't know exactly how wide they need to be until I decide what I want to do on the walls in the hallway. Are those walls just going to be drywalled? Or am I going to do the planked walls that I've thought about doing in there? If I plank the walls, that will add at least 1/4-inch thickness to the walls, which means that my door jambs will need to be ripped at least 1/4-inch wider.
Did you follow all of that? 😀
So that's why my hallway is on my mind right now. As soon as I can make some final decisions about the walls in my hallway, then I'll know exactly how wide my door jambs needs to be. I can then rip the boards for the jambs, install door jambs, install door facings on the music room side, and then finish up the moulding and trim on the left wall in the music room. One thing depends on another.
When we moved into the house, the hallway had two closets flanking the opening into the music room.
The closet on the left was a coat closet that was original to the house.
But when a furnace was added to this house many moons ago, that closet was used to house the huge intake duct. I removed all of that during the bathroom remodel because the duct was no longer needed, and the closet was in the way because I wanted to move the bathroom door.
The closet on the right was probably added in the 70's, and that became the coat closet. But I didn't like the way it was built, or the way it made the rather large hallway feel so closed in, so I took that closet out before we even moved into the house.
Since then, the opening into the music room has been widened, the ceiling has been re-drywalled, and the wall where the hallway bathroom is has been redrywalled. But that corner still looks pretty much the same.
So I'm currently left without a coat closet, and while I really don't need a place to store stuff regularly (I'll have more than plenty of room to store stuff when this house is finished), I would like a place where guests can drop off their coats during winter months. So I envision something more like a built-in hall tree. It'll serve the same purpose as a hallway closet, where guests can put coats and scarves, but it's less visually imposing than an actual 24-inch-deep enclosed closet, so the hallway will still appear large and open.
And of course, the design of the built-in hall tree will determine whether or not I can plank my walls. I love the idea of planked walls in my hallway because it'll continue a design element through the main rooms of the house since I'll be putting it on my dining room overmantel, and I already have it on my music room ceiling.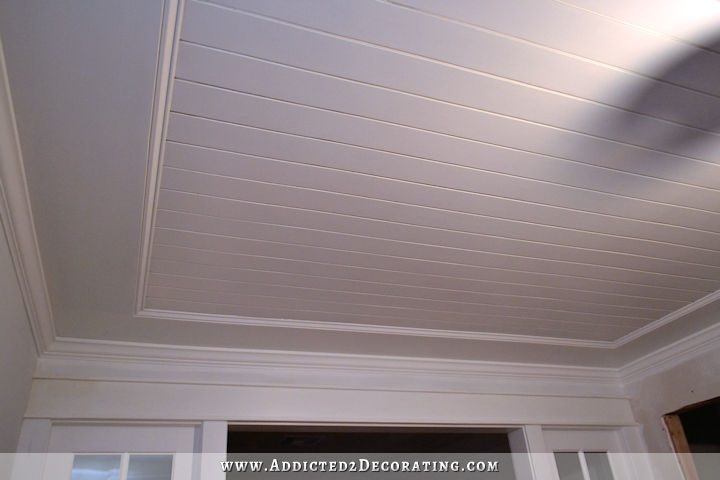 But planked walls won't go with some of these ideas I've collected.
First up, I really like this stained wood hall tree from Joss & Main.
I like that the bottom has furniture feet, but I would still make mine built-in. I think that a dark stained hall tree would look great with white planked walls, and the dark stain would also tie in with my bathroom countertops and ceiling.
Here's an example of a stained built-in hall tree with white planked walls.
Transitional Entry by Norwood Architects
I like the combo of the dark and light, but I do wonder if such a large dark stained item in my hallway would be too imposing. I do love dark stained wood, though.
Right now, this is probably my favorite overall look…
via Kohler
I like that it's white, so it won't suck the light out of the hallway like a dark stained hall tree might, but it does have a dark stained seat, which again would tie in with the bathroom countertops and ceiling. But my favorite thing is the tufted cushion. That really takes the whole look up a notch, I think. And since the back is planked, I could just carry that all around the room. That would work, right?
But then there's this design that I really like, and I'm afraid it would be way too much with planked walls.
Transitional Entry by Great Neighborhood Homes
There's so much I like about that design — the dark stained seat and back, and the curved sides. But since the seat and back already have a planked look, I think it would be way too much to use that design with white planked walls. But if I could do that design using wood that has a more solid look (i.e., cabinet grade plywood), then I think it could work with planked walls. And if I do curved sides on mine, I'll eliminate that little knob thing and just stick with gentle curves.
Speaking of curved sides, I think I might prefer something like this…
Traditional Entry by Diane Burgoyne Interiors
In fact, I like almost everything about that design except for the area underneath the drawers. Something about that looks funny to me. But the rest of it is nice — drawer storage, a gentle curve on the sides, an upholstered cushion on the seat, and cubby storage above. Of course, that one doesn't have hooks for hanging coats and scarves, which is the whole purpose of mine.
So those are the design ideas I've been mulling over lately. I'm really leaning towards something inspired by the design from Kohler, with most of it painted white, but the seat stained dark, and an upholstered tufted cushion on the seat. Then I can plank the back of it, and carry that around the whole hallway. But I might find a way to incorporate some of these other design ideas that I like, such as curved sides, a drawer on the bottom, cubbies on top, etc.
I think I might need to just sit down with a piece of paper and pencil, and start sketching out some ideas. But I think whatever I do, I'm really leaning towards making it work with planked walls. I just really want those walls in my hallway.
Addicted 2 Decorating is where I share my DIY and decorating journey as I remodel and decorate the 1948 fixer upper that my husband, Matt, and I bought in 2013. Matt has M.S. and is unable to do physical work, so I do the majority of the work on the house by myself. You can learn more about me here.
I hope you'll join me on my DIY and decorating journey! If you want to follow my projects and progress, you can subscribe below and have each new post delivered to your email inbox. That way you'll never miss a thing!