The studio exterior is coming along, y'all! My brother helped me install the shutters yesterday, and I finished attaching all of the decorative hardware early this morning. It's so fun seeing my vision for this little studio come to life. If you missed it, I actually posted the DIY board and batten shutters tutorial the other day, showing the process I used to build the shutters. But I can finally show you how they look installed…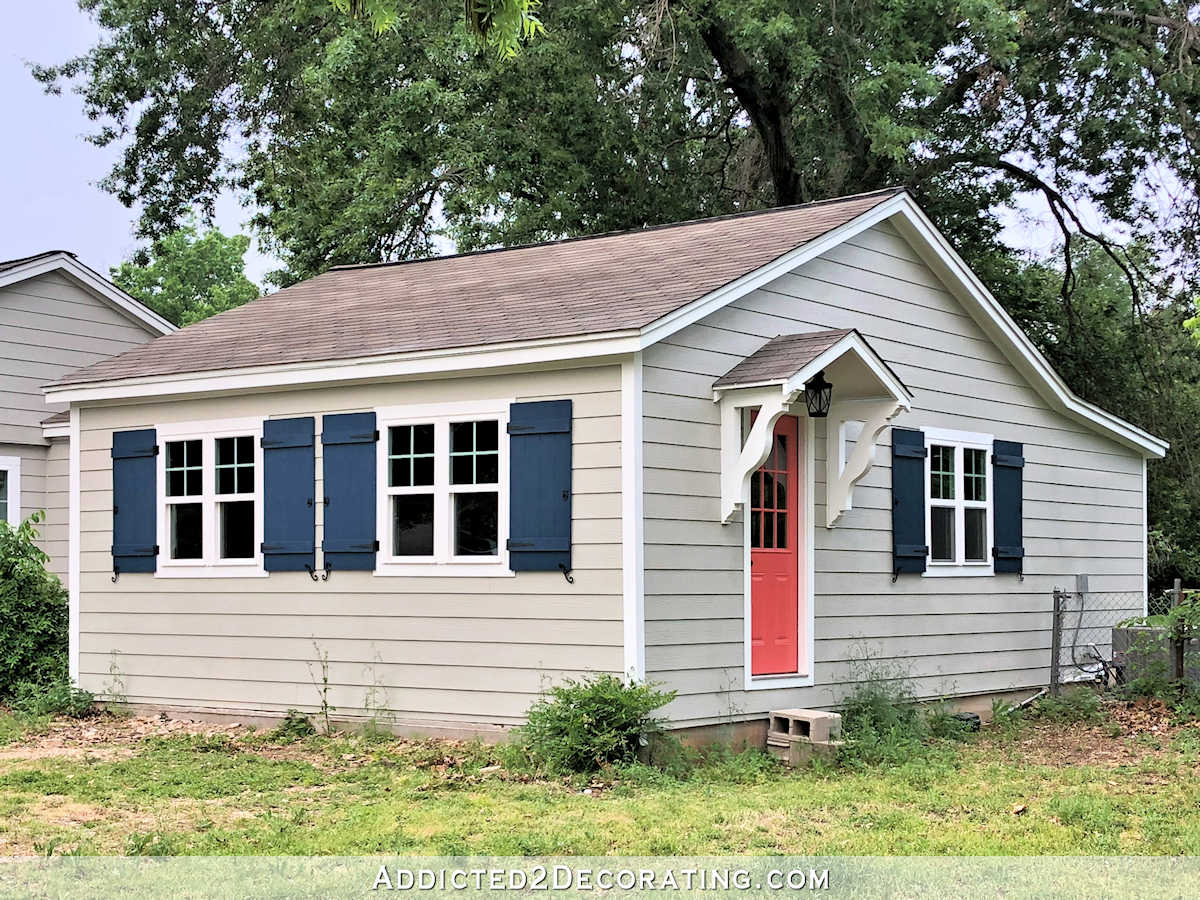 Please excuse my weeds. And my cinder block steps. And my ugly chain link fence. 🙂 But even with those things, this little studio has come a long way since the days it looked like this…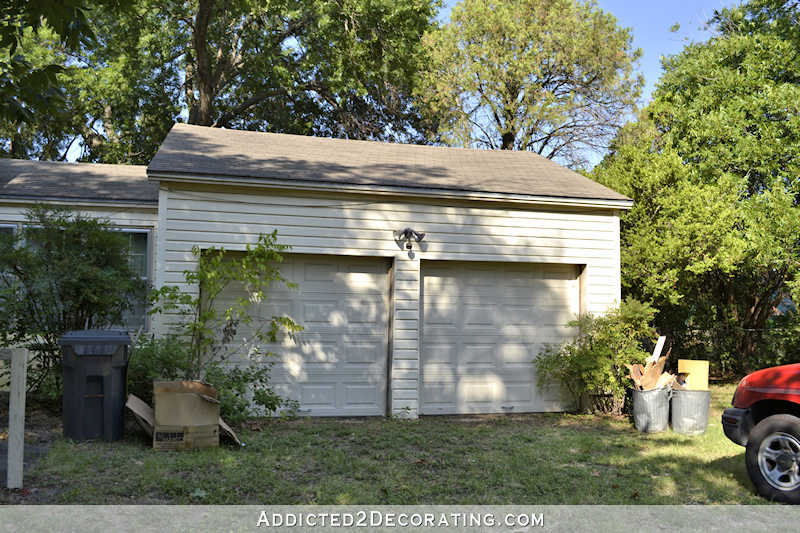 I just love how it's turning out! It went from a pretty useless and ugly garage to a cute little cottage attached to my house.
I added decorative hinges, which I found here, and ring pulls, which I found here. I also used these shutter dogs, which are actually functional shutters dogs, but in my case, they're purely decorative since these shutters will never actually be used.
I really wanted the hinges to show on the white trim, and I couldn't figure out a way to make that happen with the decorative hinges I purchased. So I actually purchased additional hinges at Lowe's (these are the ones I got) to use for the shutter installation. I attached those to the back of the shutters, and then screwed them to the trim around the window. Then to keep the shutters open, I added one more screw through each batten and through the siding. I made sure to position those screws so that they would be covered up by the decorative hinges. I took this picture during installation, and you can see the hinges screwed to the trim, plus one additional screw through each batten to hold the shutter open.
I added the decorative hinges after the shutters were installed, and those covered up the screws through the battens. You can tell it's two separate hinges if you get up close to the shutters and really study them, but who does that? If you stand back just a few feet, the two hinges together give the appearance of one continuous hinge wrapping around the side of the shutter and connecting to the window trim.
I had some trouble on this side window because I quickly realized that the window wasn't installed level with the siding. So my first attempt at installing the shutters evenly on the window resulted in them being totally uneven with the siding. I had to do it over and split the difference. It's not perfect, but it's fine. I'm just glad it was a side window.
The front windows were much easier since the windows and siding were all level. Plus, I had my brother here to help me install these (unlike the side window shutters, which I did myself) so these went much faster.
The color on the shutters is Benjamin Moore Gentleman's Gray (a dark navy blue), but I had it mixed in Sherwin Williams Emerald exterior paint in a satin finish with their vinyl-safe additive mixed in (since I made my shutters with PVC boards instead of wood).
So it's coming along! I still need to make and install shutters on the two front-facing windows on the other side of the house, but that's going to be a huge job that will require chipping away some of the really rough and textured Austin stone before I can install the shutters. I'm not looking forward to it. So for now, I'll just look at this end of the house and ignore that other end. 🙂
Next up, window boxes! Once I get those made and installed, then get the steps to the door built, and paint the vertical trim pieces (I want those gray instead of white), this little studio exterior will be pretty much finished. Then I can remove the ugly chain link fence/gate and add some landscaping to complete the look. Then maybe I'll just move into my cute little "cottage" and forget the rest of the house. 😀
---
---