Large DIY Craft Room Cutting Table — Finished!
The first of my two DIY studio work tables is finished. Here's how it turned out…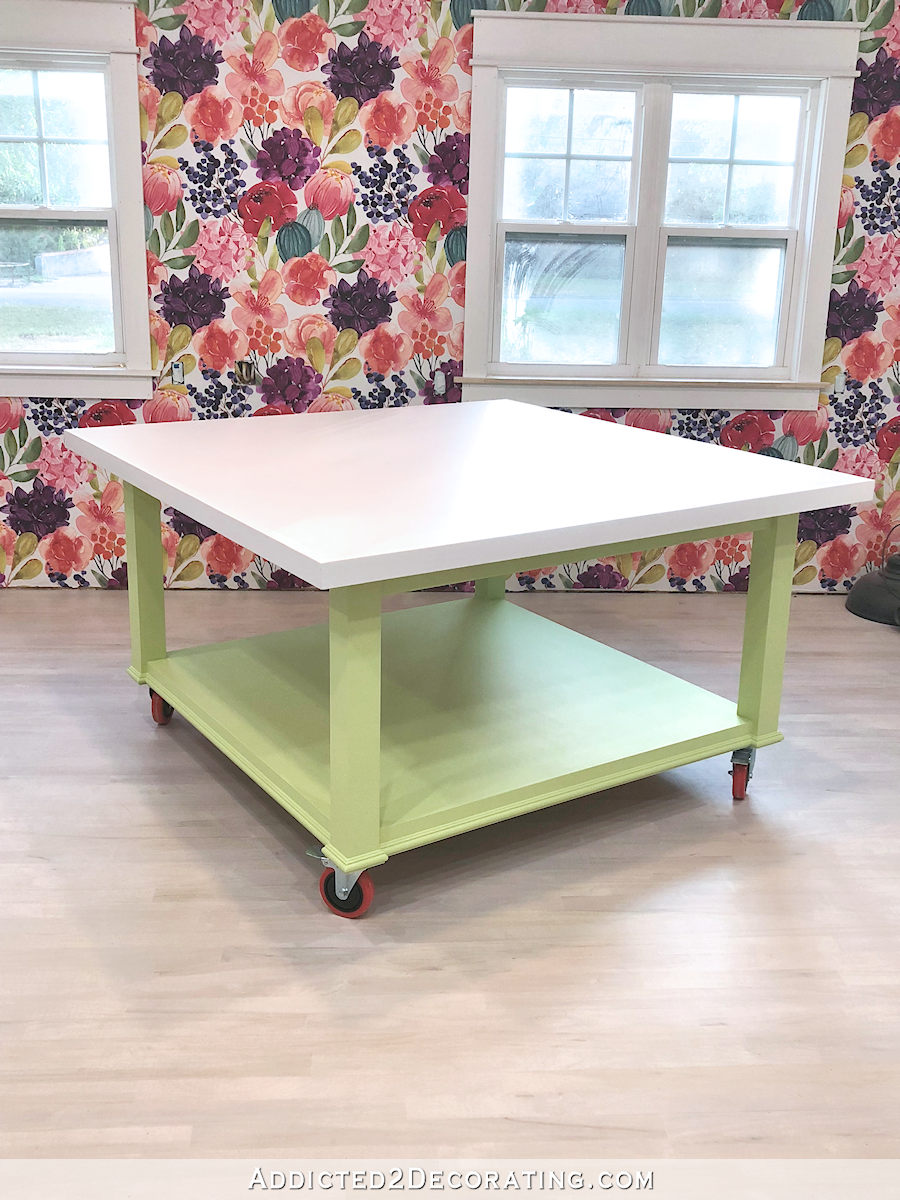 I chose to paint it green! I had originally wanted to paint it a light yellow, but it looked awful with the floor. So I gathered up some craft and art acrylic paints that I had in yellows and greens, and just started mixing them into the quart of yellow paint I had purchased until I ended up with a color that I liked. And I do love the bright, cheerful green against that clean white table top!
Please note that this is a two-post project. If you missed Part 1 of this studio work table project, click the title below…
So when I left off the other day, the base of the table looked like this…
After making the table top, I thought it still needed a little something to give it a finished look. After all, this table is for my studio, which I want to look nice and pretty when it's finished. If these were tables for my (future) workshop where I'll be using my saws and other tools, I wouldn't be worried about it being pretty. Of course, I also wouldn't waste money on laminate for a workshop table top where I'd be using saws and other tools.
So to give the table a finished look, I simply added some cabinet trim along the bottom edge of the shelf…
I also wrapped the trim around the bottom of the legs…
I attached all of the trim with wood glue and 18-gauge 1.5-inch nails.
And if you're concerned about me banging my legs into those trimmed out corners, don't be. The table top extends so far past the base (about six inches on each side), that my feet and legs never get close enough to those corners for me to scrape a leg on the corners. 🙂
After the trim was attached, I filled all of the nail holes on the whole table with wood filler, then sanded everything smooth and followed up with a coat of primer and two coats of paint.
The table top is 60 inches (5 feet) square, and the bottom shelf is just over 4 feet square. When selecting the casters, I was stuck with the red 5-inch casters as my only choice because those were the only ones available in the quantity I needed with the style of locking mechanism that I liked. Now I'm glad those were the only ones available, because I love those red casters! 😀
As soon as I get the second table built, I'll be adding adhesive measuring tapes to the top edges of the table tops, but I want it to be one continuous length (i.e., measuring from 0 to 120 inches over two tables) of measuring tape rather than two separate lengths (i.e., measuring from 0 to 60 inches on each table). So I'll need the other table completed before I can add those.
But for now, I'm just thrilled to have one table finished with a large work surface for fun projects! And now I'm hoping that the second table will go much faster. It should now that I know what I'm doing and have figured out the process.
I made a video showing the building process for this table. You can see it here…
Update: The second table is finished! If you'd like to see the two tables, and how they clamp together to form one HUGE workroom table, you find that here…
Addicted 2 Decorating is where I share my DIY and decorating journey as I remodel and decorate the 1948 fixer upper that my husband, Matt, and I bought in 2013. Matt has M.S. and is unable to do physical work, so I do the majority of the work on the house by myself. You can learn more about me here.