Hey there! Well, it's been a very slow and frustrating week with house projects. I'm still not finished with my living room draperies. Part of that is because the actual drapery panels are pretty time-consuming with the Greek key trim I'm adding (you can see details about that here), but I also had quite the frustration with my drapery hardware.
I bought the drapery hardware about two years ago. I wanted clear acrylic rods with brass brackets and rings. Well, it turns out that those are pretty expensive — at least they were two years ago. I haven't priced them since then. So after searching and searching, I finally found that a few other bloggers had just ordered all of the components separately, so I did the same. You can find my sources for the rods, rings, and brackets in this post.
The problem is that the brackets I ended up going with aren't really meant to be drapery rod brackets. They're actually mounting posts for handrails, so they don't project from the wall as far as a drapery rod bracket does. I've lived with that for the last two years, but since my window trim has a 1″ x 2″ piece of wood at the top that sticks out 1.5 inches from the wall, the pleats in my draperies are always very crowded on the back and don't hang right. I don't know if that ever showed in pictures, but I could tell every time I looked at them, and it frustrated me.
So since I had to remove the rods and brackets completely (at least on the two windows flanking the fireplace) to add additional rings, I decided to come up with a solution to make the rods project further from the wall so that the folds in my drapery headers can hang freely rather than being smooshed against the window trim. I decided to use a 2.5-inch hole saw (one of these)  to cut circles of wood out of scrap 1″ lumber, attach those to the wall, and then attach the brackets to those.
I installed it before I knew how I was going to finish it. Do I try to make it a brass color to blend in with the bracket? Or do I caulk and paint it the wall color? I still don't know what I'll do, but to be honest, it's not really even noticeable unless you're looking at it up close. So I might just stick with that idea of keeping it unnoticeable and caulk around it and paint it the wall color.
But that extra 3/4″ is all that my draperies needed to hang properly. No more fabric folds on the back smooshed up against the window trim.
And of course, that sounds like a very easy process. Pretty simple and straightforward, right? Yep, I thought so, too. But just like most projects, it turned into a real headache, complete with stripped screws that wouldn't come out of the wall, a hole saw that kind of chewed the wood rather than cutting it, initially using that hole saw in a much-too-powerful drill that nearly sprained my wrist, trying to reinstall the hardware using that much-too-powerful drill once again (because I'm a slow learner, evidently) which just twisted the heads of the screws right off, and on, and on.
The whole thing was a comedy of errors, except I was far from laughing. Thank goodness not all of my projects go this way or I would have given up on DIY a long time ago. It's so discouraging when something seemingly so simple turns into a long, drawn out project with nothing but headaches and roadblocks.
Anyway, all of that to say that I spent a ridiculous amount of time the last couple of days fixing a problem that probably no one else would have even known was a problem. But I knew it was a problem, and it was driving me crazy. 😀 Now that my mind can rest about the hardware and brackets, hopefully I can just concentrate on getting these draperies finished so I can move on to my next project.
And speaking of my next project, all of my hardware for my shutters has arrived!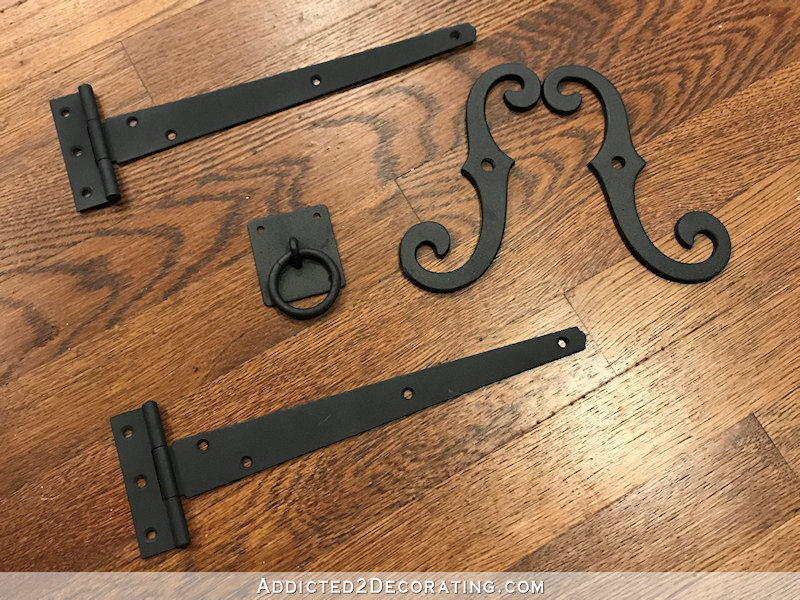 I'm really pleased with the quality of the hardware. They're all usable hardware, but I'll just be adding them for decorative purposes. (To be clear, the hinges aren't meant for shutters. Shutters require actual shutter hinges that attach to the back of the shutter and not the front if you want to open and close them, but again, I bought these just for decorative purposes.)
I searched and searched for just the right hinges that I had pictured in my mind, and most of them were ridiculously expensive. I finally bought these hinges, and they were just what I wanted at the lowest price I found anywhere. I also bought these shutter dogs and these ring pulls, also at great prices compared to what I was finding at other places.
I bought all of my vinyl boards yesterday, as well as my navy blue paint for the shutters, so I'm set. I think I'll take a break from the draperies tomorrow and work on getting at least one pair of shutters made and installed. I'm so anxious to see how these are going to turn out, and what difference they'll make to the curb appeal of my house!
And one last detail…
A few of you asked me about painting vinyl boards a dark color, since I'm planning on using navy blue. Generally it's a bad idea to paint plastic (like vinyl siding) a darker color than the original color since sun + dark colors can make the siding buckle. That would be a reasonable concern about PVC boards, too.
I called the company that makes the PVC boards, and they said that you can paint them a dark color as long as you're using heat reflective paint with vinyl technology. I'm using a Benjamin Moore paint color on my shutters (Gentleman's Gray), but the Benjamin Moore store here didn't know anything about this type of paint. But Sherwin Williams has it! It's actually not a paint, but an additive that they can add to any of their premium exterior paints.
So good news for those of you who have vinyl siding in a color you don't like. You're no longer limited in colors that you can paint over it. And my PVC shutters will be perfectly fine in a dark navy blue. (At least that's what they've told me. Time will tell if it actually works like they say.)
Addicted 2 Decorating is where I share my DIY and decorating journey as I remodel and decorate the 1948 fixer upper that my husband, Matt, and I bought in 2013. Matt has M.S. and is unable to do physical work, so I do the majority of the work on the house by myself. You can learn more about me here.