Last Updated on December 24, 2015 by Kristi Linauer
I spent all day yesterday working on the bathroom (literally, about 10 hours of wood filling, sanding, caulking, and priming), so naturally I spent quite a bit of that time dreaming about the details of my next project — the dining room and entryway. 🙂
I had originally planned to do some sort of wainscoting/paneling/grasscloth combo, but since I let y'all talk me into using white linen instead of oatmeal linen for my dining room draperies (and the more I think about it, the more I'm so glad I made that change!!), I needed a new plan for the entryway wall. And don't worry, I'm not letting this get me sidetracked or bogged down in details. 🙂 I have all of my fabric on order for the room. I've made my paint decision for the dining table. I have my paint color selected for the buffet. My rug has been ordered. So I'm moving full steam ahead, but with the change in drapery fabric, I had to make this one major design change to the entryway wall plan.
So grasscloth is out, and I have four other possibilities for that wall.
Option #1 – Black and white stripes.
If I use this option, it will probably look something like this.  I love horizontal stripes, and I think this looks amazing with the stripes above the wainscoting.
But if I went with vertical stripes, it would look something like this.  My wainscoting would be white, though.
I suppose I could always abandon the wainscoting idea and just do stripes on the whole wall.  I think this wall looks pretty amazing.
But I kind of have my heart set on having my bold pinkish-red buffet sitting in front of white wainscoting.  So at least for now, I'm sticking with the wainscoting idea for the bottom section of the wall.
This is an interesting and unusual idea.  They painted stripes right over to top of the wainscoting.  I'm not sure if I could be quite that bold, but I do like the idea.
Option 2 – White tone-on-tone stripes.
I wondered if the black and white stripe wall might be a bit too much with my black and white stripe rug, so then I thought about using a white tone-on-tone stripe.
I couldn't find any examples of exactly what I'm thinking.  If I go with this idea, I would use the same wall/trim color (Behr Polar Bear) that I'll be using in the rest of the room, but I'd use two different sheens — flat and glossy — to achieve the subtle stripe effect.
Here's an example of this same-color-two-sheens look using a light gray color and a stencil.
via Mad In Crafts
And then here's a striped design using the same technique.  It's subtle, but just enough difference to create a very nice effect.
Option 3 – Anaglypta wallpaper.
When I first decided to scrap the natural-colored grasscloth idea, I headed to Sherwin Williams to look through their grasscloth selections and see if they had any white grasscloth.  They had a couple, but I didn't like them at all.  But then the Anaglypta wallpaper book caught my eye, and I decided to flip through it.  Anaglypta is textured, paintable wallaper.  Most of the designs are way over-the-top for my taste, but I did find two that had a woven look to them.  This is the only one I could find online.
via Anaglypta
My main hesitation with that is that I fear going to all of that trouble putting up wallpaper and painting it, and then having that design/texture be so subtle that it doesn't really even show up.  That would be a lot of work for nothing.
Option 4 – Schumacher's Birds & Butterflies wallpaper (or a reasonable facsimile of it).
This has to be one of my all-time favorite wallpapers.  Y'all know how much I love birds.  And trees.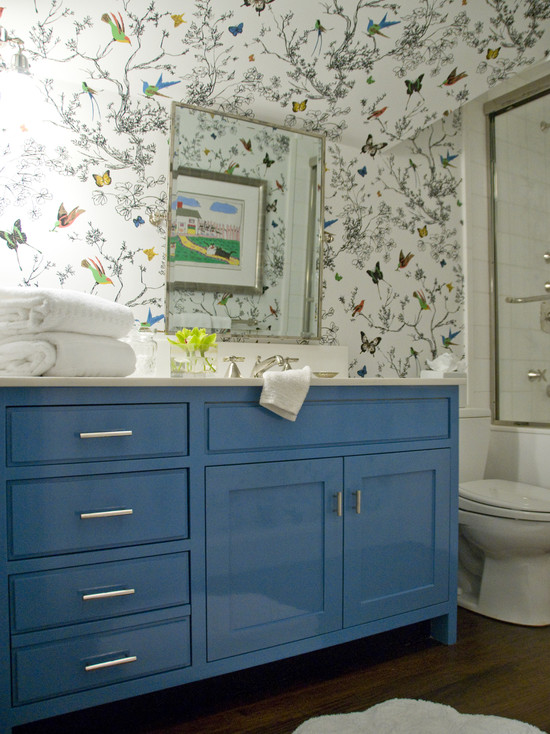 via Zoe Feldman Design
I could definitely see this on the top section of my entryway wall above wainscoting, with my pinkish red buffet sitting underneath, and the black-with-white-piping chairs flanking the buffet.
via Schumacher
My issue with this is the price.  Even through my Schumacher trade account, my price is still $123 for a single roll, and it's sold by the double roll.  And while I really love birds and trees, I don't like butterflies.  I mean, I like the real thing, but I don't like decorating with them.
Then I remembered that several years ago, Shannon Berry re-created this wallpaper in her bathroom using a Sharpie marker!  The results were really amazing.
via Shannon Berry
If I did the Sharpie marker design on my entryway wall, not only would I save a bundle of money, but I could also make changes to the design so that it would suit my taste a bit more (i.e., switch out the butterflies for more birds).
So those are the four main ideas that are swimming around in my head for my entryway wall right now.  I have a definite favorite, but tell me what you think!  And just to clarify, when I say "entryway wall," this is the wall I'm talking about…
It's the wall just inside the front door and to the left.  If you can picture it, I'll have wainscoting on the bottom section, and above the wainscoting will be one of the four designs mentioned above.  In the middle will be my buffet painted in a dark pinkish red color, and flanking the buffet will by my two favorite upholstered chairs covered in solid black fabric with white piping.
So with that in mind…black and white stripes?  White tone-on-tone stripes?  Anaglypta wallpaper?  Or something based on Schumacher's Birds & Butterflies wallpaper?