Finished Bathroom Artwork & Dining Room Rug Indecision
Hey there!  I've had some non-blog, non-house-related things to attend to the last two days, so progress on the bathroom remodel has stalled a bit.  But earlier this week, I did get every single last bit of the trim installed and wood filled, and then I got everything partially caulked.  So while no real progress has been made for two days now, I did take some time yesterday to finish up the artwork for the main wall in the bathroom.
To recap, I initially tried painting a canvas.  I bought a rectangle canvas because the original plan was to hang it above the toilet.  Then when I got it home and looked at it in the bathroom, I decided that I wanted it on the end wall instead.  I should have returned it for a different size, but I didn't want to make another trip to Michael's, so I just used the one I bought and turned it horizontally.  So the size and orientation, along with the subdued colors that I used, all added up to a pretty "meh" piece of artwork that really didn't do anything for me.
So I searched in my stash of frames and came across a piece of artwork that I've had for about eight years now.  The artwork itself wasn't what I wanted in there, but I thought the frame was perfect, and I loved the silver leafed mat liner.
I've always found the actual print to be dull and depressing…and way too orange.  So yesterday, I got out my paints and watercolor paper, and I painted something new to go in the frame.  And this time I kept in mind the advice that some of you gave me — to add a touch of bold color like pink.  So here's the new, final artwork for the bathroom.
Now this one I really like!  And as you can see, I also painted the mat white to brighten things up.  That dark brown mat was also dull and depressing.  To paint the mat, I used a small 4-inch foam roller and flat latex  paint.  It took three coats to cover it completely.
Now it's bright and colorful, and I think that the silver leaf mat liner really sets off the artwork.
I still haven't gotten a piece of non-glare glass for it, and I'm not really sure if I want to.  The shiny glass makes it very difficult to photograph, but in person, it also adds lots of shine and glimmer to the room, which I really like.  So right now, I'm undecided on that.
Anyway, that's done, and I love it!  I think it has everything this wall needed — a thick dark wood frame that ties in with the countertop and ceiling, a wide white mat to brighten things up, a touch of shimmery silver to tie in with the other silver/stainless finishes, and of course, some bright colors to bring a bit of life and movement to that wall.
And here's a before and after view…
Better, right?  I think even if you don't particularly like abstract art, you'd still agree that the new is much better suited for my bathroom than the original.  🙂
And speaking of "better suited," I'm trying to decide if the rug I bought from Overstock for my dining room is the right rug, or if I should send it back and find something better.  It was delivered earlier this week, and as soon as I opened my front door and saw it sitting there, I got so excited.  But my excitement quickly disappeared.
In the picture, it looked white.  Or at least, off white.  Or a creamy white.  But it definitely looked like some shade of white.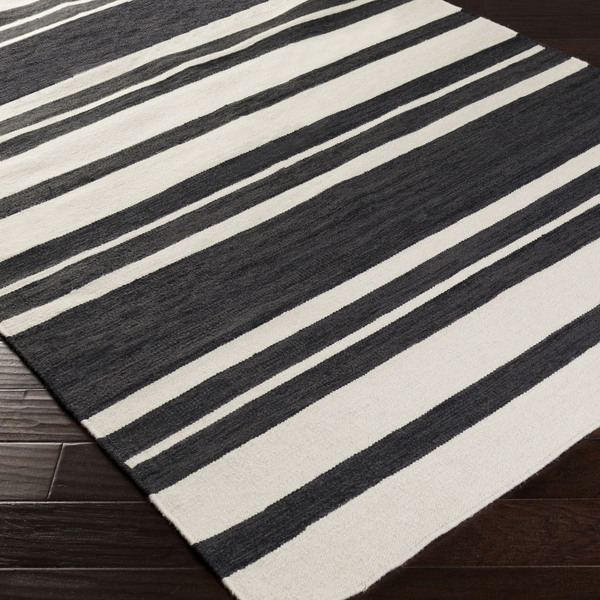 It's not white at all.  I would say it's more of a light tan.  In fact, it's closer in color to the oatmeal linen fabric I have than it is to white, and I don't think anyone would ever look at that oatmeal linen fabric and mistake it for white linen.
So I didn't even bother to completely unwrap and unroll the rug.  I've just been planning on sending it back and finding something new.  The problem is that I can't seem to find anything I like!  I've searched for "black and white striped rugs" until I can't search any more.  The problem is that they ALL look black and white in the pictures, but if you read the descriptions and/or the customer reviews, you find that once again, they're not white at all.
I think the closest that I've found is the IKEA Stockholm rug, which is described as black and off-white, and if you search for images of the Stockholm rug, you will see it used in all kinds of white rooms, with all kinds of white furniture.  I think it's close enough.  So I had almost decided to go with it, but the more I look at pictures of it, the more I'm unsure if I even like it. I love stripes, but I want full stripes that go all the way across the rug.  This design does crazy things to my eyes.
I finally gave up on black and white striped rugs last night, and started looking at jute/seagrass rugs again.  I can't find one on the size (8′ x 11′), color (light and natural, not orange) and price range ($400 or under) that I need that has good customer reviews.
So this morning, I placed everything on the floor — rug and fabrics — to take a picture of them together to show you how awful the rug is, and why it won't work.  But interestingly, after seeing the picture, I'm wondering if it just might work after all!
The white linen is the drapery fabric (it's more of a creamy white, and not stark white).  The green and white is the trim for the draperies.  And the floral is for the captains' chairs at the dining table.  In the middle is the rolled up rug.  And just like all of the other black and "white" striped rugs I've found, the picture makes it look lighter and brighter than it looks to me in person.  And I didn't edit this picture at all.
So maybe there's a reason that rug manufacturers don't really make black and white (true white) rugs.  Maybe they know something I don't.  Once it's unrolled and placed in the room, it'll probably end up looking much brighter than it does rolled up in the package.  It might surprise me!  And maybe I'll find out that I've wasted a bunch of time this week being disappointed in this rug, and trying to find a replacement.  🙂
It really doesn't look bad at all in the picture above, right?  Or is that just me giving in because I'm tired of searching for rugs?  😀
EDIT:  I decided to unwrap and unroll the rug and floral fabrics to get a better look.  Here's how everything looks…
Addicted 2 Decorating is where I share my DIY and decorating journey as I remodel and decorate the 1948 fixer upper that my husband, Matt, and I bought in 2013. Matt has M.S. and is unable to do physical work, so I do the majority of the work on the house by myself. You can learn more about me here.