Why I Don't Use Chalk Paint
I'm continually asked why I don't use Chalk Paint, so I thought I'd just put all the info in a post. That way, when I'm asked, I can just give people this link. 🙂
First, let me clarify that Chalk Paint is not the same thing as chalkboard paint. (Although Chalk Paint can be used for making chalk boards, so the distinction gets a little fuzzy.) Chalk Paint is a type of paint (actually, it's a trademarked brand of paint by Annie Sloan, but other companies have similar paints also) that can be used on furniture and other items to create a chalky appearance. It's used for creating an aged appearance, and can be distressed easily. It's often used to create a Shabby Chic look. Chalkboard paint, on the other hand, is used for making chalkboards.
Now let me be very clear here. I know that there are a lot of people who will read this post who are diehard fans of Chalk Paint. So please understand that I'm in no way trying to change your mind about a product you love. I'm not trying to convince you to stop using it. And I'm not trying to convince others that they shouldn't try it. I'm just explaining why I personally have chosen not to use it. It's a question I get asked over and over and over, so I wanted to answer it. So here are my reasons:
1. The Price of Chalk Paint
Chalk Paint costs around $40 for a quart of paint (yes…a quart!). Add to that the price of the wax (almost $30) and the cost of an Ultimate Waxing Brush (another $37), and you've got quite a bit of money wrapped up in product.
"But it lasts so long!" people say. That may be true, but so does my latex paint, and it's a heck of a lot cheaper. With one quart of latex paint, I painted three coats of paint on my credenza…
…and two coats of paint on my console table…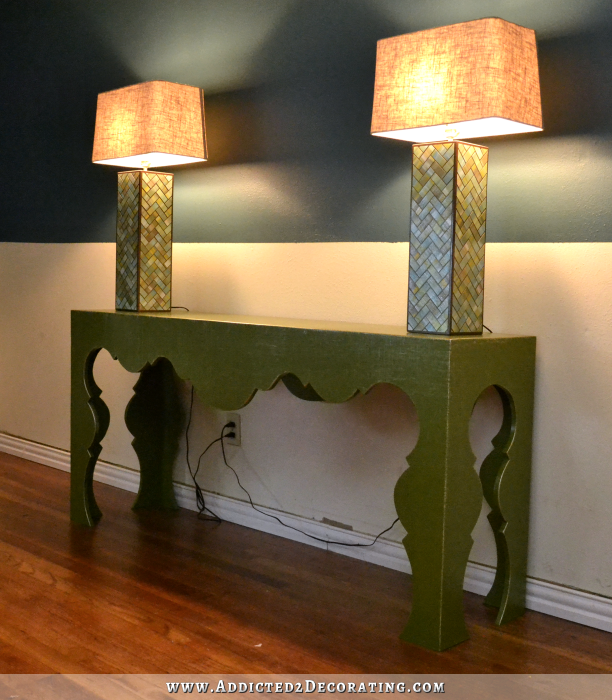 …and I still have about 1/3 of the can left. That can of paint only cost me $18, and I didn't have to wax it when I was finished. I also didn't have to use any special brush. One $12 Purdy brush, if taken care of, will last for years and years and years.
2. The finish of Chalk Paint
I don't really know how to put this delicately, so I'll just say it. I don't like the finish you get with Chalk Paint.
I had seen pieces painted with Chalk Paint online for probably a full year before I ever saw any of them in person. Online, they looked amazing. So when I finally did see some of these pieces in person, I couldn't believe that this was the paint that people were raving about. Now granted, it could have just been the specific technique of the person who painted that specific furniture, but let's just say that she took the whole "no prep needed" and "just start painting" thing to heart. The brush strokes were not only very visible, but added a texture to the surface.
Now I'll say that it could just be a matter of personal taste as well. One quality that people are always praising about Chalk Paint is, "It's so easy to distress!" Well, I'm personally completely over the whole distressed "Shabby Chic" look. (Sometimes I wonder what Rachel Ashwell thinks of some of the things being called Shabby Chic these days.)
A little tiny bit of distressing is fine for me (and I do mean tiny…as in, just on the very raised parts where natural wear would occur, and even then, just a very small amount of distressing), and this is a look I can very easily achieve with latex paint. But even with that, I don't want every piece of furniture in my house being distressed.
But this look that some people try to achieve, where it looks like the new, freshly painted piece of furniture has then been chained to the back of a pickup and dragged over gravel and cement to give it "character" just baffles me. Because I don't want to hurt anyone's feelings, I won't show an example from a blogger. But I did find this (probably mass-produced) piece on Overstock to illustrate the trend that makes me say, "What the…?"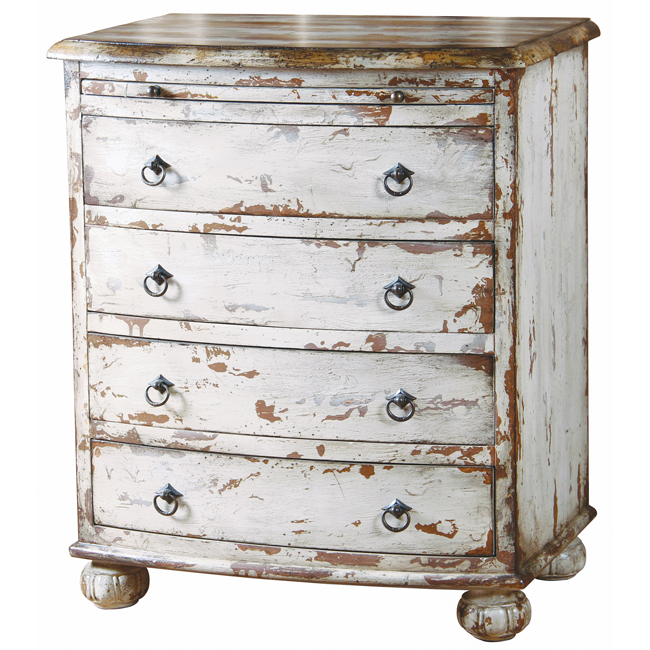 There is simply nothing beautiful about that to me. Now again, please understand that if you find that to be beautiful, that's fantastic! We all have our own personal taste. This is not my taste at all. So if this is your taste, I'm in no way trying to make fun of you, or say that you shouldn't like it.
But if I'm going to go to the trouble of sanding a piece of furniture and painting it, I want the finish to be as close to pristine as possible. And I get that by sanding, priming, sanding, and then painting with latex or oil-based paint with paint conditioner added.
And speaking of sanding…
3. The "No Prep Needed" claim by those who use Chalk Paint
This is probably the biggest reason I've actually grown to dislike Chalk Paint.
Any time I paint a piece of furniture and show it on my blog and/or Facebook page, I get a whole slew of people asking, "Why didn't you use Chalk Paint?! You don't have to sand or prime!"
Quite honestly, the "no sanding" thing doesn't interest me in the least. If I'm going to take an old, worn piece of furniture and paint it to put in my house, it will, without a doubt, be sanded first!
Sanding a piece of furniture (or cabinets) before painting is about much more than just giving that piece of furniture "tooth" so that the paint will stick. It's also about evening out surfaces, removing scratches, dings, and even built-up dirt or cleaning products.
Sanding also helps to minimize wood grain!! This is especially important with wood like old oak, where the wood grain tends to become more pronounced over time. Sanding also reveals areas where I might need to add some caulk or wood filler to get a smooth painted surface.
The bottom line is that I enjoy the prep work and the sanding, because I now that my finished product will only be as good as the prep work I put into it. And priming is part of this process for me. I LOVE my Zinsser Cover Stain oil-based primer because once it's dry, I sand it with super fine sandpaper to make it as smooth as possible (a process I actually love doing). And painting over a super smooth surface like that using paint with paint conditioner (I use Floetrol for latex and Penetrol for oil-based paints) added will ensure that I get the best possible outcome — as close to a sprayed finish as possible using a paint brush.
I just simply would never, ever skip these steps just to save a few hours of time.
But for the record, Chalk Paint isn't always "no prep". It doesn't require primer in order to stick, but very often it does require a coat or two of shellac first, or you'll get water stains or red stain bleeding through your finish.
You can visit The Purple Painted Lady to learn more about when you should prep your piece with shellac before painting with Chalk Paint.
The very dark original stain on my credenza would have required the use of shellac before painting had I been using Chalk Paint…
Using shellac before painting is called prep work. And if I'm going to have to do prep work, I'd much rather use products that are tried and true for me, and end up with a finish that I know I'll love.
4. The Durability of Chalk Paint
I actually have used Chalk Paint once. I started painting a desk with it. The desk was white, and I used the orange color (can't remember the name), and I got almost half of the desk finished. Well, I use the term "finished" loosely, because after two coats of Chalk Paint on the top two drawers and side front rail (one coat everywhere else that's orange), this is what they looked like…
I was disappointed, to say the least. And when I realized that it would have taken at least three, but probably four coats of paint to get the color consistent, I gave up. I ended up sanding everything down a bit just to get rid of the brush strokes (and there were visible brush strokes everywhere!), and then I primed and painted it with regular latex paint. One coat of primer, and two coats of latex paint later, I had this…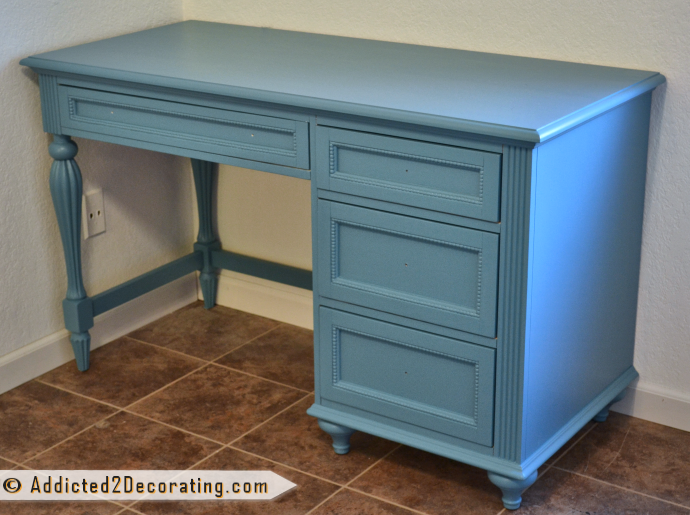 Okay, but that's a side story just to get to the whole "durability" issue. I've heard time and again how durable Chalk Paint is. But here's the thing. My desk sat there half painted for about a month, so the Chalk Paint had plenty of time to cure. Before I sanded it down to repaint, I wanted to test the amazing durability I had heard so much about, so I ran my fingernail over the top of the desk with a moderate amount of pressure.
The paint scratched right off! There was nothing amazing about the durability that I could see.
I mentioned this to someone, and they said, "Oh, to really get the durability, you have to wax it."
Okay, so the big hype about Chalk Paint is that it doesn't require prep work before painting (i.e., no priming), but it does require waxing after the piece is painted in order to get the full benefit. What?! I fail to see the difference in the amount of work required there.
One difference — you can start and finish an entire piece with latex paint (one coat of primer, two coats of paint, all in one day). With Chalk Paint, from all I've read, you can't do everything in one day. You have to let the paint really dry (overnight, I assume), before you can wax it. But you can't buff the wax to a satin finish until it sits for about 24 hours. By my count, that's three days for one piece of furniture. So I guess I don't see how that's easier and saves time.
Without the wax, Chalk Paint produced the flattest paint finish possible. And flat paints are generally the most absorbent. I had someone write to me not too long ago and ask for my advice. She had purchased her first piece of furniture painted with Chalk Paint, and evidently the piece wasn't waxed. Her daughter dropped her juice cup close to the piece, and some juice splattered onto the piece and just absorbed right into the paint. Try as she might, she couldn't get the juice spots off of her new piece of furniture.
So there you have it, folks! Those are the reasons I don't use Chalk Paint. Now when someone asks me, I can just give them this link. 😉
And again, if you use and love Chalk Paint, I think that's fantastic. I love that we all have our own personal taste and style, and that something that appeals to you might not appeal to me, and vice versa. I'm in no way trying to convince others not to use the product. I just simply wanted to explain why I have chosen not to use it, and to stick with products that I do love. Mmmkay? Can we still be friends? 🙂
Helpful sources and products:
Want to see how I paint furniture and cabinets? I have written a couple of posts on this topic. If you want to paint with a brush, see my process here…
And if you want to use a sprayer, here's my favorite, plus a few tips on how to use it…
Did you see the before and after of the green credenza with the natural wood drawers? You can see it here…
And if you would like to see how I built the scalloped entryway table, you can see that here…
And if you're looking for a paint sprayer, you can find my favorite one here…
Addicted 2 Decorating is where I share my DIY and decorating journey as I remodel and decorate the 1948 fixer upper that my husband, Matt, and I bought in 2013. Matt has M.S. and is unable to do physical work, so I do the majority of the work on the house by myself. You can learn more about me here.