The Unattainable Goal Of Magazine Perfection In HGTV Timing
When I work on projects, I have a lot of alone time and quiet time.  It's just me and my thoughts.  And what I've been pondering lately are the ideas of magazine perfection and unrealistic timelines.
Last night when I was working on my fireplace (which I'm so close to finishing!), my eyes kept drifting over to my window unit air conditioner.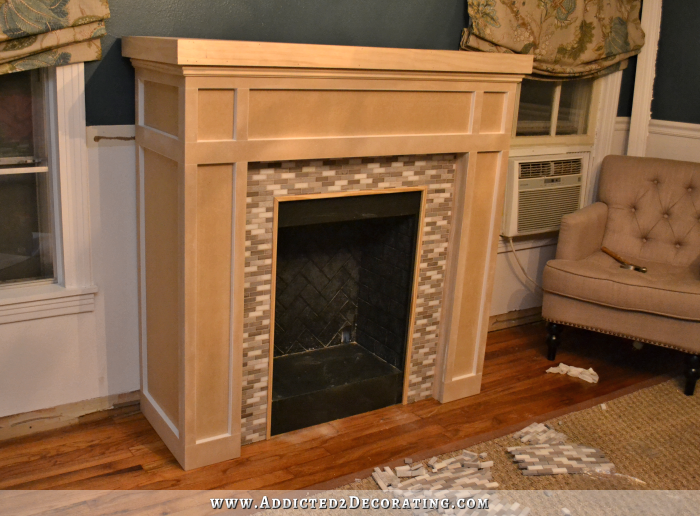 Not too long ago, I posted an update on a project in my living room (can't remember which one now), and a person left a comment saying something like, "Sorry, but I'm too distracted by that window air conditioner."
I've had several other people leave comments wondering why I hadn't removed the window air conditioner yet.
I'll be the first to tell you that I hate window unit air conditioners.  I hate how they look from the inside of a house, and most of all, I hate seeing them hanging out the windows on the exterior of the house.
But since our house doesn't have a central HVAC system yet, I'd much rather deal with the eyesores of window units than go without A/C in Texas.  Even in "winter" an A/C is sometimes needed in Texas.  I've had to turn on that A/C three or four times so far this winter, and today will probably be another one of those days, as the temp is supposed to approach 80 degrees.
And I can also tell you that in this area, window unit air conditioners are quite common in old houses, even in many that have been updated and beautifully decorated.  But when was the last time you saw a window unit air conditioner in a magazine?  Of course, we've never seen that.
That Unattainable Magazine Perfection
Magazines (both print and online) and similar websites are in the business of selling picture perfect images of houses that are completely unrealistic.  And in many (most?) cases, the images you see aren't even close to what the home looks like before the stylist and photographer arrive for the photo shoot.
I remember a couple of years ago when a particular blogger I followed at the time was having her house photographed for a magazine and she showed some "behind the scenes" pictures of what went on.  The stylist arrived and basically removed all of the blogger's stuff, and replaced it with all of these picture perfect items placed just so in order to create the perfect image.  This seemed so strange to me.  I thought that they had chosen this blogger's home for the magazine because they liked how she had decorated, but then they basically came in and redecorated before taking the pictures!
I don't necessarily think this is a bad thing, as magazines and online "designer" sites give us wonderful ideas that we can incorporate into our own homes.  But at the same time, I think they can subconsciously cause us to develop an intolerance for things in our own homes (and in others' homes) that don't lend to that picture perfect image we think we're supposed to be able to attain.
Can I tell you one thing that I always notice (or rather, don't notice) in pictures of designer bedrooms?
Alarm clocks.
For some reason, I fixated on this several years ago, and I've noticed it ever since.
When was the last time you saw a picture of a bedroom in a magazine or "designer" website that actually had a real, usable alarm clock on the bedside table?
I'm sure I've seen a handful…maybe…but more times than not the alarm clocks that are shown in pictures of perfectly styled rooms look something like this…
Traditional Bedroom by Chicago Interior Designers & Decorators Tom Stringer Design Partners
Those types of alarm clocks are beautiful and create a picture perfect image, and I have no doubt that there are people who actually use this type of alarm clock. But if magazines and online "designer" websites are to be believed, these awesome antique-looking alarm clocks (and other similarly awesome vintage alarm clocks) are the only types of alarm clocks in use in American homes today.
Evidently nobody uses the big, black, electric, digital things that have 12 different sleep sounds and various alarm settings that they sell at Bed, Bath & Beyond.  Nobody.  (Well, evidently nobody except for me.)
Obviously I know that's not true.  Others are using these alarm clocks as well, but when the stylists and photographers arrive, they're promptly removed and replaced with cute little antique or vintage alarm clocks.
These images are just unrealistic and unattainable.  Almost every single one of them.  And they don't represent how homeowners really, truly live in and use their homes.
And again, that's okay.  I love looking at pretty images of perfectly designed and styled rooms.  But when it starts to develop in me an intolerance of the things that real, normal people have to deal with in their real, normal homes, then it can be a problem.  And when I start directing that intolerance towards my own home, that can be a huge problem, seeing that I'm just now dipping my toe into what will likely be a several-years-long project of updating an old home that currently has many quirks and eyesores that I'll have to just live with for a while.
That Unattainable HGTV Timing
Just like I enjoy magazines, but think they're completely unrealistic, I also have the same attitude towards HGTV.
I haven't turned on a t.v in almost four years, and haven't had cable in almost that long, so I don't really spend a lot of time watching HGTV shows.  But recently, I bought, and have been watching, Rehab Addict on Amazon.
Have you seen this show?  I love it!  I love seeing strong, capable women tackle what seems like an overwhelming project and actually getting in there and getting their hands dirty.  And Nicole definitely does that.
And while I love the show, one issue I've always had with HGTV shows is the fact that they boil down months of hard work into a 30-minute show, further feeding into the unrealistic and unattainable notion that these things can be had very quickly, and with very little effort.  It feeds that need for immediate gratification that most of us have.
The episode I watched last night was about the kitchen renovation in the "Dollar House."  At the beginning of this 30-minute show, I saw her walking through the kitchen in its "before" state, then I saw 15 minutes of her working on the kitchen, and then the show ended with the big reveal of the completed kitchen.
I sat there shaking my head, thinking, "Ha!  Wouldn't that be nice!  A thirty-minute kitchen renovation.  And here I've been working on one project…a fireplace…for over a week, and I'm still not finished!"  😀
And you want to know the funniest thing about this?  As soon as I finished watching that episode, I clicked over to my A2D Facebook page to check messages and comments.  The very first message was from a woman who had linked to my most recent fireplace Facebook update and commented, "So sick of seeing this boring fireplace makeover!"
Yep, there's a woman who probably spends her days with her butt planted on her sofa watching episode after episode of HGTV shows that boil down months and months of hard work into bite-sized 30 minute shows, continually feeding her appetite for immediate gratification to the point that seeing work done in real time is intolerable to her.
So I'm not really sure where I'm going with this train of thought.  😀  Only to say that these are the things that have been on my mind lately regarding decorating, renovating old homes, and creating homes that people truly live in and use.
I love magazines, and I love HGTV.  And I think both of those things can be useful tools to us as long as we always keep in mind that they're not real.  Homes aren't always (ever?) picture perfect, and room makeovers and remodels don't happen in 30 minutes.  And the minute we start letting those things develop in us an intolerance for reality is the minute that those things stop being useful tools for us.
What are your thoughts on this?
And I'd love to know…is there something that you've noticed (like alarm clocks for me) that is usually absent from picture perfect magazine pictures, but is an item that everyone generally has out in a room of their home? For some reason I fixated on alarm clocks, but I want to know what you noticed!
Addicted 2 Decorating is where I share my DIY and decorating journey as I remodel and decorate the 1948 fixer upper that my husband, Matt, and I bought in 2013. Matt has M.S. and is unable to do physical work, so I do the majority of the work on the house by myself. You can learn more about me here.