Happy Monday!  I didn't get any exciting projects finished this weekend to show you, but I did want to pop in really quickly and share one thing with you.  I've had a handful of you request a video tour of the condo before we move, as well as a drawn floor plan so you can see how everything flows together.
Well, I don't have the video tour yet, but I definitely plan on making one before we walk out the door for the final time.
As far as the floor plan, I finally made one. And *drum roll* here it is…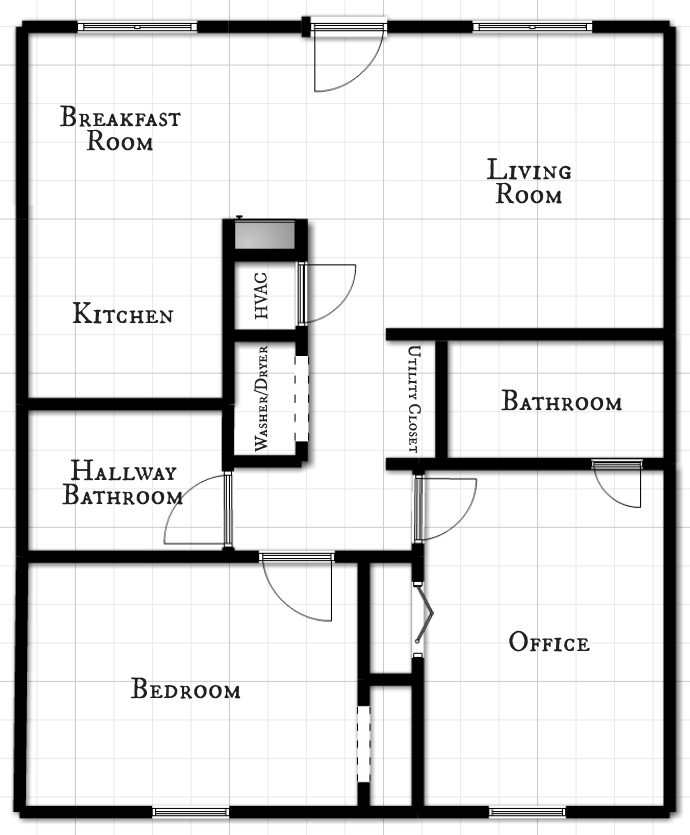 It's not quite to scale, but it'll give you an idea of the layout.
The condo is 834 square feet.  The "Office" is actually supposed the be the master bedroom with the connected bathroom, but we use the other bedroom instead because I like the layout better, it's easier for Matt to access, and the official "master" bathroom is too tiny for Matt as well.
And if you're new around here and haven't seen any of the finished rooms, you can see those here:
This condo has served us well for 7 years now, but I'm so ready to move on!!  🙂
Speaking of moving on, I spent about two hours at the house yesterday with my parents and my brother, just looking, thinking, dreaming, planning, scheming, etc.  I can't wait to show you the house, and share my plans with you!!  The house needs a ton of work (I mean…a ton of work!!), but I'm so excited to get started and make it a home.
Edit:  I've wanted for a long time to make an awesome floor plan with actual pictures of the rooms like Layla has on her blog of their last home.  Mine's not as fancy as hers, but here's my attempt.  🙂
---
---