The WRONG Way To Sand Hardwood Floors
Well folks, I could absolutely kick myself. I've pretty much wasted an entire weekend.
The goal was to get all of my floors sanded and get at least one coat of Waterlox on them today so that it could be dry before tomorrow (Tuesday) morning (when I'll be meeting the plumber at the house to go over my new location for the utility room based on my new and finalized floor plan…more on that tomorrow).
And I was so excited, and feeling incredibly clever, when I found out that I could rent the floor sander on Saturday morning, and keep it until Tuesday morning, and still only be charged for a one-day rental since it's a holiday weekend.
So clever, indeed!
After spending hours sanding the floor in the living room, entryway, and dining room, I was feeling very frustrated by how slowly things were going, but also just glad to have that area done…or so I thought. The floor went from looking like this…
…to looking like this after sanding…
I left the house on Saturday night thinking that those rooms were pretty much finished, except for some of the edges and corners that I planned on sanding with my small orbital sander before calling those rooms done and moving on to the hallway and bedrooms.
When I got to the house on Sunday, I slapped some 60-grit sandpaper onto my orbital sander and got busy on the edges. Well, my orbital sander decided that that's when it would stop working. So I headed to Home Depot to get a new sander.
This time I decided to get a bigger, nicer one with variable speed options. So I got this amazing sander.
And since the only one they had left was a floor model, I got it for half off its regular price of $114. Score!
Armed with my awesome new variable-speed 6-inch sander and several boxes of 60-grit sandpaper discs, I got started on the edges. And here's what happened…
Do you see that very drastic color difference? I couldn't believe how much lighter the wood was!! So obviously, the floor sander wasn't doing the job. It simply wasn't getting all of the finish off of the floor.
So while I had spent hours the previous day using the floor sander, and thinking that the job was pretty much finished in these areas, I came to realize that the job was far from finished, and the sander I had just wasn't getting the job done.
I was so frustrated, and determined to see at least one area finished, that I spent about two hours on my hands and knees using my new orbital sander on the floor in the entryway.
It did an okay job, but those small sanding discs wear out pretty quickly (obviously…they're not exactly made for sanding floors), so the floor in the entryway still looks uneven, with some patches of bare wood, some patches of wood with quite a bit of finish, and everything in between.
I was feeling pretty down at that point. I had wasted an entire weekend, nothing was finished, and the whole house was looking like quite a mess. And the more I looked around at the mess, the more down and discouraged I got.
Every single surface in the place (floors, walls, countertops…even in rooms far away from these) was covered in a layer of dust.
I still had piles of drywall and debris that needed to be bagged up.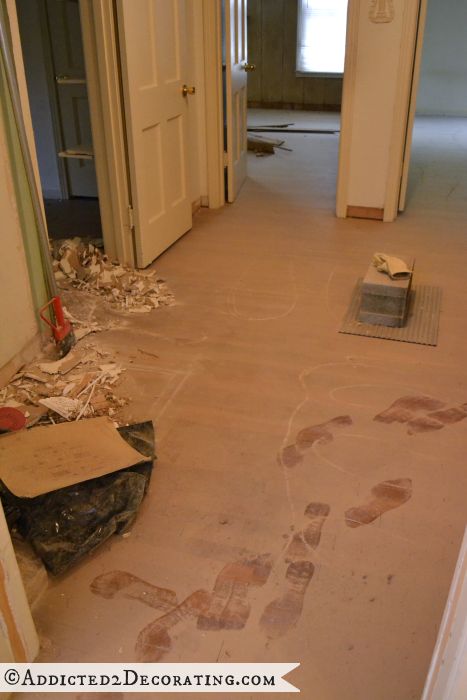 I have a huge sunroom almost completely filled with old carpet that needs to be cut into strips, rolled and tied, and taken out to the curb for pickup, and loads of old carpet padding that needs to be bagged up and hauled out to the curb.
Plus, I still have those asbestos tiles that I need to deal with.
I know it was because I was tired…and frustrated…and disappointed…but everything just kind of became overwhelming to me. I wanted to sit in the middle of my sanded-but-not-really-sanded floor, amidst all of the dust and filth, and just have a good cry.
And you know what made it all the worse?
All of this trouble was because of me. Because of a ridiculously bad decision that I made.
I rented the wrong sander.
Yep, even after a couple of you told me, "Kristi, just be sure to rent the right kind of sander!", and after reading Karah's experience about renting the wrong sander (and thinking to myself, "Well, I'm sure it was just her floor that was the issue, and not the sander."), I still decided to rent that stupid square buff sander.
I could kick myself.
So the house and I need a break from each other. Yep, we're on a break. Rather than sit in a pile of dust and cry a river of tears, I just decided to walk away. I turned off all the lights, gave the house the "it's not me, it's you" speech, locked the door, and walked away.
I'm not sure how long this break will last. Perhaps just today. Perhaps a few days. We'll see.
Addicted 2 Decorating is where I share my DIY and decorating journey as I remodel and decorate the 1948 fixer upper that my husband, Matt, and I bought in 2013. Matt has M.S. and is unable to do physical work, so I do the majority of the work on the house by myself. You can learn more about me here.